The international Accelerate Peace Conference will be held in conjunction with the 2019 Circles of Light Gala, a benefit to support URI also being held at Stanford University.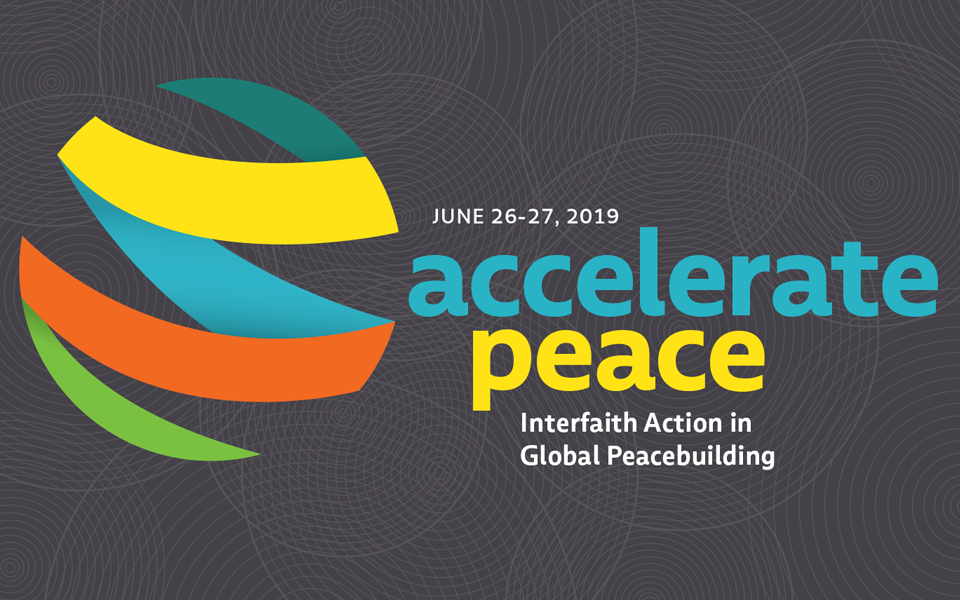 URI will be hosting the international conference titled Accelerate Peace: Interfaith Action in Global Peacebuilding, June 26-27, 2019 at the Hoover Institution on the Stanford University campus.
"Interfaith efforts like the United Religions Initiative are the kind of positive, non-military approach to dealing with the rising violence of religious extremism that we must support."
— The Hon. George Shultz testifying at a hearing of the US Senate Armed Services Committee on global threats and national security strategy
In a world of rising violence fueled by tensions between peoples of different beliefs, interfaith peacebuilders work together daily in countries around the world to resolve conflicts and create the conditions essential for sustainable peace by bridging religious, cultural and political differences for the good of their communities and the world.
Accelerating Peace: Interfaith Action and Global Peacebuilding will bring together grassroots interfaith peacebuilders, policy experts, and religious leaders, as well as representatives from the United Nations and international and interfaith organizations to explore issues of promoting interfaith cooperation to end religiously motivated violence and build cultures of peace, justice and healing in communities and countries around the world.
Participants will develop a deeper understanding of interfaith efforts towards global peacebuilding and consider targeted action steps to be undertaken locally and globally.
Sponsorship Information
URI is grateful for your consideration to sponsor the Accelerate Peace Conference and/or 2019 Circles Gala of Light Gala. Please click the links below for the sponsor information. Sponsorships received by April 15, 2019 will be included in pre-Conference/Gala materials.
Ticket Information
Individual Tickets are available here.
Confirmed Conference Speakers
(as of April 19, 2019)
Prof. Mohammed Abu-Nimer, American University School of International Service - KAICIID
The Rev. Jennifer Bailey, Founder and Director of the Faith Matters Network
Kiran Bali, MBE JP, Chair of the Global Council for URI, UK 
Kehkashan Basu, Founder/President of Green Hope Foundation, Canada
Amira Diamond, Co-Founder and Co-director of the Women's Earth Alliance & the Ripple Academy
Adama Dieng, Special Adviser to the Secretary-General of the United Nations on the Prevention of Genocide
Jonathan Granoff, President of the Global Security Institute  
Ambassador Mussie Hailu, Director of the Office of Global Partnerships, URI
Azza Karam, Senior Advisor, United Nations Population Fund (UNFPA); Coordinator, UN Inter-Agency Task Force on Religion and Development, United Nations
Valarie Kaur, Founder of The Revolutionary Love Project
The Rev. Victor Kazanjian, Executive Director, URI  
Audrey Kitagawa, Chair of the Parliament of the World's Religions
Phil Lane, Hereditary Chief, Ihanktonwan Dakota and Chickasaw Nations, Canada
Melinda Kramer, Co-Founder and Co-director of the Women's Earth Alliance & the Ripple Academy
General James N. Mattis, Former United States Secretary of Defense
Ulrich Nitschke, Head of PaRD Secretariat, International Partnership on Religion and Sustainable Development
Sophia Painequeo, Mapuche Indigenous Leader and Founder of the Aflailai Foundation, Chile
James Patton, President and CEO, International Center for Religion and Diplomacy
Musa Sanguila, Chairman of Muslim Sharing Skills for Peace & Development and Director of Pakigdait, Philippines
Sadhvi Bhagawati Saraswati, Secretary General of the Global Interfaith WASH Alliance, India
The Hon. George P. Shultz, Former Secretary of State for the United States  
The Rt. Reverend William Swing, Former Episcopal Bishop of California, President of United Religions Initiative
Janessa Gans Wilder, Founder and Executive Director of the Euphrates Institute
Conference Schedule
The latest conference schedule is available for download below.
More Information
For more information, please contact URI via email at peace@uri.org or by phone at 415-561-2300.