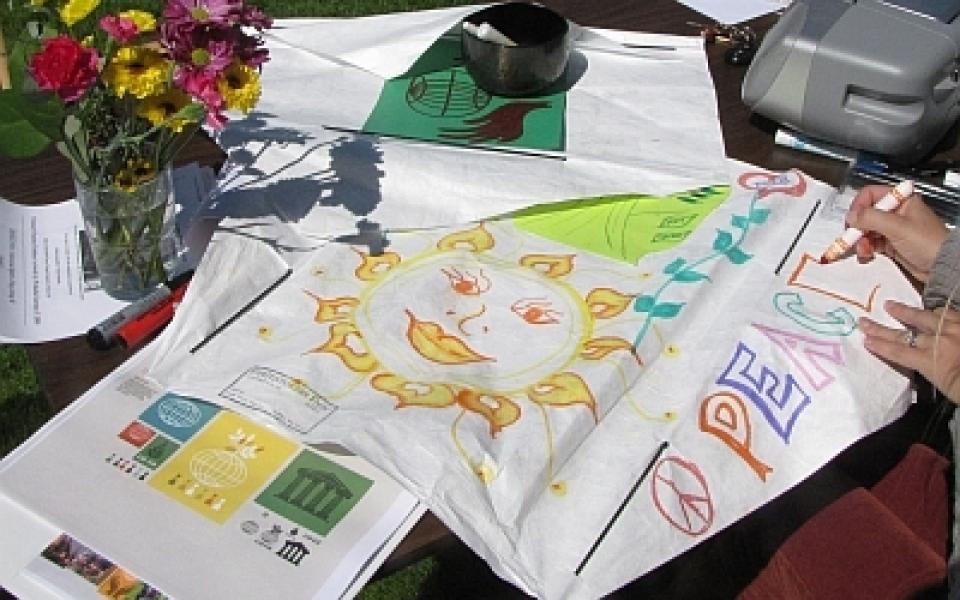 San Francisco, California - The Global Support Staff organized an International Day of Peace celebration at the Thoreau Center for Sustainability (a complex of non-profits dedicated to social justice and the environment where the URI Global Office is housed). The program opened with sharing of poems and a moment of silence around our Peace Pole. This was followed by the decorating and flying of kites (in partnership with the Brahma Kumari's Kites for Peace program) with messages of peace and hope which will be sent to children in Pakistan and Palestine (West Bank). The program culminated with a sharing of a meal on what was a beautiful day. To see a slideshow of the event click here.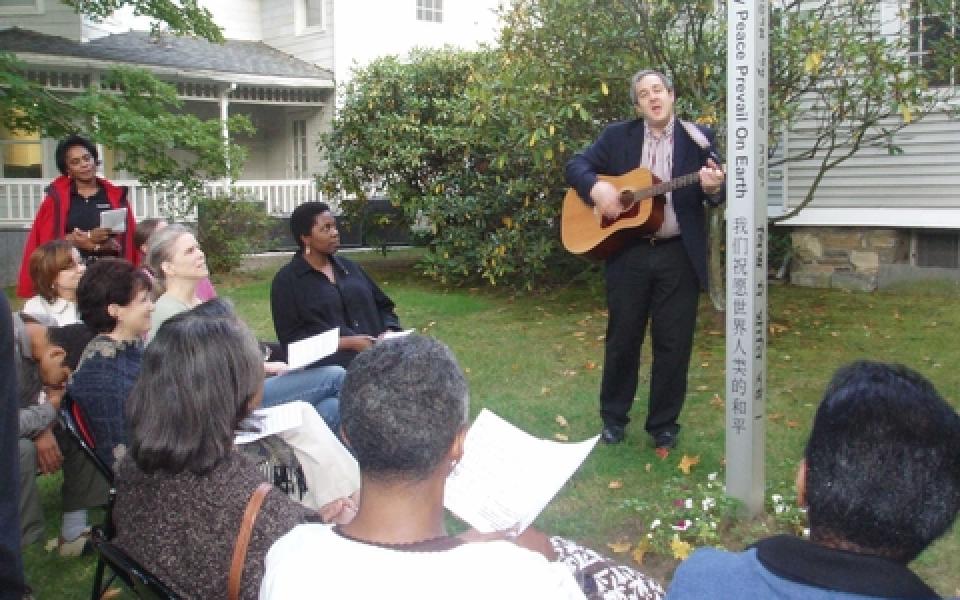 Bedford Hills, New York - Pastor Paul Briggs of Antioch Baptist Church in Bedford Hills, NY welcomed neighbors and members of the Unity Made Visible cooperation circle of the United Religions Initiative to a special ceremony at 6:00 pm on 21 September, the UN International Day of Peace.
The church's aluminum Peace Pole, with the prayer "May Peace Prevail on Earth" in six languages, had been planted the previous year on the International Day of Peace in celebration of the church's 114th birthday and the acceptance of the multi-faith group Unity Made Visible into the worldwide United Religions Initiative.
In 2009, the anniversary was marked with an observance of the UN Peace Day. Everyone took turns reciting peace quotations from well-known philosophers, poets, activists and musicians. Paul Storfer, who coordinates Unity Made Visible, led the group in joyful singing. Deborah Moldow, a founding member of the United Religions Initiative and UN Representative for the World Peace Prayer Society, distributed the flags of many nations, and heartfelt prayers were sent to each country as its flag was raised.
The event was a beautiful expression of harmony among religions and among nations, proudly joining observances of the International Day of Peace all over the world.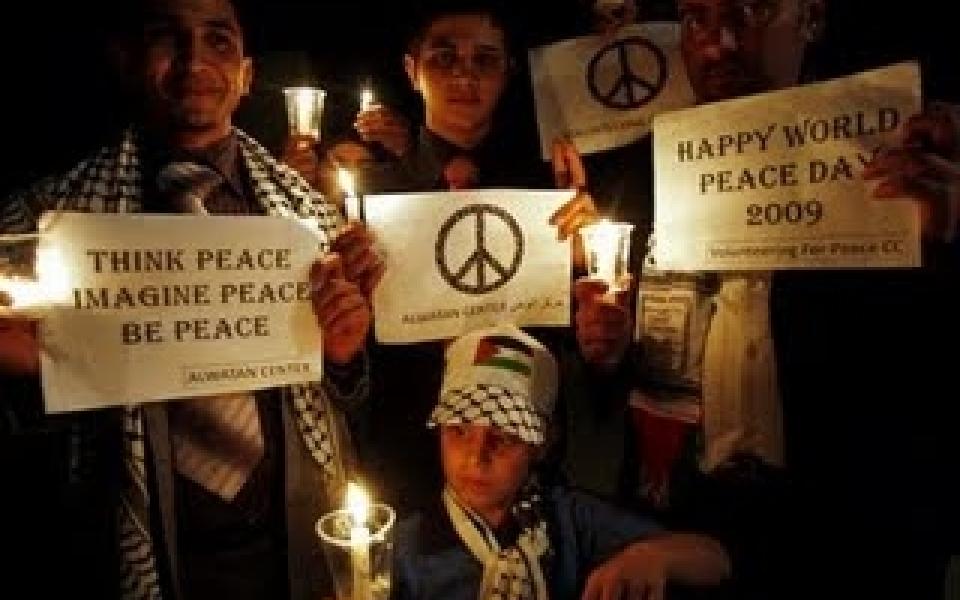 On the IDP the Palestinian Peace Society along with the International Peace Cafe' from Israel and the International Survivor Corps (USA) met to pray for reconciliation all over the world, for peace to all humanity and serenity to all mankind. We discussed ways of future cooperation and methods to bring people in conflict together under our joint motto:"We refuse to continue living as enemies". May peace prevail on Earth in hearts of all people.
Volunteering for Peace CC in Palestine organized in cooperation with Watan Organization an International Peace Day (IDP) Celebration in the West Bank city of Hebron in Palestine.
The event brought together Volunteering for Peace CC members, Watan Organization members and volunteers in addition to Palestinian children. The ceremony included a celebration, candle lighting and singing for Peace by the participating children. The candle lighting demonstration in which every child and youth lit a candle to share with the world and make a wish as they wrote on the banners they were holding "May Peace Prevail in Palestine, May Peace Prevail in the World". They also held banners reading " Give Peace a chance", "Happy World Peace Day", "Think Peace, Imagine Peace, be Peace", "We want Peace not Walls", "End the Israeli occupation of Palestine".
Volunteering for Peace members shared with other participants information about URI and Volunteering for Peace and how religions can be together to overcome conflicts around the world.
Media were also present and covered the event for different local and international media stations. The photos were shared at the Internet between different International press organizations.
Volunteering for Peace and its strategic partner Watan Organisation members and volunteers expressed great happiness to participate in this very important event. They asked us to transfer their call to the world to be fair and help Palestine to live in Peace, keep praying for Palestine and say "May Peace Prevail in Palestine". It is important to mention that the event was organized on 21st of September which is the 2nd day of the feast of ending Ramadan. We appreciate the presence of all the members, volunteers and children during this Holiday.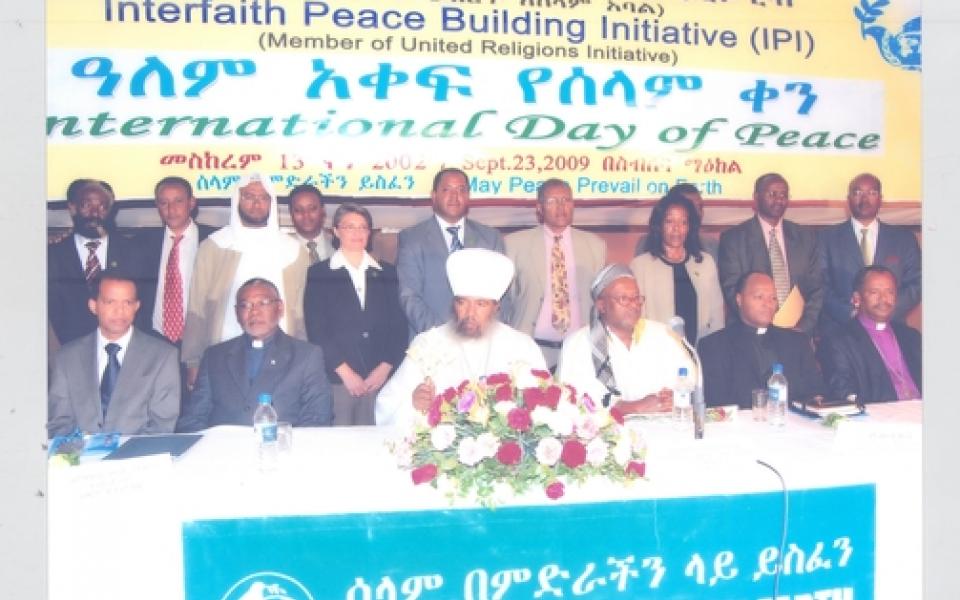 Addis Ababa - The International Day of Peace and the United Nations International Year of Reconciliation were colourfully celebrated in Ethiopia under the coordination of United Religions Initiative Africa office and Interfaith Peace-building Initiative (member of URI in Ethiopia) at Assembly Hall on September 23, 2009. All religious leaders and more than 400 participants took part in the celebration of the peace day and the event was covered by all media in the country (TV, Radio, and different News Papers).
The Peace Day was organised by IPI and URI Africa office in partnership with Ethiopian Orthodox Church, Ethiopian Islamic Affairs Supreme Council, Ethiopian Catholic Church, Ethiopian Evangelical Church of Mekane Yesus, and the National Spiritual Assembly of the Bahais of Ethiopia
The program was opened with a peace prayer and message from different religious leaders in Ethiopia. The message of the Secretary General of the United Nations was also read and children released doves and called upon all the participants and the United Nations to work hard for peace to prevail on Earth
Mussie Hailu, Board Chairman of IPI and Regional Director of URI Africa said that "URI Africa Region and its member organization IPI presented this year's Peace and Reconciliation award to Noble Peace Laureate Archbishop Desmond Tutu in recognition of his meritorious achievement, exemplary leadership and outstanding contribution toward making peace. Archbishop Desmond Tutu bestowed upon all Africans a great honor and he is a living example and beacon of peace and reconciliation in the world and a spiritual leader who walks the talk. It is high time for us as Africans to honor our heroes like Archbishop Desmond Tutu and let the international community know that there is outstanding leadership in Africa that can be a role model to the world and our young generation can look upon as a source of inspiration. Archbishop Tutu is indeed a role model to the world on the important role religious leaders could play in the effort of peace, healing, reconciliation and justices. Such kind of award is intended to engender a greater appreciation and support for the effective and dynamic leadership associated with building a culture of peace, reconciliation and harmony in Africa on a sustainable basis."
On this occasion of the International Day of Peace and the award program IPI and URI called upon the United Nations to continue to bring the promotion of constructive inter-religious dialogue to the attention of all its member countries, including ways to strengthen the linkages and focus more on practical actions in the implementation of the initiatives on inter religious dialogue and cooperation for peace. They also called upon all member states of the UN to develop curriculums, textbooks and activities that teach cultural and religious tolerance, ways of resolving conflicts peacefully, and the Universal Declaration of Human Rights. IPI and URI Africa Region launched the Africa Peace Award to recognize the committed, effective leadership that is currently being exercised to bring sustainable peace throughout the continent. The non-monetary Africa Peace Award celebrates, acknowledges and honors the accomplishments of individuals and organizations who have exhibited extraordinary leadership to build a culture of peace, reconciliation, the golden rule, development and harmony. The Award helps to create role models of peace-builders throughout Africa.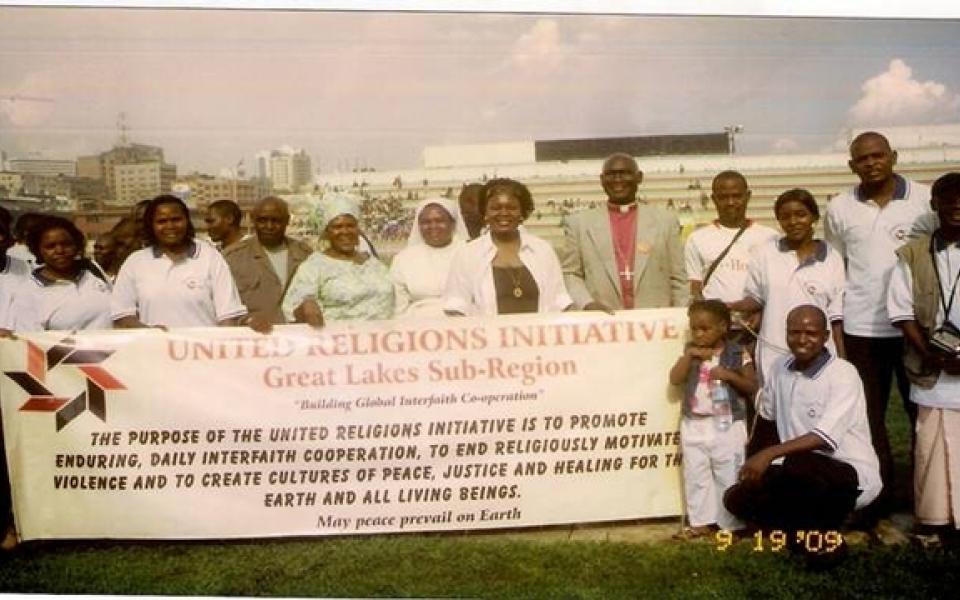 The IDP celebration was conducted in the Nakivubo War Memorial Stadium in Kampala on the 19th of September. There was a very high turnout of fans, especially given the rain that was present throughout the day. An interfaith peace prayer was offered by the different religious groups and at the end of each we would respond with by "May peace prevail in Uganda, May peace prevail on Earth." Sheikh Khalil of the ARLPI CC led the Muslim prayer and Sr. Gorretti of the Inter-Religious Dialogue Programme CC coordinated the prayers. Bishop Ochola, who is also our chairperson, read out the Peace and Reconciliation Statement which he later handed over to the guest of honor the Minister of Finance Hon. Ruth Nankabirwa.
Later the Peace Football Match between Members of Parliament and the Uganda Sports Press Association (USPA) started. USPA beat the parliamentarians 2 goals to nil in a match that was played during a heavy downpour. Players kept falling which amused many. At the end the Minister gave her remarks thanking URI for organizing something like this which can attract many people while sending out a clear message about Peace and Interfaith cooperation. She appreciated the need for national reconciliation and urged the football fans to go beyond the love for football to also consider the love and respect for human life.
Later we had press interviews with the different media houses and this was a good thing because then it gave URI publicity and visibility. We were also happy to have opened an office because the first question from each media house was where URI is located. The national TV station has actually run an exclusive interview twice on Sunday and Monday about URI. As this was our first major activity since opening up our office, we really felt happy and blessed at the same time. I would like to take this opportunity to thank the young leaders since this was their brain child activity and the office only facilitated this activity and the religious leaders present from the Hindu, Muslim, Catholic, Orthodox, Anglican, Jewish, Baha'i and Hare Krishna traditions for their support and participation.
Bangladesh
Khagrachari - Greetings from CCs in Bangladesh, we were very happy to observe the IDP on 5th October instead of 21st September in following manner:
Two CCs, the Flower Exchange Initiative CC at Chittagong Hill Tracts (CHT), Khagrachari and Anando CC, jointly organized this program at the Anando campus in Khagrchari. It was well decorated with posters, festoons and quotes from different authors. 325 people from all sectors of the local community attended. There has been a long rivalry between the native hill aboriginals and the main stream Bengalis (new settlers here in CHT). Rarely will you find friendship between these 2 communities. However, when they saw that we had invited representatives from both, they were delighted while simultaneously curious.
The CC allowed an equal number of religious leaders on the dais from both communities. They could not believe it initially. After recitation from holy books; Mr. Francis Halder highlighted the short background of the IDP along with Non Violence Day on 2nd October. Later on, the religous leaders from Bhuddist, Muslim, Hindu and Christian community delivered their valuable speeches, we can say open call to the community. But during their deliberation they were so cautious that their lecture was very short. The organizers from CC presented spiritual songs between the lectures. Total 12 community representatives delivered their comments and blessings, some of them just exchanged greetings as they hardly had something to share in such an unexpected situation. This year we did not invite any political leaders, as time is still immature. The session was closed with common prayers for peace in CHT offered by the oldest Bhuddist religious ledader Rev. Mahathero. It offered sweets at the end but CC members persued to exchange sweets among each other. This initiative has created a commotion locally.
We the CC members united in an evaluation meeting in the evening. Our works are not limited in Peace Day observance but creating a longterm congenial environment for community reconciliation. In this regard, we the CC members have been working in at least 20 villages of Khagrachari by project support from Foreign Ministry Berlin.
Today's experience has encouraged us much in bringing two factious groups under the same roof. May God help us doing something constructive for peace building in the turbulent Chittagong Hill Tracts.
India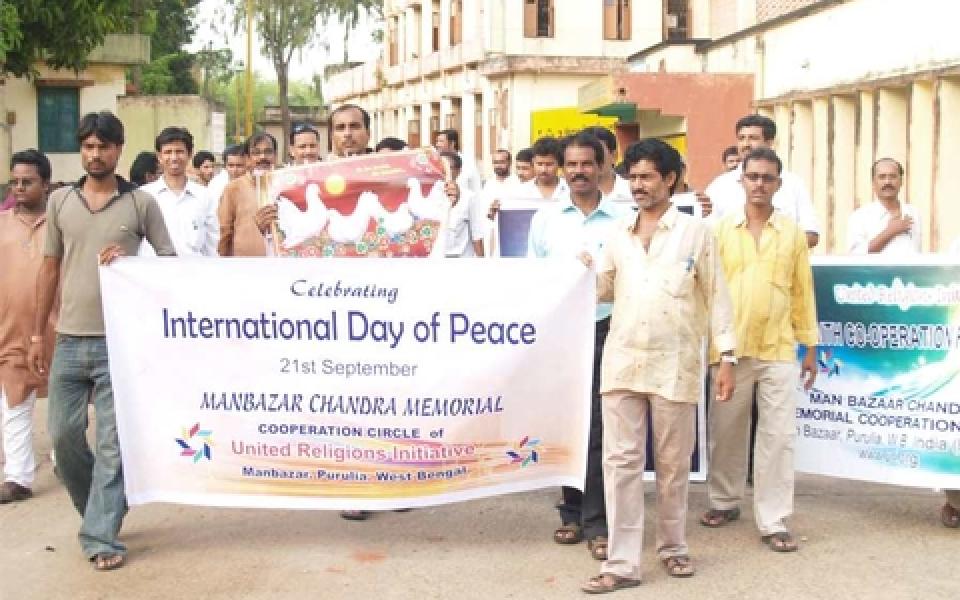 East Zone - Our IDP event took place in very rural India, hosted by Manbazar Chandra Memorial CC and attended by many other CC members and local communities. The event started with a peace prayer by Rev. Kalyan Kisku and many other offered their prayers. A one hour seminar was held on the theme of "Selfless Service" to draw the attention of many school teachers. It was very inspiring to hear people's ideas and stories on how we can make a change.
Later in the afternoon we gathered in a local hospital to distribute packages of fruits to the poor patients. It was very tough seeing the poor conditions and the people suffering. We ended our day with a Peace March in the area. All of us had very nice vegetarian food prepared by a local cook, it was surprising to see the large number of items (16) on the menu. This particularly shows the efforts of the members to arrange wonderful hospitality in this rural area.
North Zone - The Student and Parent Community of Salwan, celebrated the joyous coming together of the holy festival of Eid along with the International Day Of Peace, celebrated world wide by all the peace lovers.
In collaboration with the members of the Salwan URI Cooperative Circle, students lit candles to pray for World Peace, participated in a 'Sarvadharma Sabha' and held an interactive session to discuss a peaceful solution to Sino-Indian issues. The students celebrated religious diversity by offering prayers in a mosque, transcending all barriers of religion and faith. Salwanians invoked the blessings of the Almighty for peace and harmony in the world.
" WE CAN MAKE A DIFFERENCE AND WE WILL."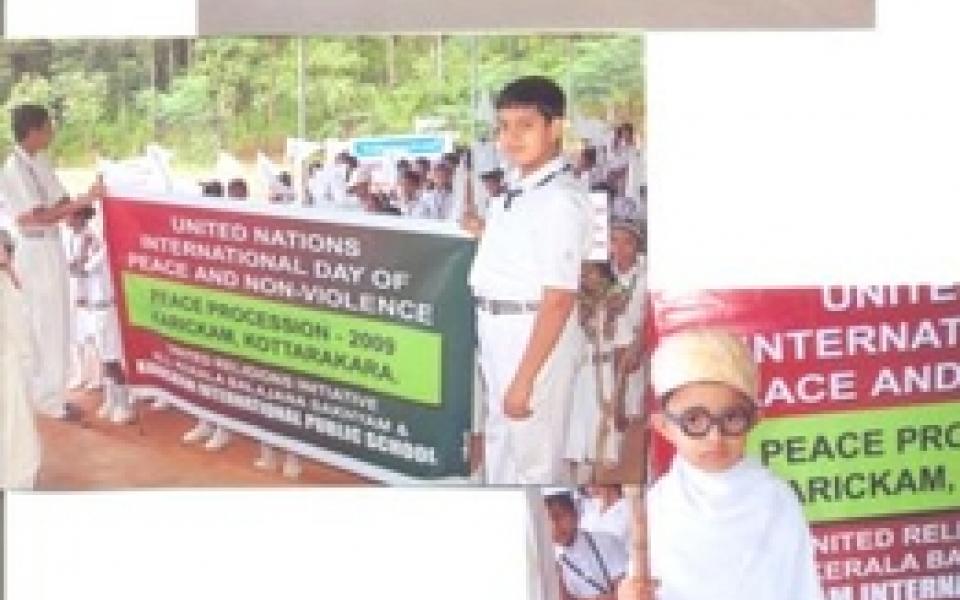 South Zone - We celebrated the UN International Day of Peace and Non-Violence here in South India on 2nd October (Gandhi Jayanthi Day) with a beautiful peace procession in which more than three hundred people participated. There were two music troops accompanying and we also had a special music concert for peace and harmony. Odanavattom Cooperation Circle choir presented a number of patriotic songs. There was a public meeting at the Karickam School and leaders from various organizations spoke on the occasion. And the school children enjoyed the special love feast in connection with IDP.
Nepal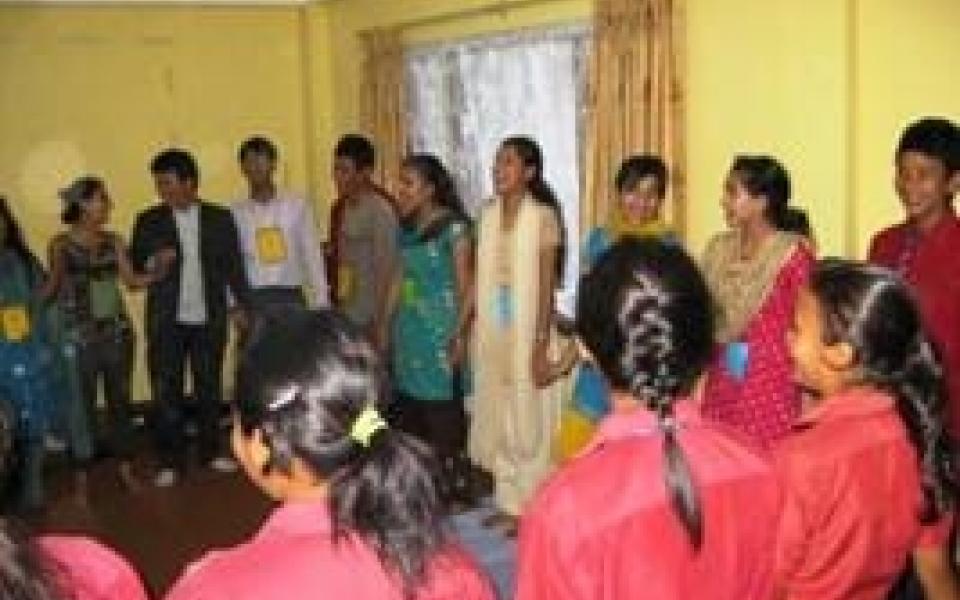 Kathmandu - The International Day of Peace is celebrated around the world marking a day to call for peace on earth. It is expected and understood that at least on this day, any war in active and violence that is occurring in any parts of the world must cease. This solidarity not only celebrates one particular day in a year, but saves hundreds of thousands of lives in the face of ongoing killing, murder and other violent activities around the world. Half a way the globe from New York, we may not hear the sound of the bell that rings in the UN headquarters to call for the day, and one does need to, but we do hear such respectful and sincere urge on behalf of the humanity. A call for peace is not any form of campaign that must be reminded, but it is a call that we must not forget. It is massive exhibition of one day to showcase the beauty and the power of humanity coming under the common roof of universal principles of respect, love, caring, non-violence, acceptance, tolerance and greater understanding. Peace must not be a standard set in our society, but an expression of the diversity on which all find a common understanding that we are ONE and we must live together for eternal happiness as much for others as it is for us.
Youth Society for Peace, a group of youth longing to act for peace invited several schools to take part in the celebration held at Shanti Sewa Ashram on the 19th of September pulling two days ahead of the real day due to the concurrence of the Dasain Festival season. The event was designed so as to inform and raise awareness about the significance of celebrating the International Day for Peace. There were approximately 75 school-aged (between age of 12 to 16) participants who represented and came from various schools. Their openness to explore into the topic and patience to swallow in the facts they were unknown to in relation to peace inspired the milieu of the day to glow even brighter. "The children now are hope for the future" Dr. CM Yogi, the patron of Youth Society of Peace said and advised further with some enlightening facts and figures to lead a happy, balanced and beautiful life through wonders of our own. Children must be informed in their minds of the pain and suffering of the world today due to the absence of complete peace; they must be empowered in their hearts to find a dispassionate solution to heal the world, and they must be inspired in their souls to keep their faith in the deep relationship that exit between the humanity and the nature. Within the framework of these objectives, the volunteers and the members of the Youth Society for Peace and its guest invitees including Dr. Chinta Mani Yogi worked the whole day to plant the seeds of hope and peace into the fertile and pure minds of these children. Not only limited to talk and one-way speech, the children also got to play their creativity and work with their respective working groups on various topics such as "Role back Violence", "Culture of Peace", "Personality Development" and "Our Culture and Our Pride" A series of meaningfully heartwarming and peace-oriented songs and chants kept resonating the hallowed Ashram. Dr. Yogi leading everyone to hold each others hands to make an unbroken circle brought to a meaningful closing of the day. It exemplified that when all hands are busy holding each other, there will be no hands left to get involved in activities like fighting and killings that posses a great threat to peace.
Mrs. Indira Manandhar, the Founder of Image Channel and President of Religions for Peace Nepal chaired the closing session who handed out the certificates of participations followed by her motivational speech. Other Guest Speakers included Mrs Gita Sitaula, Mr. Manish Thapa, Regional Coordinator-South Asian Regional Cooperation Academic Network (SARCAN) and Mr. Jimmy Lama – Children of the Earth Chapter Coordinator, Nepal. Mr. Jagannath Kandel, YSP coordinator was accompanied by trainers and volunteers Sujan B.K, Satyata Shrestha, Minakshi Yogi, Abhishek and Samrat Yogi.
Pakistan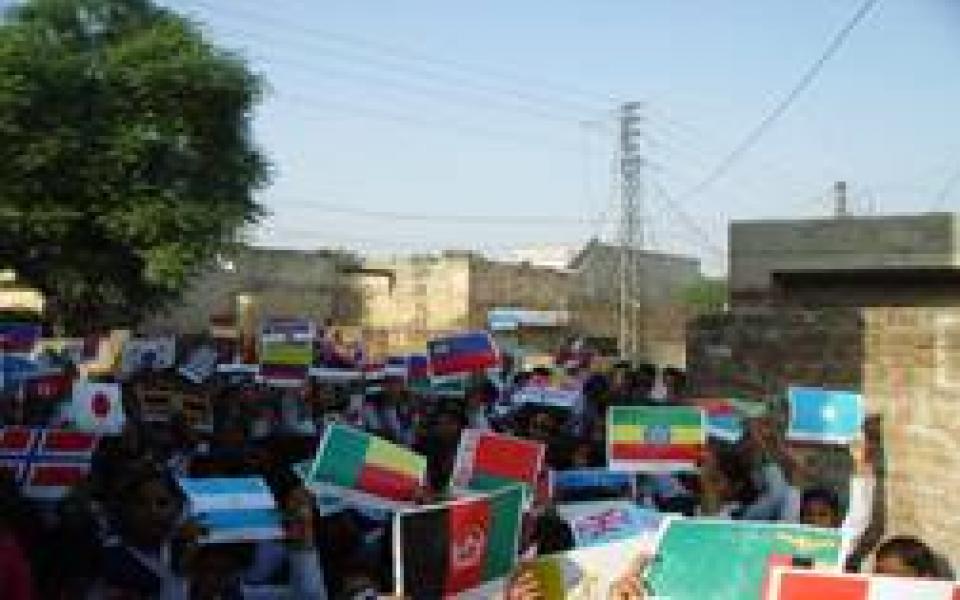 Organization for Peace & Development, Lahore - Like every year since its inception, Organization for Peace and Development (OPD) observed the international day of peace on September 19th in collaboration with St. Dominic High School Youhanabad, Lahore, Pakistan. The program was started with a peace walk in which children were waving flags of all countries of the world.
After the peace walk the rest of the program continued in the compound of the school with a reading about peace from the Holy Bible.
After that Mr. Jahangir Piara expressed his feelings about peace with the students. He said that at present Pakistan is suffering a turbulent time of the history along with the international community. He further said that it is the duty of each and every citizen of the world to create and promote a culture of peace within the local and international communities.
Mr. Piara also said that the international day of peace invites every citizens of the world to commit him/herself in promoting a culture of peace. Therefore, we should always think positively to create a harmonious and peaceful culture at the local level. We also need to educate people about the importance of harmonious and peaceful culture through actions and a positive approach. We need to differentiate between good and bad in regard to promoting social justice in the society. He said that we should avoid playing with artificial gun toys. We should always say no to guns and ask our family members not to use a gun or any weapon to solve problems. Problems are alwaysbest solved through dialogue and negotiations. At this moment we demand from the govt. to make a policy to avoid the proliferation of small arms and gun violence. We need to disarm common people for the sake of safety of the life of all living beings. He also wished a wonderful international day of peace to all and thanked the principal and staff of the school for providing the opportunity to observe the international day of peace with their students.
Mr. Sanaullah Daniel Principal of St. Dominic School thanked all the students and teacher for taking an active role in organizing and observing international day of peace. He also thanked Organization for Peace and Development for observing international day of peace at their school. He also led a prayer for peace: May Peace Prevail in Pakistan. May Peace Prevail on Earth. And May Peace Prevail in our families.
The ceremony was closed with a peace song sung by the students.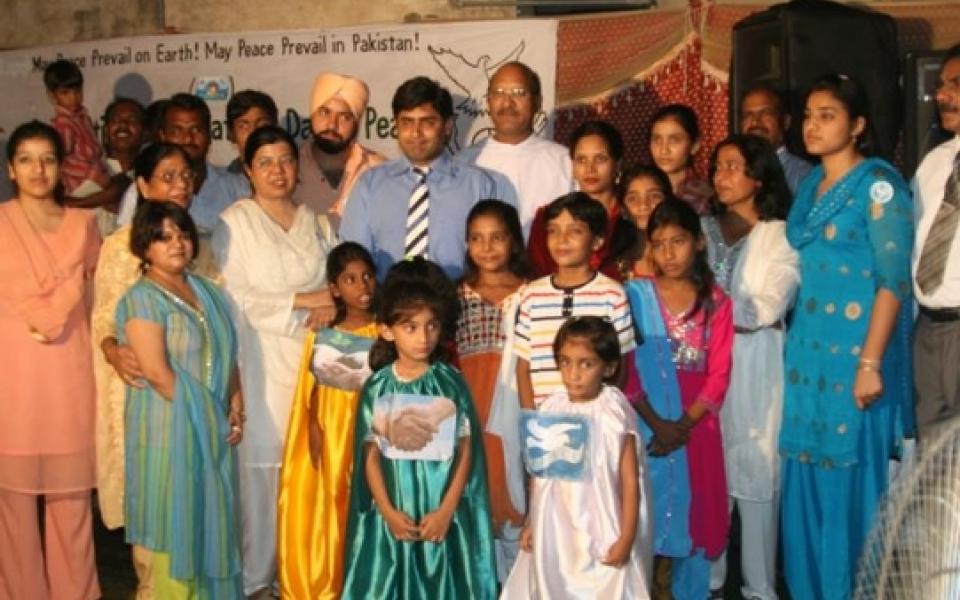 URI Regional Office, Lahore - The United Religions Initiative along with Youth Parliament of Pakistan organized a celebration of the International Day of Peace (IDP) on 26th of September in which over 225 Muslims, Christians, Sikhs and Baha'i participated. After the offering of prayers from the Sacred Scriptures of various religions the Chief Guest and Guest of Honor were welcomed with flowers and balloon and with a good will banner. The message of Ban Ki-Moon, Secretary General of UN was read by Mrs. Jocelyn Saeed.
"While being here at the IDP I have realized that there are people who are devoted to promote peace and it is because of them that our world is going on. Otherwise, we had been going through so much pain and sufferings for the past couple of months in Pakistan. Particularly the tragedy of Gojra ( in which 7 Christians were burnt alive), Sambrial, Korian and Bambni Wala, where violence was done in the name of religion and several houses of Christians were burnt to ashes, and bomb blasts in several other places made us all very disappointed. I feel renewed and energized and this IDP has given me a new hope for peace and I feel like participate in a festival." These are the words of Auxiliary Bishop Sebastian Shah of Lahore. He president over this program. Bishop Shah appreciated this event and said today we are speaking of peace. "Let this peace keep on flourishing in our midst. Let us work for peace and work for justice. Let us not train our children for war but give them education of peace."
Mr. Abrarul Haq, the Chief Guest, - Chairman of Youth Parliament of Pakistan and the most famous folk singer of Pakistan - said, " The message of singers and artist reaches every home through their voice and art. There can be no better message than peace to the world. There is a need to promote peace at every level of life and there is need to educate our people for it. " He particularly challenged youth to work for peace and said that since 70 % of our population in Pakistan consists of youth they needed a plat form to promote and be educated for peace and the Youth Parliament has given them this platform." He also announced that there are over 75,000 members of this Youth Parliament in Pakistan and we are teaching them to work in harmony and live in peace. He said "No man is an island. We do need on another. Let us work jointly and this way we can mobilize people for peace."
Mr. Suhail Warriach, a famous anchor of Geo TV, Pakistan, said, "By participating in this event I feel that the dream of peace which I had seen has become a reality. No better dream than this can been seen nor is it possible to see and imagine what I have seen today." He was grateful to Fr James and others who had organized this event. He lamented that countless people have been killed in the name of religions and said that such things should not happen, "I feel ashamed the way minorities are treated and persecuted in Pakistan." Mr. Warriach then recalled the words of Muhammad Ali Jinnah, the Founder of Pakistan, who had seen a dream that "people of all religions will live in harmony in our country and it will be a country of peace." He said that today by participating in this program of URI "I am very hopeful of a better future. Yes peace is possible when we unite."
The Grand Imam of Badshahi Mosque and Global Trustee of URI, Maulana Abdul Khabir Azad, said, "we are very happy and proud that so many religious leaders from different religions and others have participated in this event. Our forefathers have given a lot of sacrifices for this country." He strongly condemned those Muslims who carry on attacks and persecute minorities in the country. He said, "such people (Muslims) are purely terrorists and they are Muslims by name only and they have nothing to do with the teaching of Islam which is peace. These people are destroying the religion of Islam. Today we must denounce such mentality and work jointly for love."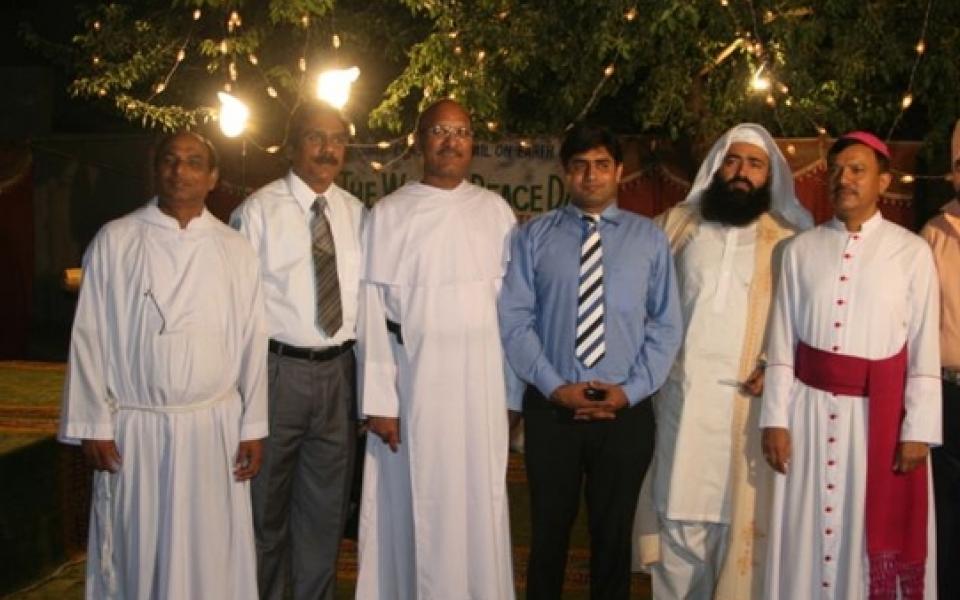 Fr James Channan, congratulated and thanked all participants from the various religions. He said we do need to promote peace at all levels of lives. Let the youth, religious leaders, singers, writers, TV channel anchors, artists, women and children promote peace in whatever capacity they are working. Quoting the message of late Pope John Paul II he said that the building of peace is built upon four pillars: "Love, justice, equality and religious freedom" and it is important to work for all these elements which can bring lasting peace in the world. He highlighted the efforts of URI for peace and interfaith harmony in the world and thanked Mr. Ban Ki-Moon for his inspiring message for IDP that "We Must Disarm". Fr Channan also thanked and admired for this inspiration the Goi Peace Foundation, World Peace Prayer Society and Byakko Shinko, Japan, which are working for promoting peace all around the world. He also extended greetings and good wishes for Muslims who were celebrating Eidul Fitr.
Mr. Akram Masih Gill, Member of the Parliament, Pakistan, Fr Abad Habib OFM, CAP, President of the Major Superiors Leadership Conference of Pakistan and Maulana Javed Akbar Saqi, Chairman of the Wahdat Islami Movement also addressed the participants and expressed their gratitude and admiration for celebration of the IDP.
A 7 minutes video presentation of URI was also done. This video was released by the Head Office in San Francisco.
For this program Sr. Sabina Rifat, URI Women Coordinator, had prepared special presentations and tableaus of women and children with messages of peace, unity and hope. Her programs were greatly admired by all guests. She also recited peace poems. Mr. Yuel Bhatti, Executive Secretary of URI Pakistan was the stage Secretary, while over one dozen URI CC Coordinators were present and contributed their best to make this program very successful.
This program lasted for more that 4 hours and all guests highly admired this celebration and ended with festive dinner.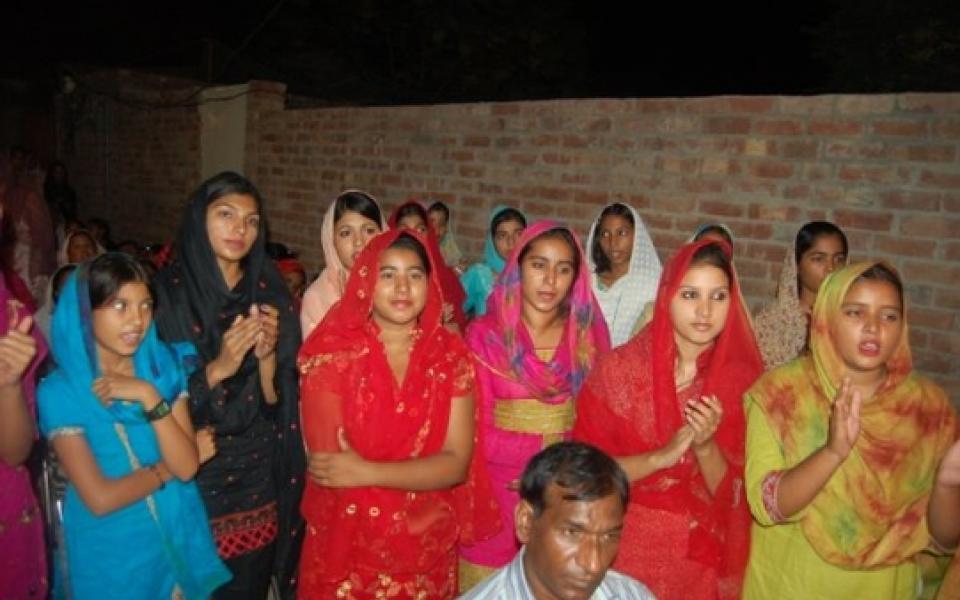 Peace & Development Foundation, Lahore - On International Day of Peace, Peace and Development Foundation arranged a special prayer service in which people from all walks of life got together in Bethseda Church, bahar Colony, Lahore. On this occasion, special prayers for peace in Pakistan and around the world were said. Akhter Murad, Pastor Nawab Fazal, Uffaq and Youth leader, Abraham and others shared their thoughts about peace. Youth members also sang special peace songs. At the end, Pastor Nawab Fazal blessed the occasion.
Another Peace theme programme was conducted in Youhanabad, Lahore by Peace and Development Foundation (PDF) with collaboration with Unite for Peace and Development and Bethseda Gospel Assemblies. At this occasion different youth groups sang special peace songs, shared their thoughts on peace and prayed for peace in Pakistan and around the world.
May Peace prevail on Earth!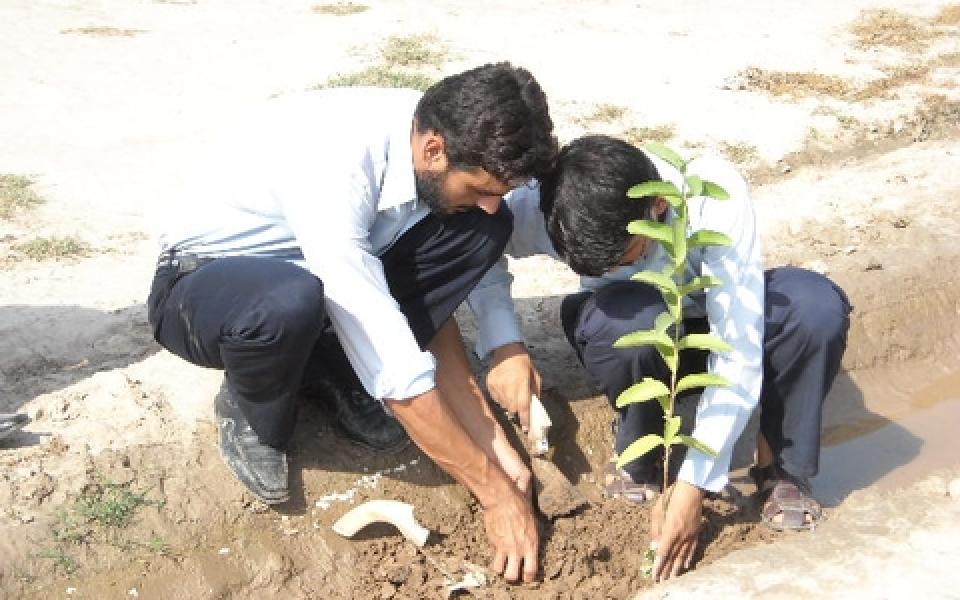 Pir Mahal - May Peace Prevail in Pakistan and World.
For the International Peace Day, a special program was arranged by the Peace & Environment Cooperation Circle Pakistan at the Vocational Training Institute Kamalia and the Govt. Special Education School for the Deaf, Kamalia on September 19th.
Here trainees of the Vocational Training Institute Kamalia were addressed on peace and different plants were planted by trainees with the Clean Environment motto of the Peace & Environment CC.
The special students of Special Education School Kamalia also participated in the planting.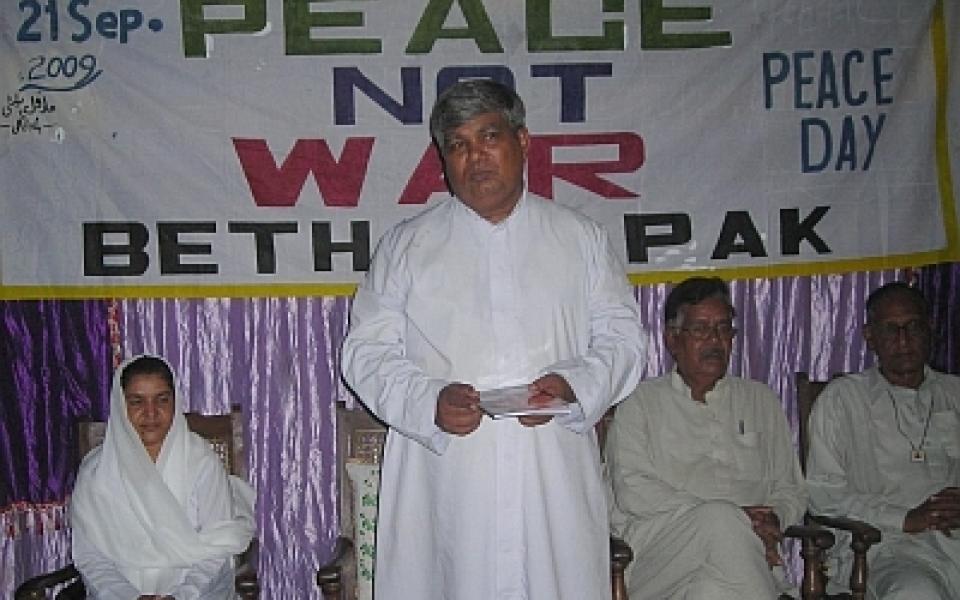 Khanewal - A meeting was held on September 21st to celebrate the World Peace Day by all the members of BETHAK CC along with a group of peace promoting volunteers from different target areas of District Khanewal.
The local social workers, educationists, and religious leaders were also invited so that they should also be motivated to play their roles in promoting peace through awareness of the existing deteriorating situation of peace in Pakistan. The meeting turned into a discussion on various elements responsible for creating sectarian, linguistic and regional differences among the people of different regions.
The recent incidents of religious discrimination were discussed and it was unanimously approved that the parents, the teachers and especially the religious leaders must feel their responsibilities to create an atmosphere of brotherhood among their students, and members of their families as people of the same God.
Fr. Yusaf Sohan, Mr. Francis Jacob, Mr. Samuel Barkat and Mr. Shahzad Francis were the main resource persons who provided guide lines to all the participants to make the discussion lively and meaningful. In the end Very Rev. Fr. Yusaf Sohan led the audience in peace prayer for not only Pakistan but all places of dispute among nations.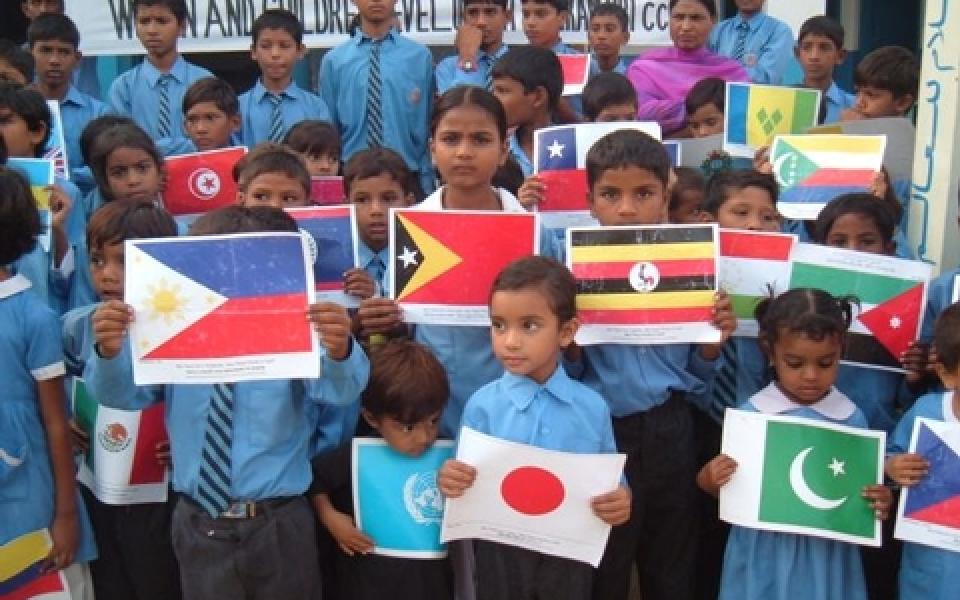 Yahounabad, Lahore - A peace walk was held on September 17, 2009 at Basharat-E-Ibn-Mariam School Lahore-Pakistan, with the collaboration of Women and Children Development URI CC. The day started with a prayer for peace and the peace walk. During the walk the children were waving flags of all countries of the world and they were singing peace songs. Students offered prayers for peace in the world particularly for the countries which are suffering due to war and terrorism.
Chile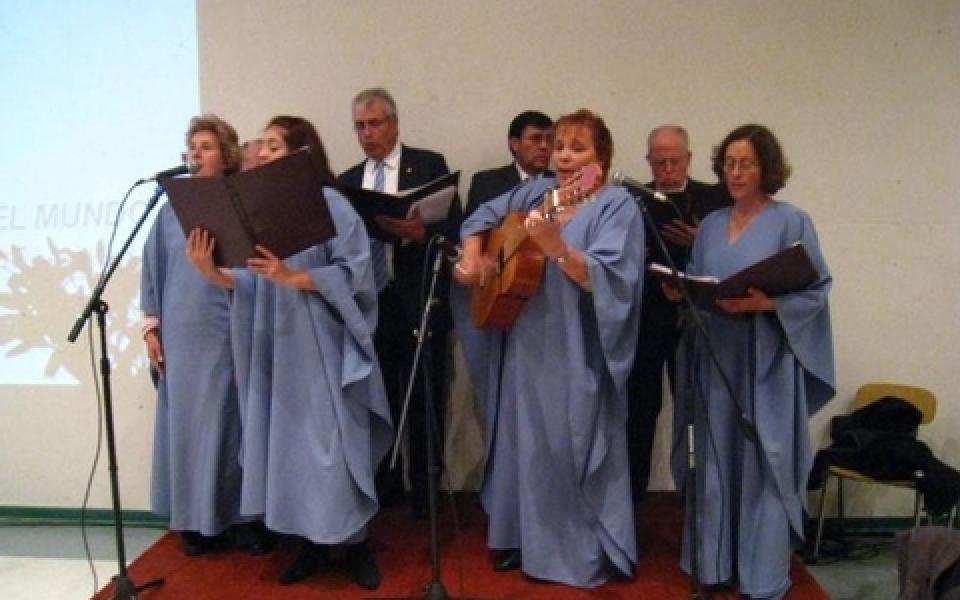 Santiago - The "Spiritual Forum of Santiago for Peace" (CC), based in the capital city of Chile, has once again promoted the celebration of the UN International Day of Peace through the following three activities:
Praying for peace in the communities: Communities belonging to various religions and spiritual traditions active in Chile were invited to meet in their own places (churches, temples, synagogues, mosques, etc.) on 25-27 September to pray from their own faith for peace, aware that other communities, built upon other faiths and spiritual traditions, will be doing the same in other places of our country and the world.
Celebration of IDP in the schools: This year, working for second time in partnership with the Ministry of Education, all the schools of the country were invited to celebrate the IDP with activities at the class room level and at the school level. A guidebook for the teachers, adapted to students of different ages from first grade of primary education to fourth grade of secondary education, were available at the website of the Ministry. This activity was value oriented, including religious or inter-faith components only if so decided by the educational community.
A Central Ceremony of Interfaith prayers for Peace in the World: It took place in the evening of 21 September at CONFERRE (National conference of Catholic religious congregations). Representatives from thirteen religions and spiritual traditions (including Christians, Jews, Moslems, Buddhists, Sikhs, Sufis, Baha¡'a s, Mapuches and BKs) prayed for peace using their own sacred languages, songs and rituals. A multi-religious audience of around 250 people participated in this ceremony. The event ended with all the participants reading in loud voice a Declaration for Peace in the World and singing for peace.
Argentina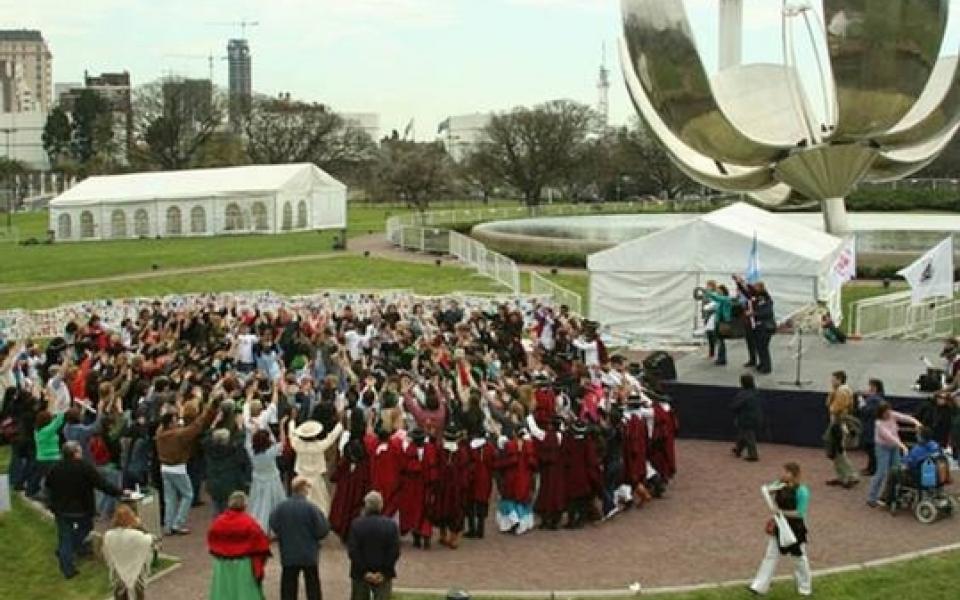 Buenos Aires - On Monday 21st of September the Peace Council, different associations, NGOs and schools from various states of Argentina who came to the city in order to take part in the ceremony met to celebrate the International Day of Peace at Plaza de las Naciones Unidas (United Nations Plaza, Buenos Aires).
They gave us beautiful songs, along with the universal hands language, typical dances, indigenous music, and the usual three rounds of Peace joined with the sound of the drums.
Also, this year, "Proyecto 3milenio" made a pledge for "A Million Minutes of Peace " being part of the network campaign of Odyssey Networks.
It has been a wonderful day, with a full sun that came with Spring time and it was also a day of union, solidarity, brotherhood and above all, full of Peace.
Finland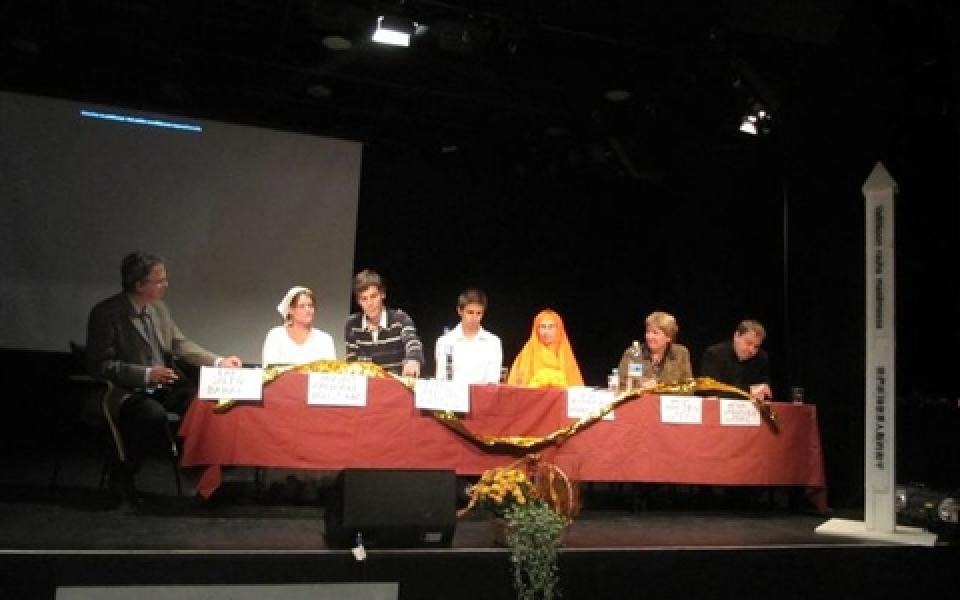 Helsinki - Golden Rule Award, an interfaith prize, was given to professor Reijo E. Heinonen at a pre-parliament event on the 26th of September, at the International Cultural Center of Caisa, in Helsinki. Reijo E. Heinonen is an advisor to President Martti Ahtisaari.
There were several music and poetry presentations, panel discussions and speeches around interfaith dialogue as a tool to build social cohesion and peace.
Approximately 60 people, all together, participated in this exciting seminar. Also a peace pole was dedicated during the peace ceremony.
Philippines
Manila - The Peacemakers Circle Foundation and the United Religions Initiative Regional Office celebrated the 2009 International Day of Peace celebrations with its Peace NGO partners, student organizations, the staff of the Office of the Presidential Adviser on the Peace Process, and the World March for Peace and Nonviolence.
Members of the Youth for Unity (Y4U) of the Peacemakers Circle gathered everyone in a circle to open the celebration with interfaith prayers setting the mood for a contemplative celebration of peace. They also prepared copies of a mini brochure on the Ways of Peace for inner peace, harmony with others, and the healing of the earth that were given away during the event.
Peace Mosaic by Muslim and Christian Youth
Youth from the four communities under the Peacemakers Circle's Muslim-Christian Dialogue program – Tala, Maharlika, Quiapo, and Taguig painted peace tiles that were installed on the Peace Wall at the Quezon City Memorial Circle. The wall was installed by the GZO Peace Institute and the Quezon City government to feature peace messages and symbols by youth all over the Philippines affected by conflict and/ or promoting peace.
Sacred Space, Sacred Circles, Sacred Music
Hosting a sacred space for meditation and reflection as a booth served as a refreshing way for visitors to learn about different faiths as they view the different faith symbols hung around with a giant mandala for peace intentions available for everyone to write on.
During the day, youths from Youth for Unity, Integral Art Metta, and Binhi ng Kapayapaan (Seeds of Peace) collaborated in creating a stone and tile labyrinth beside the stage for everyone to walk with the intention of seeking inner peace.
Peacemakers Circle partner SangHabi, provided indigenous music and engaged people in a dance around the area towards the peace wall for the unveiling of the mosaics.
Overall, the event was a huge success with more than 200 participants in attendance.
Korea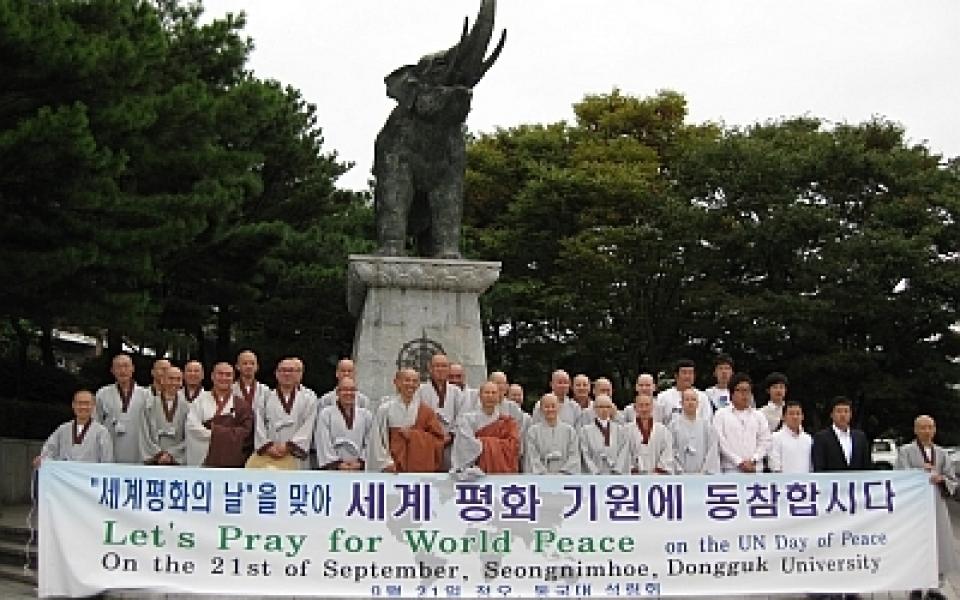 Seoul & Gyeongju - URI Korea celebrated the IDP in 2 places, Seoul and Gyeongju. URI Korea members in the Seoul area had events at the Jeamni village in Gyeonggi Province near Seoul with an interfaith seminar and memorial service for victims of church members who were burnt by Japanese polices during the Japanese rule last century. URI Global Trustee and Coordinator for Korea Venerable Jinwol Lee led people in Gyeongju. The IDP event had been announced by e-mail and radio system of the Dongguk University campus asking all school members, about 10 thousand, if they could to join the peace prayer at their working places 12 noon for a minute of silence. As the above picture shows, we had a gathering at the campus center just before 12 noon and practiced meditation, held a prayer service for world peace and read the message from Mr. Ban Ki-moon, the Secretary General of UN.