Volunteering for Peace organization and in cooperation with its partners Applied Research Institute – Jerusalem Arij and the Palestinian National Network of Anna Lindh Foundation organized a Candle Lighting ceremony and a March for peace in the occasion of the International Day of Peace 21st of September IDP and in support of the Palestinian bid for full membership at the U.N. Security Council. The candle lighting started in the Manger square ,a beautiful square in between the Nativity Church the birth place of Jesus and The mosque of Omar the famous interfaith mosque In Bethlehem, with participation of Palestinian members of Volunteering for Peace and its partners, local residence of Bethlehem and Hebron, international supporters and volunteers in Bethlehem as well as Iresh and French groups who are in a visit to the Holy land and decided to join the activity which was announced in the city widely by the media. Local council members as well as civil society activists joined the event.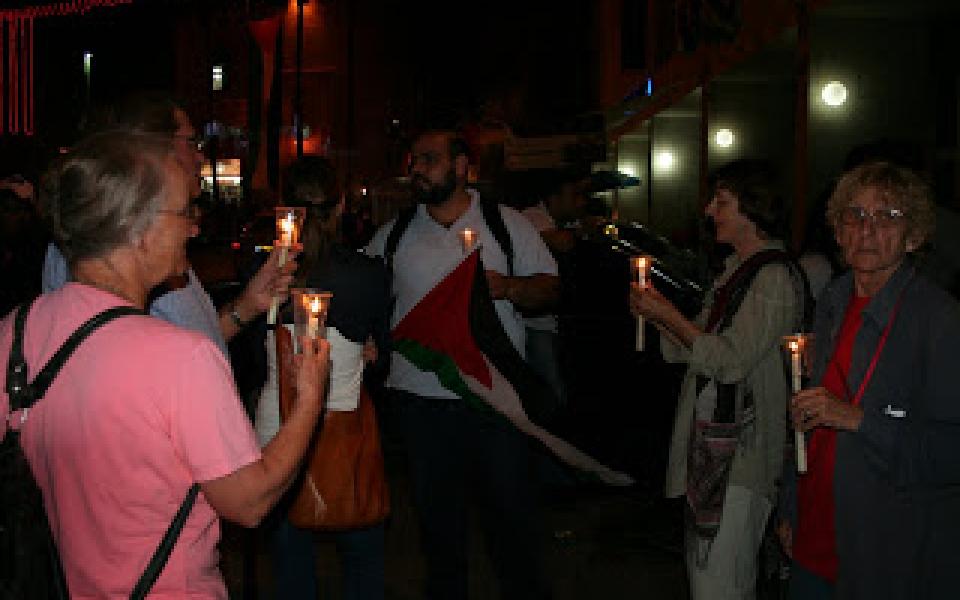 The event started with an introduction from Mr. Tareq Altamimi, Volunteering for Peace chairman and a Global Council member of United Religions Initiative, who welcomed all those who joined the event and thanked them for marking the International Day of Peace with us in this holy site and supporting the Palestinian candidacy to be a full member in the United Nations. He reminded them about last year activity which was organized by Volunteering for Peace and its partners in Aida Refugee camp close to the apartheid wall. He spoke about the importance of the International Day of Peace which was chosen by the united Nations to be the 21st of September every year to celebrate the great work of those who work for peace around the globe and a time to pray for Peace in the world and specially in Palestine which lived under an ugly occupation and oppression from the Israeli government. He also spoke about Volunteering for Peace work and its partner and the reason of choosing this special site for the activity this year. He asked the participants each in his language, faith and way to pray for the almighty god to spread peace in Palestine and the world, : May Peace Prevail in Palestine, May Peace Prevail in the world"
The local participants and Internationals each in his way and faith prayed for Peace in Palestine prayed for a success of the Palestinian move in the United Nations. Children, youth, women, locals, internationals were part of this important event. The march ended with a beautiful candle march together with Palestinian flags and banners written in it May Peace Prevail in Palestine, May Peace Prevail in the world.
Cooperation Circles Involved