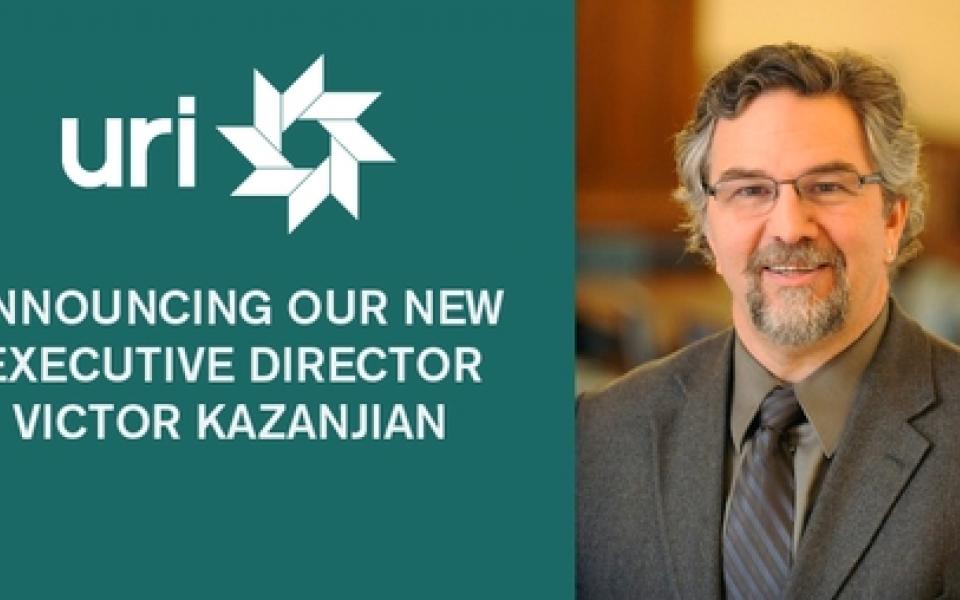 San Francisco, CA – September 3, 2013 – The United Religious Initiative (URI) announces Victor Kazanjian as its new Executive Director. Kazanjian will assume the leadership role on October 15, following Rev. Charles Gibbs who retired as URI's Executive Director in June of this year.
"The United Religions Initiative community in 86 countries of the world enthusiastically welcomes Victor Kazanjian as our Executive Director and looks forward to his leadership and friendship," said The Right Rev. William E. Swing, President and founder of the United Religious Initiative.
Kazanjian is looking forward to join URI in building peaceful communities and engage problems of injustice and violence by supporting interfaith cooperation and understanding. "At a time when religion is often seen to be at the root of division among people, it is a privilege and honor to be given this opportunity to lead an organization such as URI that stands out as a beacon of hope for the possibilities of peace" said Kazanjian.
Kazanjian is coming from Wellesley College where he served for more than two decades as Dean of Religious and Spiritual Life, Co-Director of the Peace & Justice Studies Program and most recently Dean of Intercultural Education.
Kazanjian's work at Wellesley College is widely acknowledged as the catalyst in the national movement to include religion and spirituality as core issues in higher education, and has led to inter-faith and inter-cultural growth and understanding. Specializing in inter-religious dialogue and conflict transformation, diversity and democracy, and peace building, Kazanjian is a recognized thought-leader and the co-author and editor of several books and numerous articles, including Education as Transformation: Religious Pluralism, Spirituality and a New Vision for Higher Education in America, (New York: Peter Lang, 2000), Beyond Tolerance: a Campus Religious Diversity Kit, (Washington: NASPA, 2004) and the Studies in Spirituality and Education series published by Peter Lang Press.
Global Council Chair Kiran Bali extends the council's support. "I am absolutely delighted to welcome Victor Kazanjian as our esteemed Executive Director of URI. Victor is a real asset to URI bringing his extensive experience and high regard in the field of international interfaith cooperation. His leadership has been truly inspirational and has resulted in effective and impactful projects. I look forward to working in conjunction with Victor, our URI community and our partners to further strengthen our initiatives throughout the exciting times that lay ahead."
In 1998 Kazanjian co-founded Education as Transformation, an international organization working with colleges and universities around the world to promote religious pluralism and spirituality in education. He is also a visiting faculty member and Fulbright Scholar at the Malaviya Center for Peace Research at Banaras Hindu University in Varanasi, India, creator of Wellesley College's Wintersession program in India, and member of the Global Learning Leadership Council of the American Association of Colleges and Universities (AAC&U).
Victor Kazanjian is an ordained priest in the Episcopal Church and holds a Master of Divinity degree from the Episcopal Divinity School in Cambridge, Massachusetts. He is also a graduate of Harvard University.
######
URI is a global grassroots interfaith network that cultivates peace and justice by engaging people to bridge religious and cultural differences and work together for the good of their communities and the world.
We implement our mission through local and global initiatives that build the capacity of nearly 600 member groups and organizations in 86 countries to engage in community action such as conflict resolution and reconciliation, environmental sustainability, education, women's and youth programs, and advocacy for human rights. 
---
Contact: Deborah Lauricella
(415) 956-1791