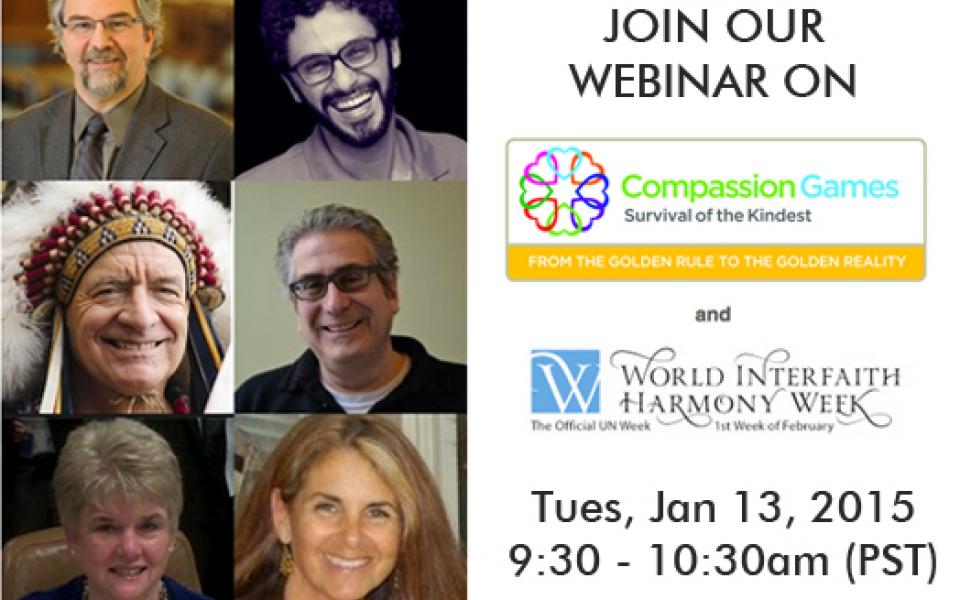 You're invited to
An Online Session of Preparation and Celebration for the Compassion Games and World Interfaith Harmony Week
Tuesday, January 13, 2015 at 9:30 - 10:30 am (PST)
---
URI North America is excited to host the Compassion Games and World Interfaith Harmony Week for a lively discussion surrounding how we can care for Creation and each other in an innovative and creative way during this World Interfaith Harmony Week and beyond.  
URI Executive Director The Rev. Victor H. Kazanjian, Jr. will lead the conversation, joined by:
Osama Alshurafa, from the offices of the World Interfaith Harmony Week in Jordan
Chief Phil Lane, URI Global Council Trustee and Chairman of the Compassion Games International
Jon Ramer, Founder of the Compassion Games & Executive Director of the Compassionate Action Network
Monica Willard, United Nations Representative for URI
Sande Hart, URI North America Chairperson and Compassion Games International Head Coach
Click here to RSVP and then click the share buttons below to help spread the word!
---
How will you celebrate World Interfaith Harmony Week? 
Submit your event here to register with World Interfaith Harmony Week and then click here to register with the Compassion Games. World Interfaith Harmony week is also giving away a $25,000 prize for the best interfaith event. Follow the link to learn more.

And we want to know too: URI is a place where people come to share and find inspiration. Click here to tell our regional coordinator, Sari Heidenreich, about your World Interfaith Harmony Week plans so she can share them though our website, Facebook page, etc. 
Cooperation Circles Involved