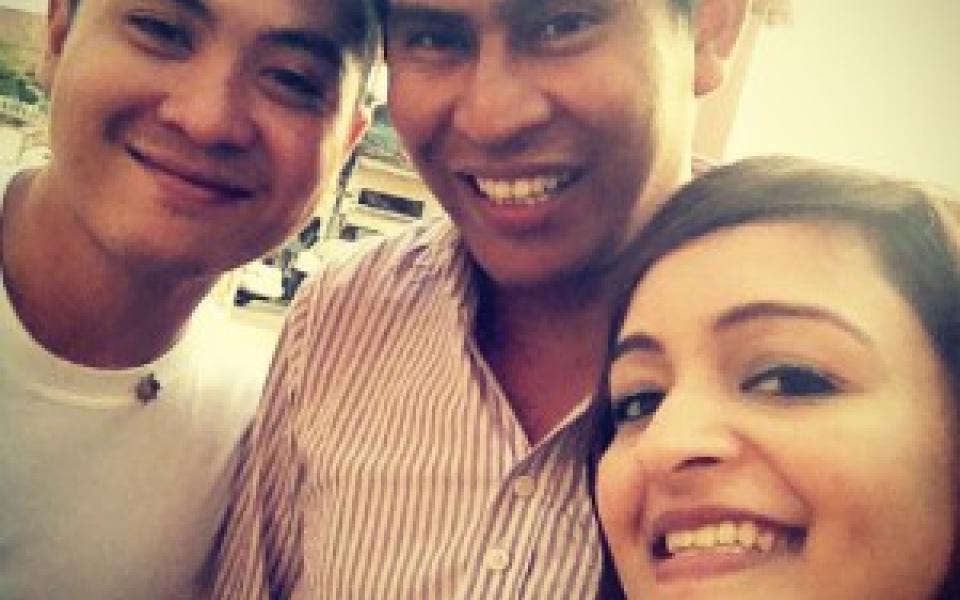 We are back from the Regional Leadership Team (RLT) meeting that was held in Phnom Penh, capital city of the wonderful Cambodia.
There is a lot of exciting news to share as a result of the meeting, so let's get to it!
New RC for the SEA-Pac Central Zone (the Philippines) Announced
A few days before the RLT we were greeting with the wonderful news that Ludwig Quirog, the youth lynchpin of URI's interfaith work in the Philippines, had been selected as the RC for the Philippines! The lovely Sally Mahé from the Global Support Office in California had these words of introduction for Ludwig, and as I couldn't have said it any better myself, here is an excerpt:
"Ludwig is already known to URI as the founder of TULAY CC and current leader of the Bohol Goodwill Volunteers CC.  He was an instrumental leader in the YLP program at the SEA-Pac Assembly in 2013. Ludwig is trained in sociology and is passionate to help people engage in activities that provide short-term relief like food and clean water in response to disasters, as well as long-term relief like trauma healing. He is a trained practitioner in non-violent conflict transformation and helped introduce the Alternatives to Violence Project (AVP) to the Philippines after working in refugee communities in North Sumatra and conflict zones in Aceh Province. He became the first Filipino delegate to the organization's international gathering in 2014 and was one of the people who introduced the movement to a prison in Bohol, Philippines. Ludwig will work 20 hours per week for URI and will be based in Bohol, Philippines."
The moment Ludwig arrived he added such a dynamic and articulate element to the RLT. His recruitment is undoubtedly a huge coup for URI. We welcome him aboard with open arms and wish him the best in his endeavours! 
New RC for the SEA-Pac West Zone (Cambodia/Malaysia/Thailand/Indonesia) Announced
As if Ludwig's recruitment wasn't enough, URI was blessed enough to meet, and hire, the intelligent, caring, and highly skilled Sothearat Seoung for the position of RC for the Cambodia/Malaysia/Thailand/Indonesia zone. Once again, Sally's words encapsulate Sothearat perfectly:
"Sothearat is Cambodian, living in Phnom Penh with ten years' experience in social development sector. He is a clinical psychologist, trained internationally on "psycho-traumatology."  In addition, Sothearat is founder and managing director of his own educational and consulting service, Center for Leadership Enrichment, and brings rich experience in capacity building facilitation and NGO management coaching. Sothearat literally dived into his position as a member of the Regional Leadership Team Strategic Planning meeting in Phnom Penh shortly after being hired and immediately connected heart, mind and spirit with the values and vision of URI. Sothearat will work 15 hours per week and will be based in Phnom Penh."
Sothearat barely had a chance to take a breath to process the good news of his recruitment before he was thrust head first into a URI RLT. Yikes! Luckily for us, Ludwig and I had had a previous association with URI, so in coming to the job we knew about the organisation and our task in the RLT was to learn about the role. Sothearat not only had to learn about the job but had to start from scratch about URI, too! It was a formidable task and I struggle to think of anyone else who could have handled it with as much aplomb and aptitude as Sothearat. Well done mate! As with Ludwig, I will be profiling Sothearat in the near future. Stay tuned!
Can you believe our wonderful fortune in hiring these two highly qualified people to work with URI? I almost can't! It was such a pleasure getting to know them both in Phnom Penh and you, dear readers, will be happy to know that the 3 of us will be Skyping every month to share wisdom, ideas, and knowledge for the betterment of our region.
Cooperation Circles Involved