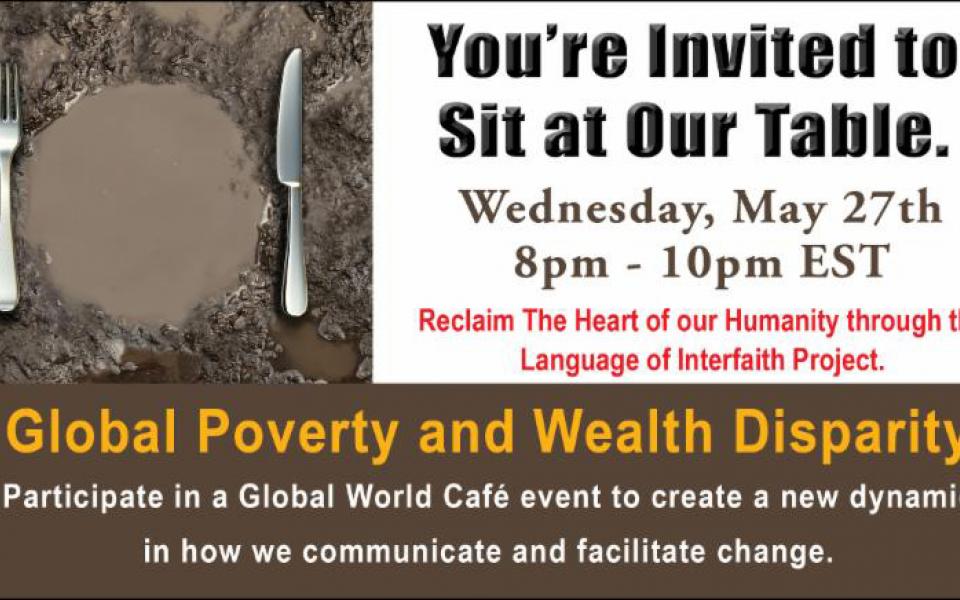 Wisdom Circle Ministries, a URI Cooperation Circle, invites you to participate in a World Cafe in partnership with the Parliament of World Religions. The purpose is to create a new dynamic in how we communicate and facilitate change.  We embrace the call to Reclaim The Heart of our Humanity through the Language of Interfaith Project. As part of our community we invite your participation.
Introduction
We are connecting with the world-wide effort addressing global poverty and wealth disparity. This endeavor is comprised of many organizations and individual efforts. Much frustration and helplessness surrounds these complex issues. These subjects are intimately interrelated, as are wealthy and impoverished communities. It is our quest to investigate the issues of these broken relationships and produce an inclusive path for understanding, social action and healing. 
Join us in this World Cafe as we investigate, through dialogue, the single story that can frame our perspectives. This World Cafe project investigates these perspectives, the active work of organizations and individuals around the world, and looks to create and facilitate a gateway for developing participation and a new understanding. 
First step:
We have selected these two videos for their insightful content.  We invite you to view them for their informative and eye opening message.
Video: Dumisani Nyoni: Poverty Understood
Video: The hidden reason for poverty the world needs to address now
Premises:
Global Poverty and Wealth Disparity are major issues that affect everyone in different ways.
Current dialogues and conversations often exclude the voices of those that are most affected.
The perspective concerning these topics are often localized and personal and viewed within social context.
They are often compounded by broken and dysfunctional relationships.
There are often conflicting standards concerning the value of life.
Poverty and wealth disparity are not just economic issues. 
Questions for your consideration:
Identifying our single story.
In what ways are we individually vulnerable ie. justice, peace, food, technology, health, education, security, services, respect, power, money…)?
How can we get beyond the fear, vulnerability or the overwhelming nature of global poverty and wealth disparity to participate in the discussion, or produce answers?
Empathy and Compassion
How do we respond and what is our compassionate responsibility? And from the spiritual perspective how do we engage?
How can we participate and heal the wounds of poverty caused by broken relationships?
                (suggestions for thought)
                On an individual basis?
                By participating in existing programs and initiatives?
                Through education?
                Voice of humanity?
                Other ways?
Takeaways:
Create accessibility and a gateway to participation
Present action steps through existing network and partnerships.
Actively engaging the heart of our humanity and compassion.
Create a stronger united voice.
Greater inclusion of the unheard voice and the Language of Interfaith.
Create spiritual path of knowledge, understanding, and action. 
We offer three ways to participate;
1. Join us on May 27th at 8pm EDT for our online World Cafe event. participate in this interactive gathering to actively contribute to this conversation and share your perspective with others from around the world. Register here. 
2.If you are unable to join the online event, please considering partnering by sharing your contribution though our questionnaire on this topic. Sign up here or send an email to: support@wisdomccircleministries.org
3. Design and present your own World Cafe event for your own forum, discussion group or Cooperation Circle. Request a presentation package that will contain videos, research, leading questions and contacts for sharing your results with us. Email Claudia at support@wisdomcircleministries.org to get started.
"Sometimes it is the power of a single story or a single word that changes a life, changes history. It is our words and stories that form the common bond between us." 
Cooperation Circles Involved