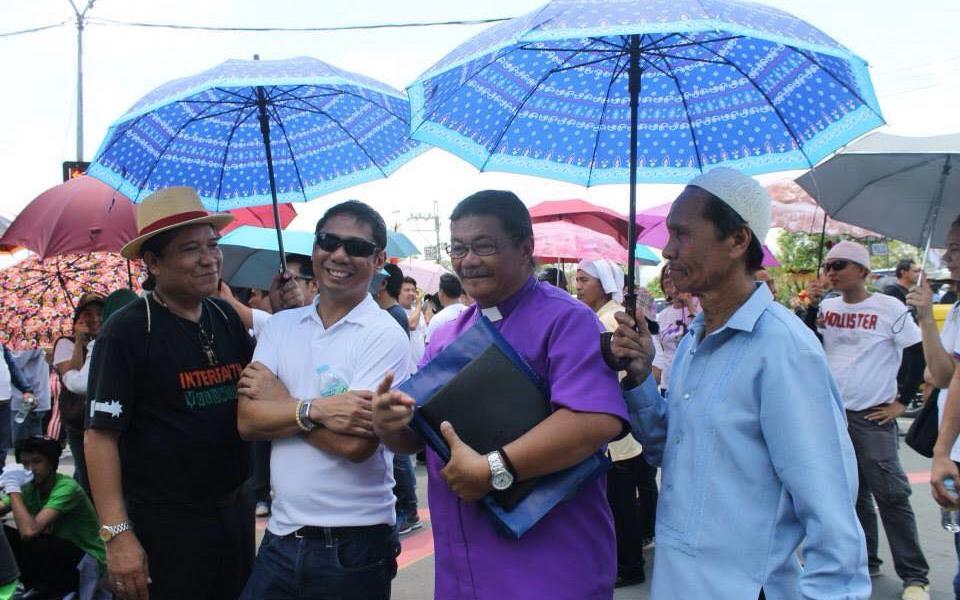 The 21st of May 2015, was the 14th anniversary of Pakigdait (which, in Visayan, can mean: goodwill, friendship, and peaceful cooperation) Cooperation Circle in Mindanao, Philippines.
Let us hold them in our prayers and shower them with good thoughts as they celebrate 14 years of peace advocacy, 14 years of raising the banner of non-violence and 14 years of saying yes only to a harmonious Mindanao and a harmonious Philippines for all people.
Musa Sanguila, URI Global Trustee and co-founding member of the cooperation circle, wrote:
I reminisced this day at the Philippine Independent Church at Kauswagan Lanao del Norte, a group of interfaith leaders from the Roman Catholic Church headed by Rev. Fr. Reggie Quijano, the Philippine Independent Church headed by Rev. Fr. Frank Pacamalan, the United Church of Christ in the Philippines headed by the late Tatay Oking Brigente, the Seventh Day Adventist Church headed by the late Tatay Pelagio Recopelacion, the Assembly of God Church with Rev. Reu Montecillo, the Catholic Agency for Overseas Development-UK represented by Carino Rey Antequisa YVaron-yCampos and the late Sultan of Kauswagan, Jake Mohamad Sr. and myself were proactively sharing thoughts with one another on how do we call ourselves? And how do we tell the people that Muslims and Christians can work together especially Building and Rebuilding Relationships in the once War-Torn area of the All-Out -War declared by the deposed President Erap Estrada in 2000?
I can recall Tatay Pelagio said, we will call our group, Love and Care for the people. But Tatay Oking Brigente opined that, why won't we use the local dialect to name our group. I just can't recall who among us who floated the name PAKIGDAIT. What I remember, it was a unanimous ownership of the name. I just hope Rakrak will open the Pandora's box who that was, being the founding secretary of the group elected with Fr. Reggie as the founding chair. 
Anyway, HAPPY 14th YEAR ANNIVERSARY PAKIGDAIT! Padayon sa pagsilbi sa Labing Madagayaon ug Labing Maluluy-on inubanan sa Puangod ug Pahiyom. Padayon sa pagpalapnag sa Kalinaw sa isig-kaingon. May Peace Prevail in Lanao. May Peace Prevail in Mindanao. May Peace Peace Prevail on Earth!
The words in the last paragraph that most of you reading this do not understand are in the Filipino language globally known as Cebuano, but known to us speakers as Binisaya, the language of the Visayas Islands and Mindanao.
In English:  "Continue serving the Most Abundant and Most Merciful, with willing hearts and smiles.  Continue promoting peace to your fellow human beings."
Ludwig Quirog
Regional Coordinator for SEA-Pac Central Zone
Cooperation Circles Involved