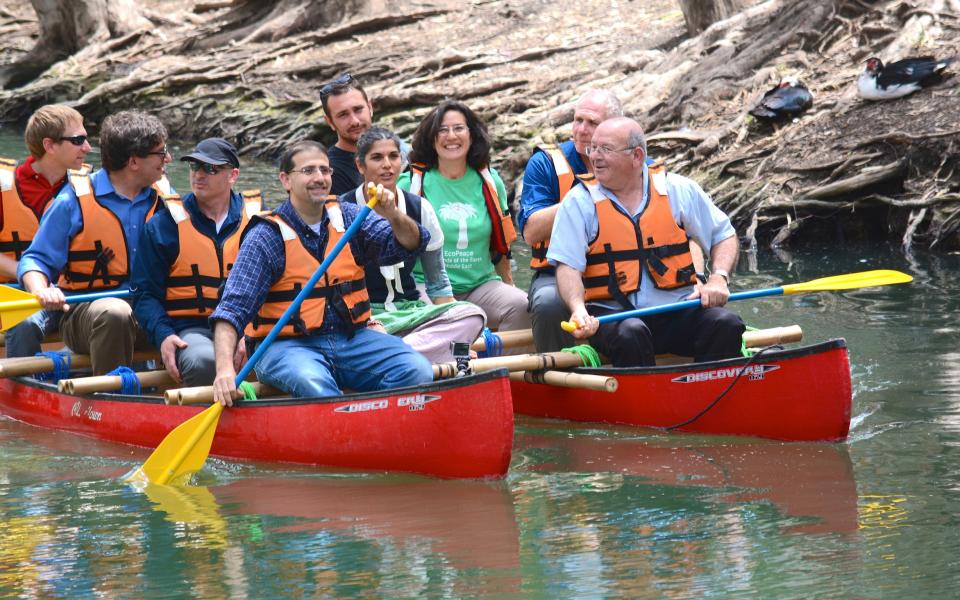 EcoPeace Cooperation Circle celebrated this year's Earth Day at the Lower Jordan River with U.S. Ambassador Dan Shapiro, U.S. Embassy Tel Aviv, Israel, Mayor of the Jordan Valley Regional council Yossi Vardi, USAID representatives, and representatives from both the Kinneret and Lower Jordan River Drainage Authorities – as well as a whole lot of kids!
With rehabilitation efforts underway, EcoPeace took the opportunity to show Ambassador Shapiro improvements since he last visited the river with them in 2011, and to thank him for continued American support of the "Good Water Neighbors" project. (This project has helped put the rehabilitation of the Jordan River on national agendas, as well as supporting several important research studies giving scientific backing to EcoPeace's proposed solutions.)
Ambassador Shapiro joined students from the local elementary school in a cleanup activity. He paddled a canoe down a short stretch of the still-clean section of the river, and was then guided by the local authorities on a tour of present–and future–rehabilitation projects.
Learn more about EcoPeace Cooperation Circle.
Cooperation Circles Involved