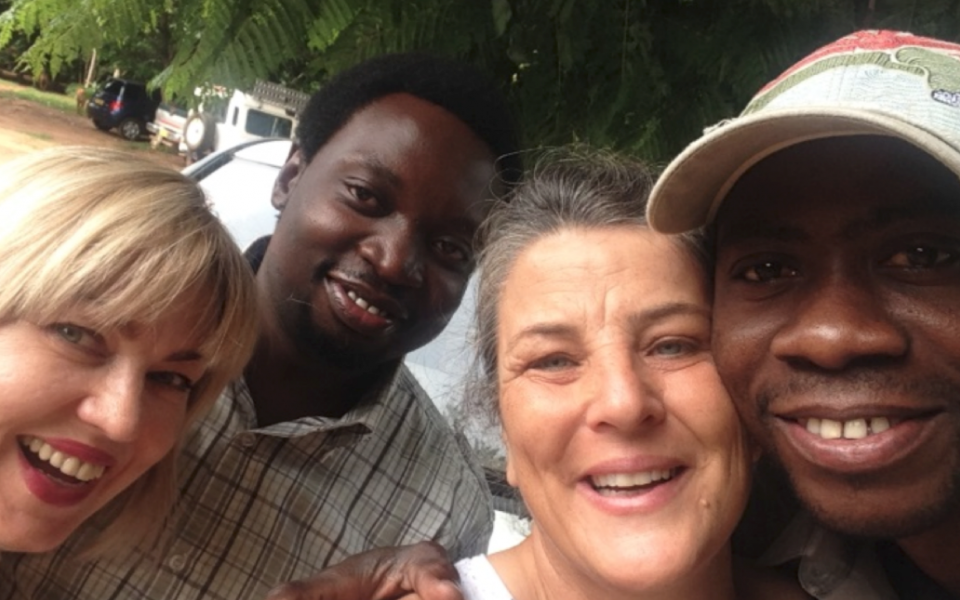 Since I wrote about the amazing growth of Southern Africa this year from 4 to currently 13 Cooperation Circles (CCs), Regional Coordinator (RC) Karen Barensche and I have been inundated with congratulations and praise. It is time to put the record straight and give credit where it is due! The ace up our sleeves in the warm heart of Africa is Geoffrey Manasseh, a 27 year old carpenter who spent just two months learning the art of CC administration at our highly successful Lunzu CC, under the leadership and guidance of Father John Ng'oma.
Two months after joining Lunzu CC in Blantyre, Geoffrey was relocated to Lilongwe, the capital of Malawi. Inspired by the work he had seen in Lunzu, he immediately looked for a CC to join in his new city. When he did not find one, he emailed Liam Chinn in San Francisco. The email was forwarded to the Southern Africa Regional Team mid-January 2015 and Geoffrey was quickly given the necessary documentation. Within 2 weeks he had returned his application form, organised his community and united his city in the mission to find homes for street children and create educational programs for them that would enable them to grow up to become functional citizens.
Geoffrey Manasseh's enthusiasm did not stop there. Not content with organising his city, he was putting all of Father John Ng'oma's training to good use and soon it seemed he was organising his entire country. The Southern Africa Regional Support Team, overwhelmed with Geoffrey's work and enthusiasm, travelled to Malawi in the first week of March. We laugh now at how little we knew when we planned that trip. Google said there was an airport in Mzuzu. There is! But there are no planes… So we thought we would take a bus around the country. The buses travel every day, but only when they are full and there is no possibility of pre-booking a seat or setting a schedule. Geoffrey, however, gently and diplomatically made it possible for us to realise our mistakes and recognise another way.
Lilongwe was our first stop in Malawi, where we met Geoffrey and the entire Lilongwe Central CC team. The welcome we received was warm and friendly, and left us in no doubt that our Malawian family takes their URI commitments extremely seriously.
In Lilongwe, we were introduced to Geoffrey's long-time friend Johnnie Kabwilo who became our trusted guide and escorted us valiantly and tirelessly throughout our visit. Realising the uncertainty of our bus-trip plans, we called Johnnie at about 5.30 in the morning after our first night in Malawi and asked if he was available to drive us around Malawi for a week. An hour later we were off to Mzuzu on the first leg of a 2500km road trip. Johnnie is a superhero, and an excellent guide.
On the way to Mzuzu we stopped for lunch with Johnnie's mom, Regina, at Kasungu – traditional cassava (similar to a potato) and a massive roasted mealie straight from the garden. That afternoon we met Geoffrey's friends Jonathan, Shadreck and Patrick who were creating a CC in Mzuzu. This group was aiming to use sports to unite, occupy and focus the unemployed youth of the area. At the Mzuzu meeting Karen and I each cradled a baby brought to the meeting by their mothers, as we learned about the group, their dreams and their challenges. We had already experienced a candlelight meeting in Lilongwe due to regular power cuts, and here in Mzuzu a large part of our meeting was illuminated by one lonely candle on a coffee table in the centre of a room. Taking notes became a challenge, but we got by.
On day 3 we travelled to Nkhata Bay where Geoffrey had planted his seeds of vision with high school pupils Kenneth, Evidence, Mphatso, Amos, Vincent and Lungu as well as a local businessman, Steven Banda. The group's concern was the deforestation of their beautiful environment. We also quickly realised the significant social challenges they face. Right now most of this group are busy writing their final school exams. Although ability and ambition are plentiful, access to further education is severely limited. Mphatso had me in tears when he confided that although he dreams of becoming a journalist, he feels that for him there is "no hope".
Johnnie kept us fascinated chatting about his beloved Malawi on the long road south to Mangochi Central West, where we found our Day 4 appointment. Patrick Polela and his group had submitted their CC application based on the socio-economic needs of their community which faces a 70% unemployment rate. Subsistence farming, malaria, child-headed families and the plight of local orphans were part of their agenda of concerns. Karen and I have video footage of the traditional African greeting accorded to us in this most remote village. What an honour – not very many outsiders have this experience and once again, we were deeply moved. Just thinking about it now takes me straight back into that goosebump moment.
Day 5 involved a relatively short drive to Zomba to meet with Takondwa Monteiro, a long-time URI affiliate and friend. That afternoon on arrival in Blantyre we made our way to the premises of Umodzi, a URI CC under the visionary leadership of Shywanga Ali. Shy is a freelance journalist who identifies a project every year for his CC, obtains (often foreign) funding and guides the project to fruition. We loved the reports of his projects pasted up on his walls, and hearing about the innovative work he has done in areas as diverse as environmental issues and voter education. Shy's particular passion is youth development. This year he is hoping to establish a computer literacy class for teenage girls whose educational needs are often overlooked in a society that sees more value in educating boys. "If I can just teach these teenage girls computer skills, it will open up a world of possibilities for them and give them access to so much more," he told us.
Sadly, a planned meeting later that afternoon with another established Blantyre CC, Matindi, could not materialise as the CC leader was delayed at out-of-town meetings. That was the only missed appointment during our entire Malawi trip and we felt pretty happy with our record.
We had seen evidence nearly everywhere of Geoffrey's skill and passion in sharing the vision of URI, inspiring others and identifying excellent leadership qualities in the friends and acquaintances who answered his call to action. And so it was fitting that on our last day in Malawi we met with Father John Ng'oma and the executive of Lunzu CC. We were able to recognise the skilled leadership of Father John and truly appreciate the remarkable, sustainable systems he has put in place to guide and nurture Lunzu CC's URI work.
Since our visit to Malawi, Geoffrey has been responsible for a further three CC applications for the Southern Africa region, bringing his total so far this year to 7 applications, 5 of which are still pending. A difficult communications system is the main challenge as we cannot always connect with the groups to conduct Appreciative Inquiries and learn more about them. Skype is impossible and telephone communications are not entirely reliable. But social media works well (Facebook is free in Malawi) and we are building our relationships in this way. We have encouraged our Malawian groups to create Facebook pages to keep us updated on their activities and to share their photographs. With all this buzz of excitement in Malawi generated by our youth leader Geoffrey, it was easy to decide that our first Youth Leadership Training and Sub-Regional conference should be held in that country. What a fantastic asset Geoffrey is to URI's work in Southern Africa, to his country and to humanity.
It seems fitting to give Geoffrey the last word, and I take this quote from something Geoffrey shared on Facebook.
He wrote: "We never know how far reaching are our actions. It is possible that something we may think, say or do today will affect the lives of millions tomorrow."
Berry Gargan – Southern Africa CC Liaison, June 2015
Cooperation Circles Involved