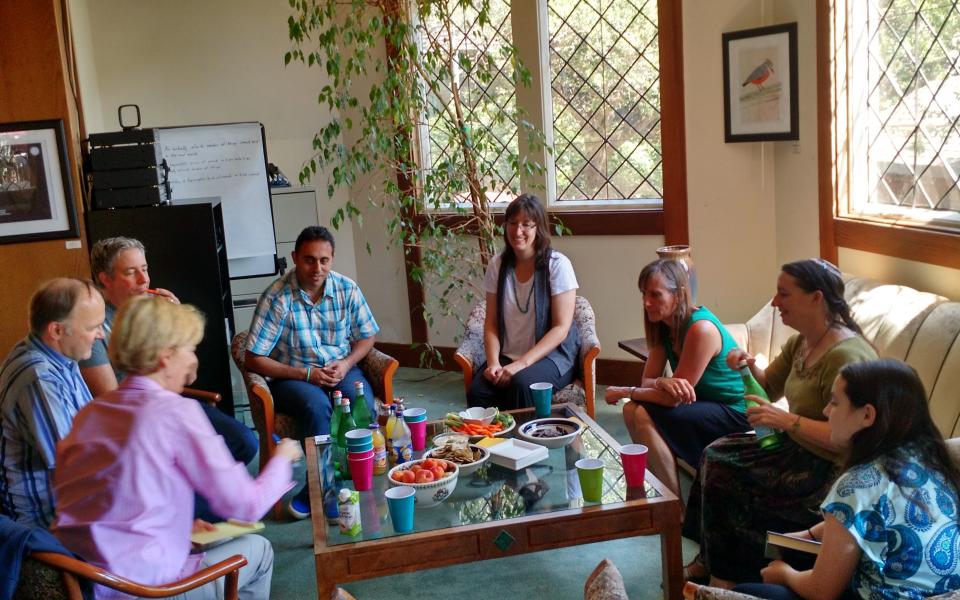 Peacebuilders from California and Palestine, joined by their connection to United Religions Initiative, gathered in the San Francisco Bay Area last week. During a meeting at Sausalito Presbyterian Church, nine people gathered in a circle -- Christians and Jews, one Palestinian and eight Northern Californians, all members of the global United Religions Initiative family.
Daniel Aqleh lives in Bethlehem, Palestine and is a member of both the Abrahamic Reunion and Volunteering for Peace Cooperation Circles. On a recent trip to the U.S., he visited with members of three of the San Francisco-area Cooperation Circles.
"I felt that every [one] of them had a personal contact with me even though I did not know them before because of their interest that drive them towards peace and justice," Aqleh said after his visit. "I think that URI was the main reason for me for being here and it [has] a very strong affect because of the connection I made with people."
During each of these meetings, Aqleh shared about the peacebuilding work happening in Palestine and Israel. Many of the members who attended these gatherings had previously traveled to or lived in Israel and/or Palestine. On Monday, the Marin Interfaith Council (MIC) hosted a gathering at the Sausalito Presbyterian Church with members from both MIC and Silicon Valley Interreligious Council. After nearly two hours of sharing, the gathering  drew to a close and participants gathered around the piano. Aqleh, who plays the piano at a Presbyterian church in Bethlehem, led the group in the signing of an Arabic peace song.
The following day, Daniel traveled to Pittsburgh, CA to meet with a Bible study group hosted by Rev. Will McGarvey, Executive Director of the Interfaith Council of Contra Costa County, a URI Cooperation Circle. "It was great to have Daniel visit our group at the church," said McGarvey. "We realize that we had 18 friends in common on Facebook and when we went to lunch at a local restaurant he met someone from the Jalah's cousin he knows back in Bethlehem. It's a small world and hearing about his peacemaking with our friend Eliyahu McLean and Ibrahim Abu el Hawa was heartening." 
Aqleh was also excited by the gatherings and the eagerness of the people he met to learn about what is happening in his homeland.
"They were really eager to hear about the Christian-Muslim-Jewish dialogue [and] Palestinian and Israeli interaction because they do not hear about that in the news," he said, "and those things would be the first steps toward trying to build peace in the Middle East."
Cooperation Circles Involved