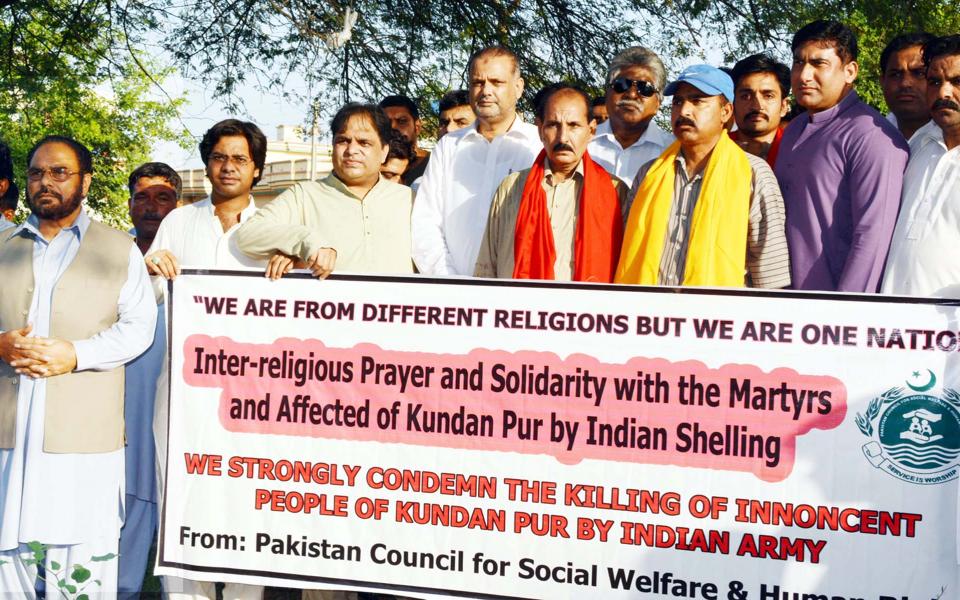 As on 28th August 2015 the Indian Army resorted to heaving firing and shelling in village Kundanpur along the Sialkot working boundary on innocent and unarmed civilian population which claimed more than eight lives and injured more than 48 including 22 females. To show solidarity with the martyred and affected people Pakistan Council for Social Welfare & Human Rights organized interreligious peace and solidarity prayer at village Kundanpur.
Hindu, Christian and Muslim's religious and political leaders, civil society members, teachers associations, and others participated in the peace and solidarity prayer. A peaceful protest was also held to condemn the Indian's Army inhuman act. Ex-MPA Mr. Tahir Mehmood Hundli Advocate, Chairman Pakistan Council for Social Welfare & Human Rights Mr. Muhammad Ijaz Noori, Dr. Mufti Najeeb Ahmed Hashmi Chairman Ulmah Mushaike Council, Pandat Prof. Javed Kumar, Arjan Das, Ravi Kumar, Rishap Milk, Emmanuel Gill, Dr. Rafique Yaqoob, Pakistan Council's Directors Mansoor Ahmed, Ch. Muhammad Ijaz, Rana Nadeem Akram and others led the peace & solidarity prayer and protest. Muslims, Hindus and Christian religious leaders offered the prayer at the graves of Shuda in the local graveyard of village Kundanpur. On this occasion they also expressed solidarity with the affected villagers besides paying rich tributes to their resilience and spirits.
While expressing their views with Media representatives Chairman PCSW&HR Mr. Muhammad Ijaz Noori, Ex- MPA Mr. Tahir Mehmood Hundli Advocate, Hindu religious leader Professor Pandat Javed Kumar, Christian religious leader Emanuel Gill and Muslim religious leader Dr. Mufti Najeeb Hashmi  condemned the Indian  army shelling and firing on the innocent civilian population of the village and said that Indian firing and violation targeting civilians is highly unprofessional, unethical, irresponsible and a cowardly act and India forces have crossed all limits to terrorise Pakistan civilian population disregarding the international conventions and norms and they resolve that the followers of all religions are one Nation and we will support our Armed forces if the Indian will not stop the violence of control line and international ethics of war and we will stand with the Pakistan Army as one Nation to save our motherland by the Indian policy of extremism and violence of cease fire line and working boundaries. They demanded the UN and international community to take serious notice on the Indian Army's inhuman policies against innocent population.  They further said that Pakistani nation can sense definite linkage between terrorism being sponsored by India in various parts of Pakistan and belligerence along Line of Control and Working Boundary and we strongly condemn this terrorism by the Indian Army and Government The participants of peace and solidarity prayer showed solidarity with the people affected by the unprovoked Indian mortar shelling. They urged the world community to take serious notice of the Indian aggression and use its influence to halt the repeated ceasefire violations by the Indian along the Line of Control (LOC) and Working Boundary (WB). They also showed complete unity over the burning issue and said they were Pakistani first. They added that the Modi Sarkar has miserable failed internationally and therefore trying to divert the world attention from the ongoing fresh riots in Indian State Gujarat. They said that if India wanted to have supremacy in the region by killing innocent and peace-loving people in Pakistan, but he could never be materialized by killing innocent people.
The Indian dream would never be come true, they added. They expressed grave concern over the silence of World community and even the UNO on the larger scale killing of the Innocent and peace-loving Pakistani people by Indian forces by continuously violating the ceasefire accord along Line of Control (LOC) and working Boundary (WB). They said that since the world community and UNO over this burning issue of Indian war aggression was showing their dual standards.
 
They strongly condemn the larger scale hostilities of Indian Border Security forces (BSF) on Sialkot border villages along the Sialkot Working Boundary, saying that the Indian BSF was targeting the civilian population and killing the peaceful innocent people in Sialkot border villages. The express complete solidarity with the local people affected by the unprovoked Indian mortar shelling, they urged the World community to take serious notice of the Indian war aggression, besides, using its full influence to halt the repeated ceasefire violations by Indian along the Line of control (LOC) and Working Boundaries. They also appealed to all Indian peace lover people and organizations to raise their voices against this inhuman act of Indian army and pressurize the Modi Sarkar to stop such kind of violence against the civilian population.  Almost all Pakistani news channels highlighted this peace and solidarity prayer as Breaking News and all Urdu and English national newspapers also highlighted this peace prayer.      
Cooperation Circles Involved