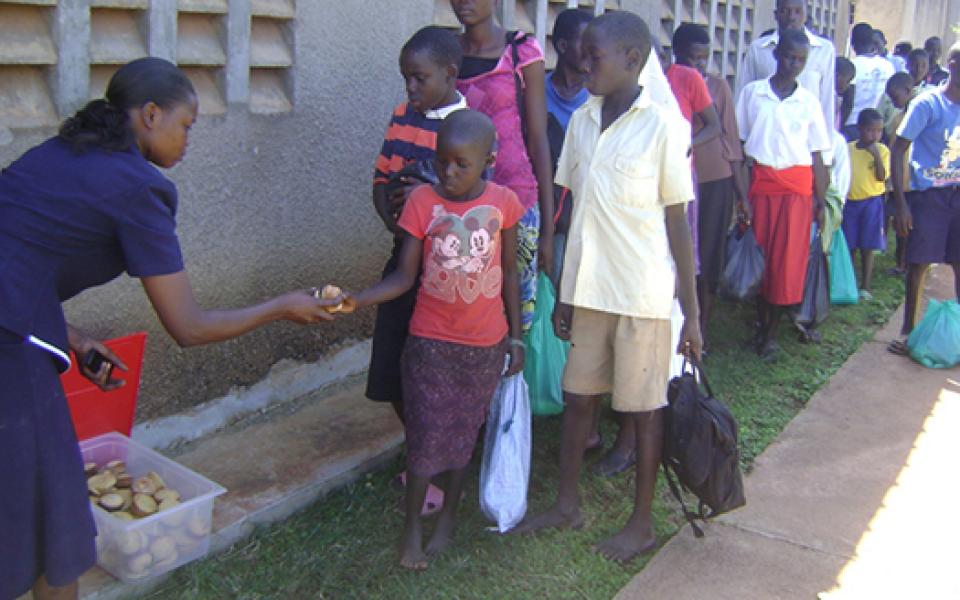 Golden Women's Vision Cooperation Circle supports local people in building the skills and resources they need to start microenterprises and become financially independent and secure. The Cooperation Circle operates in Uganda, where a very large percentage of the country's population is under 25 years of age, where Ugandans live under the severe threats of HIV/AIDS and other diseases, and where the aftermath of the 20-year Northern Uganda War has left countless fractured families in its wake.
The Cooperation Circle provides counseling services, care, and support to community members, including women, who became single caretakers, and orphans, who lost both parents to the war.
In one Golden Women's Vision program, members made cakes and distributed them to orphans from different religious denominations. The photo above shows the Program Manager handing out cakes to the children, some of whom are struggling with terminal illnesses. "The first girl on the line died on the 13th after she was diagnosed to have cancer. May her soul rest in Eternal peace, Amen." - Golden Women's Vision Report.
Learn more and see more photos from the full Golden Women's Vision Report.
Cooperation Circles Involved