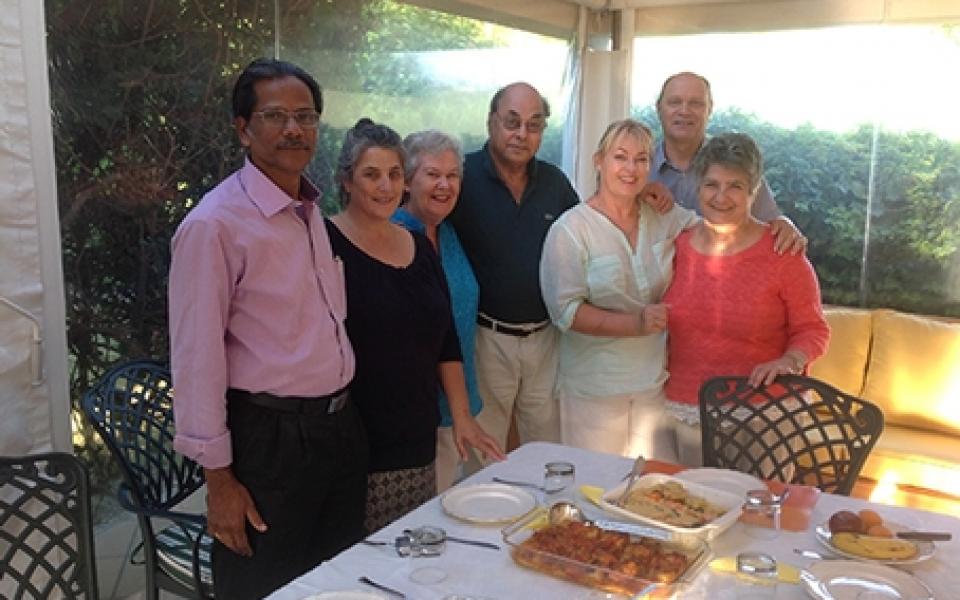 January 19, 2016
I greet you all from the Southern tip of Africa - the Cape of Good Hope. This is the beginning of an exciting Regional Coordinator exchange program. I thank Victor, Liam, Sally and all who worked it out as a pioneering event in the second phase of URI. Karen was in Kerala a few months back and now I am reciprocating her visit.
Why did I chose South Africa?

1. The Moral Imagination program brought us to Uganda and Ethiopia, but South Africa was not in our reach. I passed through Johannesburg in 1998, on my way to Harare for the WCC General Assembly, and there was no chance to explore South Africa. Victoria Lake was the main attraction then and I will never forget the boat trip through the lake. Africa hides many wonders.

2. Mohan Das Karam Chand Gandhi was an ordinary human being when he came to South Africa, decades ago, but he became a Mahatma here in this land. It is the circumstances that make an ordinary being a "great soul" (mahat aatma). When he was thrown out of a first class compartment as he was a black Indian, Gandhi could not contain the fury within. The rest is history, and I hope South Africa is not the same at present.

3. The rhythm of Africa is different and I like it very much. Yesterday I saw two girls at the airport dancing and laughing while running with wheel chairs to help some elderly people. Where do they get such energy and warmth?

4. URI is definitely making a difference in the psyche of Africa, under our great leader Ambassador Mussie Hailu, my brother. He is directly dealing with all Presidents, Prime Ministers, UN Agencies and so on. We have so much to learn.

5. I am on a learning mission. As a professor, you have to be a student always. How do the regional coordinator and her team work to foster better interfaith relations in the southern part of Africa? So much to explore.

Karen brought me to a wonderful family yesterday--Muhammad and Abida. I enjoy the comfort in this beautiful house here as the sun rises in the horn of Africa. The African Safari begins.
January 19, 2016
It was great to be with the leaders of CTTI Cooperation Circle (Cape Town Interfaith Initiative) in Cape Town. These members of the Cape Town Interfaith Initiative are amazing people from whom we can learn a lot. (All members of the CC were not present.) A few of them were present at the World Parliament last year.

Our storytelling continued till late night yesterday. As we were from various religious traditions , topics were numerous. The role of women in Islam, Judaism, Christianity etc came for discussion again and again, as Mohammed brought out the argument, why did God always speak only to men, like Abraham and Moses?

I shared my bitter experience in organising the first Jewish-Christian Dialogue in Asia for the World Council of Churches. My long-time friend Dr. Hans Ucko had asked me to be the local organiser. We had to face three problems at Cochin. A Sabbath service at the Mattanchery Jewish synagogue was part of the program. There were 15 Jews and fifteen Christians in the group, including the first two women Rabbis from Israel.

Problem 1: Jews could not travel much distance on Saturday. So we had to find accommodation for one day near the Synagogue.

Problem 2: There should be ten Jewish men to conduct a service. We had only seven men in our group. But luckily we could find three more from the Jewish community in Cochin.

Problem 3: Women were not allowed inside the synagogue. The women Rabbis threatened a boycott. We pleaded with the leaders and at last they permitted women to sit at the back and watch the service.

I never thought interfaith dialogue was so difficult a task, when I jumped at the opportunity of a great conference like this. That is the pain and joy of learning.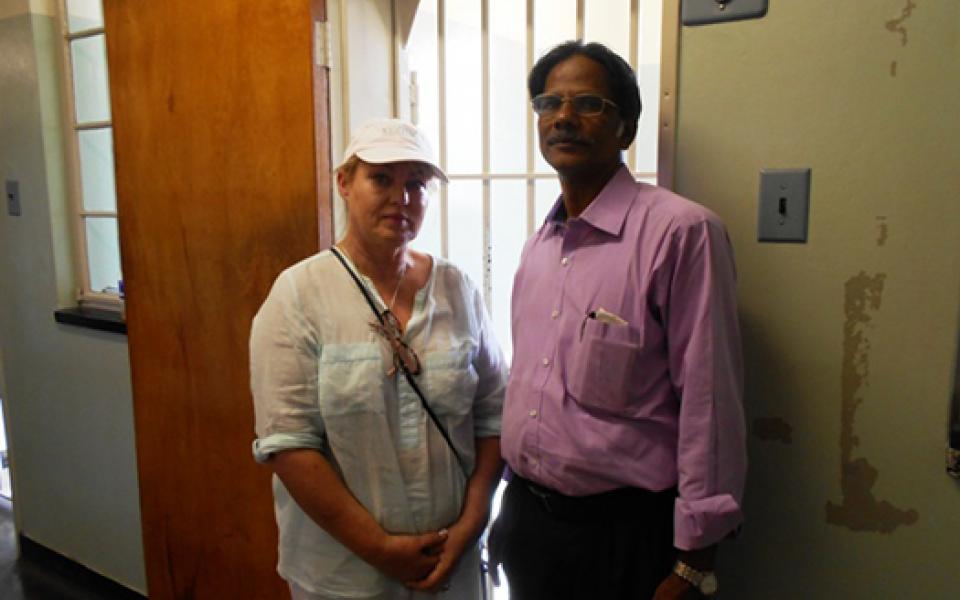 January 21, 2016
Karen and myself are in front of a jail cell in Robben Island, that changed the history of the world. This is the cell where the legendary Nelson Mandela spent more than 17 years of his total imprisonment of 27 long years. There have been so many struggles for freedom, but only a few become epic stories, as in the case of Mandela. Walter Sisulu, Govan Mbeki, and Mac Maharaj were all imprisoned in this island.
Prisoners have been housed in this island for centuries, but it was in the 1960s that a maximum security prison was built. The island was used as a leper colony from 1846 to 1931. One of the former inmates greeted us yesterday when we visited the place. He showed us one room where sixty political prisoners, including him, spent about two decades of their valuable life together.
Thousands of people from all parts of the world come to this island every day, just to see this prison.  It has become like a pilgrim centre.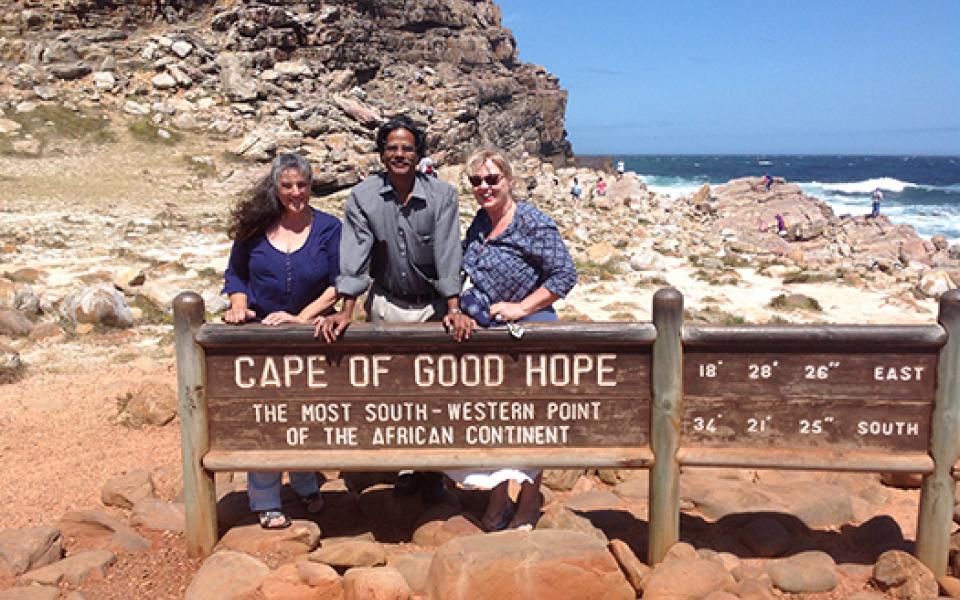 January 23, 2016
We had a wonderful meeting with friends of URI at the Cedar School in Cape Town. I was talking to them in the beginning and then there came a flurry of questions. We didn't know how two hours elapsed. It was academic, serious and enriching. Most of the questions turned around URI philosophy, religions, holy books and peace building.
And today when we came to this point where the Atlantic and the Indian Oceans meet, something suddenly dawned on me.
Two great oceans meet and embrace. Do they lose their identity? There is much give and take. They are one and they are separate. Do the fish know the difference? Maybe the taste differs, but water may be the same. At least the elements are the same. We have three seas converging at Cape Comorin in India, where Swami Vivekananda meditated before leaving to Chicago for the Parliament.
What happens when two or more religions meet? There is much give and take. They are one, they are separate. Essential elements are definitely the same. Do the followers know the difference? The taste may vary, yet water maybe the same. It is an oxymoron-- union and separation together. Nothing can prevent it. It is a law of nature. A universal law. Who can prevent the oceans from embracing one another if they are destined to meet?
The United Nations and Bishop William Swing maybe instruments in such a birthing, but there is destiny at play.
Karen, Berry and myself will never forget the Cedar School event. The discussion will long reverberate in our ears. Thank you URI Africa.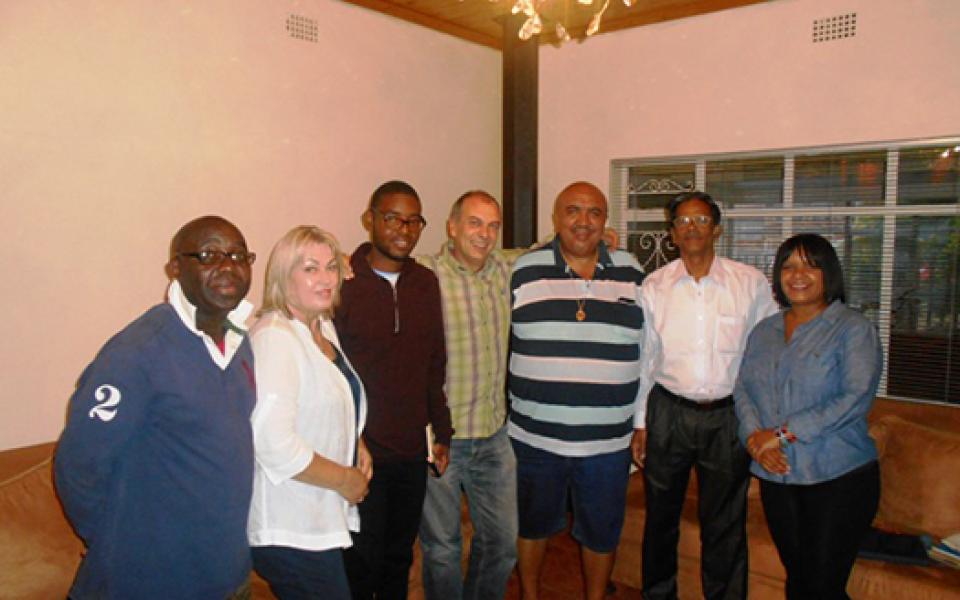 January 24, 2016
It is the same story everywhere-- the painful story of the First Nation People. We spent about three hours listening to the tales of our Gauteng Khoi San Council CC leaders yesterday in Johannesburg, after a beautiful. Sunday service at Pretoria Mar Thoma Church. Karen and myself spoke to the Mar Thoma Community and she has been invited to attend the next meeting of the Pretoria Malayalee Association.
Khoi San people are the aborigines in South Africa and their struggle knows no end even after 20 years of freedom. They have to knock from door to door to protect their rights- rights to land , education, employment, civil rights and so on. Will there be any steps to preserve their language and culture? No book yet printed in their language and elderly people who know it become an extinct community. The word "coloured" has a different connotation. 
If you are nowhere in your own land, imagine the magnitude of pain. They feel they have still a long walk to real freedom.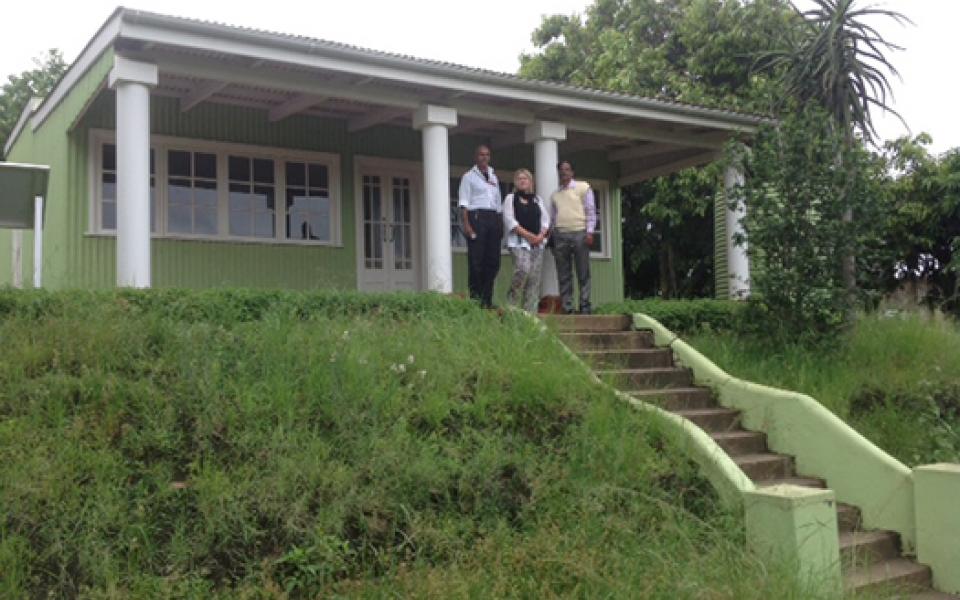 January 26, 2016
"Generations to come will scarcely believe that such a one as this ever in flesh and blood ever walked upon this earth." This is what Albert Einstein wrote about Gandhiji. And we could learn a great deal about this man today, through some unique meetings and visits.
It was a most memorable day for us in Durban, as we were able to visit the Phoenix Settlement, where Mahatama Gandhi lived a greater portion of his 21 years in South Africa. It is a museum today and that gives us a clear picture of how Mohandas Gandhi became Mahatama Gandhi. It also sheds light into the formative years of the South African Freedom Struggle. So much to learn and so much to share.
But the culmination of my visit in South Africa was the meeting with Mrs. Ela Gandhi, granddaughter of Mahatma Gandhi. She was a member of the South African Parliament for nine years, the first term during the tenure of Nelson Mandela. Today she is in the fore front of so many interfaith movements. Karen and me could learn so much about the history of interfaith relations in South Africa during our parley with Ela, which lasted for about three hours in her residence.

This is where Mahatama Gandhi lived in Durban where he established the Phoenix Settlement in a hundred acre campus. It was later looted and burnt during the struggle and now rebuilt, but only a small campus today.
We are very excited to be guests at the Indian Consulate in the evening for the Republic Day celebrations, as special invitees of Ela Gandhi. Both her daughter Ashish and herself are running several Gandhi Trusts today here in this country, which promote the vision and ideals of a Mahatma, who has no comparison.
January 27, 2016
Karen asks me what is the highlight of my visit to South Africa? There cannot be one answer to this. There are so many highlights and on the whole it was just amazing- two CCs were born in this process, of course Karen, Tony and Berry were at it and I was so happy to see the birthing. I could meet some extraordinary people and the members of the new CCs will definitely bring revolutionary changes in the life of URI, I am sure, especially the two firebrand women who lead these astounding groups- Vivien Laverge and Nazely Mayet.
We had a wonderful meeting with some great academicians from the University of Durban yesterday, before going to the Indian Consulate gathering at the Town Hall for the 67th Republic Day celebrations. Prof. Jeff and Prof. Sophy lead  the Department of Peace Building at Durban University. It was amazing to learn that Prof. Jeff is guiding 42 students for research related to non-violence and conflict resolution. This seventy-year-old gem of a man stunned me with his passion for peace building. We discussed a lot about TPA, Holy Books Conference, Peace Research Institute (IPRI) and so on. Africa is full of promises.
Apartheid must be a universal phenomenon. But the worse form of it might have been in India and South Africa. The caste system was very strong in India at certain period. In Kerala, my State, there was a time when women of some castes were not allowed even to wear a blouse to cover their breasts. Women in the last century led a strike called "rouka strike" (protest by wearing a top), before they got freedom to do that.
When we visited the Apartheid Museum in Johannesburg, we could not but weep at the magnitude of segregation that existed in this land in the previous century. There is nothing like being treated as 'animals' in one's own native soil. Innumerable videos and pictures take us to a time of sheer atrocities and humiliation, beyond words. 
We in India greet people with the word 'namaste', which means, "I bow down before the God in you." If God is in us, how can we treat our brothers and sisters like beasts? This should never ever happen again in history at all.
Holocaust is a word which will make us shudder. Brutality at its worst! How can some one command to kill millions of innocent people just like that? This is true even with a nuclear bomb.
When we visited the Holocaust Museum in Cape Town, we were going back to an age when human beings had no value at all. Millions of brothers and sisters just wiped out of this earth, in the guise of making somebody else's life more comfortable. That is the philosophy of all war mongers.

When future generations write a history of the world, it should not be about killings and wars. It should not be about apartheid and holocausts. It should be about a world where beauty and peace prevail. Peace lovers of the world unite.
Yes we unite.
Cooperation Circles Involved