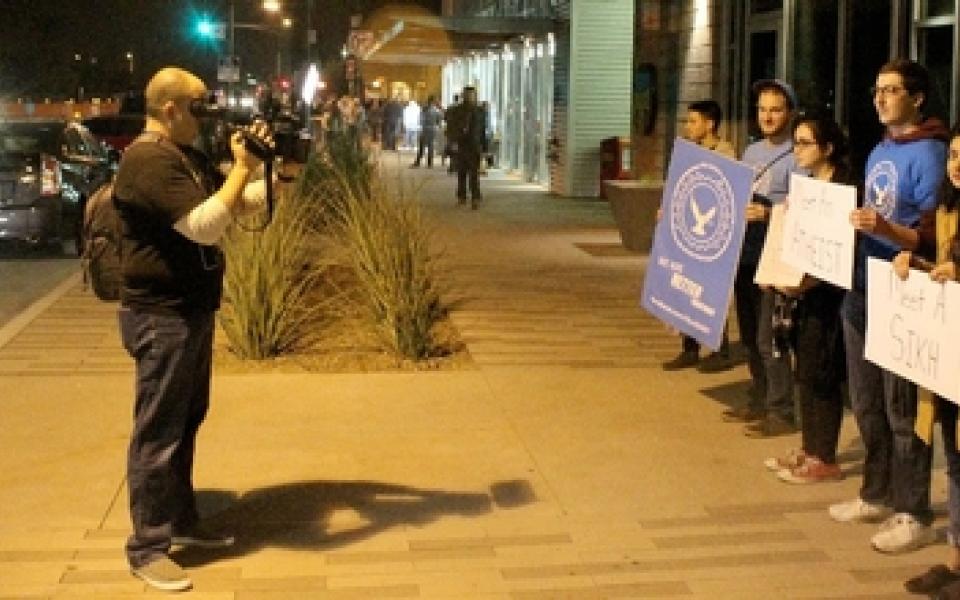 Sun Devils Are Better Together was recently featured on the Spanish-language television station, Telemundo Arizona.
The reporter joined the group on their monthly canvassing at the First Friday art walk in Phoenix. 
"It would be hard to identify a single highlight of SunDABT's fall semester, but a strong candidate would be our canvassing efforts on campus, at First Friday, and at the Tempe Festival of the Arts," the group said in their newsletter. "We were honored to be joined by award-winning reporter, Ruben Pereida, as he interviewed members for a special report on SunDABT for the Telemundo Arizona weekend broadcast."
"In addition to First Friday, he also came to film and interview us at Spontaneous Service Saturday, a general membership meeting, and several members' places of worship, including the Islamic Community Center of Tempe with President Johnny Martin (bottom photo) and mass at the Catholic Newman Center cathedral. We were overjoyed and incredibly grateful to reach a brand new audience of Spanish-speaking Arizonans through Ruben's excellent work."
The video broadcast can be viewed on Telemundo's website by clicking here.