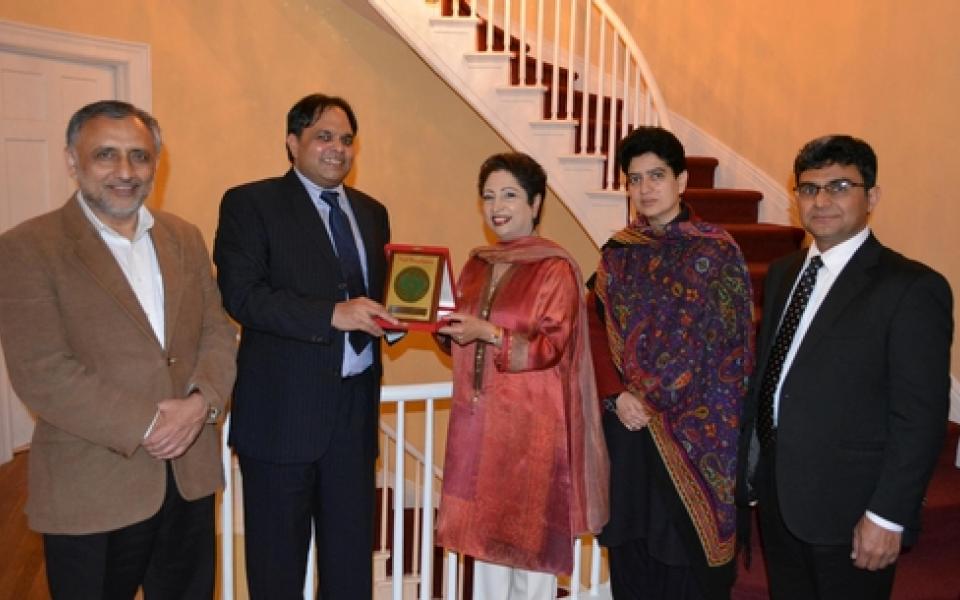 To acknowledge the efforts and services of Pakistan Council for Social Welfare & Human Rights (PCSW&HR) for the empowerment of women through its various activities and protection of women rights, PCSW&HR was invited to attend the UN 60th session of the Commission on the Status of Women (CSW60). This was held at the United Nations in New York, USA from 14 – 24 March 2016. Chairman PCW&HR Mr. Muhammad Ijaz Noori and Executive Director Mr. Mansoor Ahmed represented the PCSW&HR in the CSW 60.
During their visit to the USA, Mr. Muhammad Ijaz Noori and Mr. Mansoor Ahmed held a meeting with Pakistan permanent representative in United Nation H.E Dr. Maleeha Lodhi at her residence in New York. During the meeting, Special Assistant to Prime Minister of Pakistan for Law Ministry, Justice and Human Rights Barrister Zafarullah Khan, Speaker Baluchistan Assembly Ms. Raheela Durrani, Member National Assembly Kushbakat Sujhat, and Ex-Member National Assembly Ms. Nelofer Bukhtiar were also present.
While talking with Mr. Muhammad Ijaz Noori and Mr. Mansoor Ahmed, Dr. Maleeha Lodhi said that a positive message has been sent to the world by passing the long-awaited Protection of Women Against Violence Bill 2015 by the Punjab Assembly. This bill contains remedies for victims of violence, criminalizes all forms of violence against women, and also provides them with special centers which remove the usual red tape hurdles that complicate a woman's quest for justice. The role of Non Governmental Organizations (NGOs) for the empowerment of women and protection of their rights and sustainable development is very crucial. She said that Pakistan's Constitution guarantees full participation of women in all spheres of national life. The Government of Pakistan has taken various steps to promote and protect their political, economic, social and cultural rights. Substantial steps have been taken to eliminate different forms of discrimination against women. Today, Pakistani women proudly participate in all fields of life from agriculture to industry, business to armed forces, and from legislation to policy making.
Chairman PCSW&HR Mr. Muhammad Ijaz Noori said that Government and NGOs have to jointly play their role to create political and democratic awareness among the women. They have to use their role to strengthen the democracy so that women may be involved in the developmental process of the nation, and all forms of violence against women may also be eliminated. He further said that, due to promotion of meaningful and modern education, we may face the challenges of terrorism and extremism. He added that to secure peace and socio-economic development, person-to-person contact and interfaith harmony are the needs of the hour.
Mr. Noori assured those present that his organization, Pakistan Council for Social Welfare & Human Rights, is committed and determined to achieve gender equality and eliminate violence against women. During the meeting, Mr. Noori also comprehensively briefed the Pakistan Permanent Representative in the UN Dr. Maleeha Lodhi about PCSW&HR's ongoing and completed projects which promote the empowerment of women, education, computer literacy, protection of women's rights, promotion of interfaith & intercultural harmony, etc. Dr. Maleeha Lodhi lauded the efforts of PCSW&HR. Mr. Muhammad Ijaz Noori and Mr. Mansoor Ahmed also presented the official shield to Dr. Maleeha Lodhi.