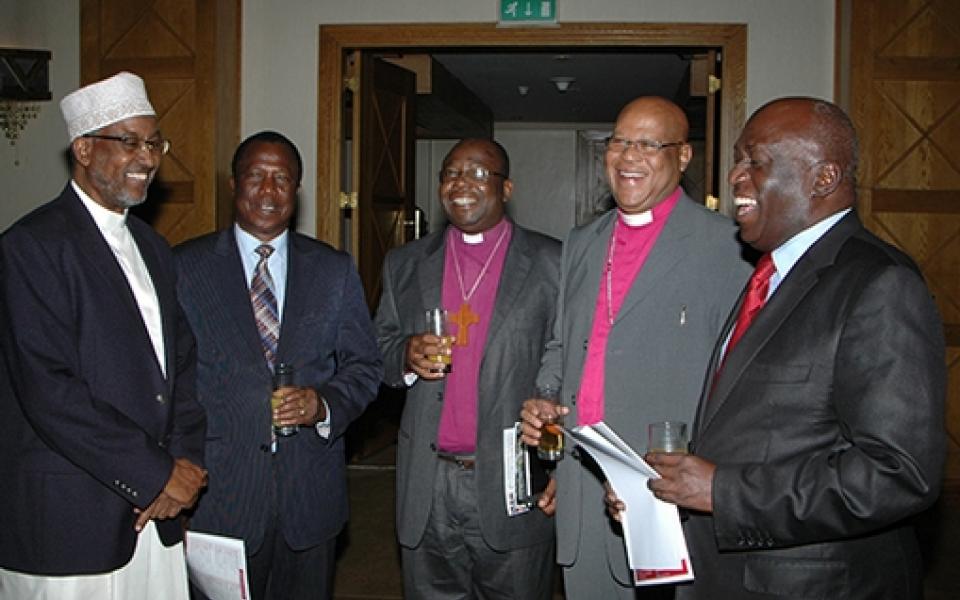 PRESS RELEASE
The office of the United Religions Initiative-Africa announces that Sir James R. Mancham, Founding President of Seychelles, was honored with the Africa Peace Award of URI-Africa.
The award ceremony took place at Intercontinental Hotel on April 12, 2015 in Nairobi, Kenya in the presence of emerging young leaders from 26 African countries, government officials, ambassadors, religious and elder leaders, and members of URI. The award was presented on the occasion of the launching of the Joint Leadership Programme between Common Purpose and World Leadership Alliance-Club de Madrid.
In presenting the prestigious Africa Peace Award of URI, Ambassador Mussie Hailu, Regional Director of URI for Africa and Representative of URI at the African Union Commission, Inter-Governmental Authority for Development, United Nations Economic Commission for Africa and United Nations Office in Nairobi, Kenya, said, "The Award is presented to Sir James Mancham, Founding President of Seychelles in appreciation of his work in promoting a culture of peace, inter-religious & inter-cultural harmony, constructive dialogue among civilization, reconciliation, social justice, good leadership, and for his visionary and extraordinary leadership in building the image of Africa globally and for being the spokesperson for the interest of Africa at an international platform as the former African President. 
URI-Africa established the Africa Peace Award to recognize the committed and effective leadership exercise to bring sustainable peace, environmental protection, developments, democracy and good leadership on the African continent. The award celebrates, acknowledges and honours the accomplishments of individuals and organisations who have exhibited extraordinary leadership to build a culture of peace, environmental preservation, reconciliation and harmony among different religions and cultures, and who respect the Universal Declaration of Human Rights and bring positive change in people's lives.
Some previous recipients of the Africa Peace Award include AU; UNESCO; IGAD, UNEP; H.E. Goodluck Jonathan, former President of Nigeria; H.E. Girma Wolde-Giorgis, former President of Ethiopia; Archbishop Desmond Tutu; Rotary International; and Mother Theresa's Missionaries of Charity and World Public Forum.
Through its 182-member organizations from 31 African countries, URI-Africa is cultivating peaceful coexistence among different religions and cultures by engaging people to bridge religious and cultural differences and work together for the good of their communities and their environment. In brief, the vision of URI is to see a united, prosperous and peaceful Africa where there is no religious strife.
May Peace Prevail on Earth.