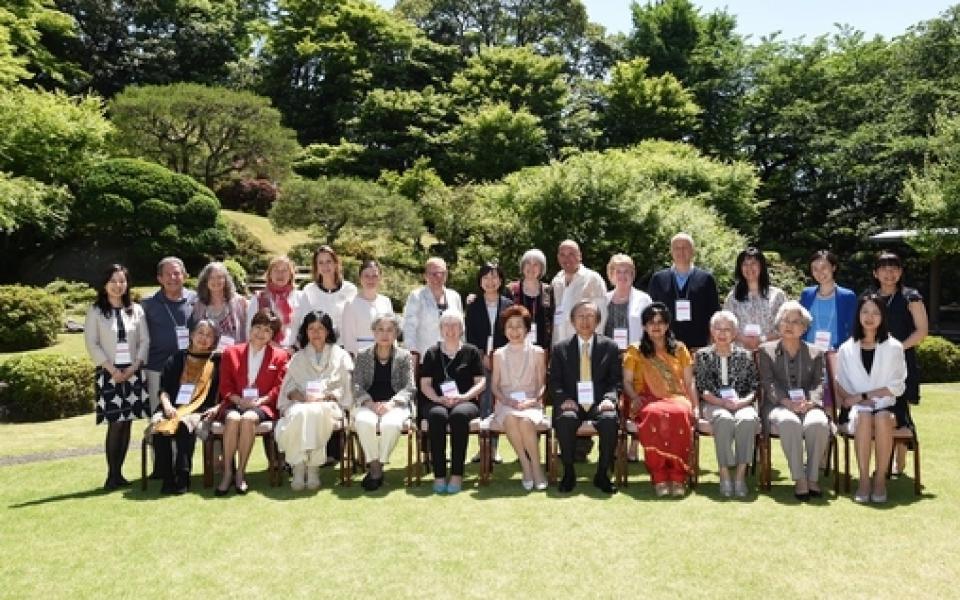 The Fuji Declaration was inaugurated in May 2015 as an international alliance of individuals and organizations united by a commitment to collaborate for the advancement of a more harmonious and flourishing world. The Soul of WoMen Global Campaign was announced on the Declaration's first anniversary, and is a call to women and men in communities around the globe to activate and balance the divine feminine with masculine aspects of humanity to step forward on the path to healing and wholeness for that future.
URI's UN Representatives Deborah Moldow and Monica Willard attended the launch of the campaign in Japan, along with URI's Global Council Chair Kiran Bali, who shares her reflections here.
A call to all sisters and brothers to work together to achieve UN Sustainable Development Goal 5, gender equality and empower all women and girls.
With our divine energy, the URI community has unlimited potential. Let us unite to recognize and nurture the full human potential and divine spark within each of us, to catalyze a timely awakening for the whole of humanity. Our shared commitment will advance a more harmonious, compassionate, and sustainable creation. The unity and equality of the feminine and masculine energies will provide prosperity and healing to Mother Earth.
It was a wonderful blessing to be part of the grand celebrations at the Fuji Sanctuary in Japan at the Symphony of Peace Prayers event. 
We celebrated the new Soul of WoMen Global Campaign as well as the first anniversary of the Fuji Declaration to activate the divine feminine within our hearts. This beautiful spiritual ceremony took place at the foot of Mount Fuji, a breathtaking heavenly abode full of enriching trees and greenery surrounded by the flags of the world.
All the religious leaders and participants had come to pray for a world full of peace, compassion, and love. It was my honor to say the Hindu prayer for peace. Along with guests from around the world I offered a personal message: May the divine light of the feminine illuminate our hearts and our minds, and transmit this love and healing to all of God's creation.
The Fuji Declaration was initiated by Masami Saionji, Hiroo Saionji, and Dr. Ervin Laszlo. All who believe in the core principles of The Fuji Declaration are welcome to join the international alliance by signing The Fuji Declaration.
The aim is to bring balance, equality and inclusion throughout the world by balancing and harmonizing the divine feminine and masculine energies.
My sincere thanks go to the Saionji family, friends at World Peace Prayer Society CC, and the team's dedication and commitment in making these important initiatives possible and helping make our world more peaceful and prosperous.  
May we continue the journey to enlighten our souls,
May peace prevail on Mother Earth.