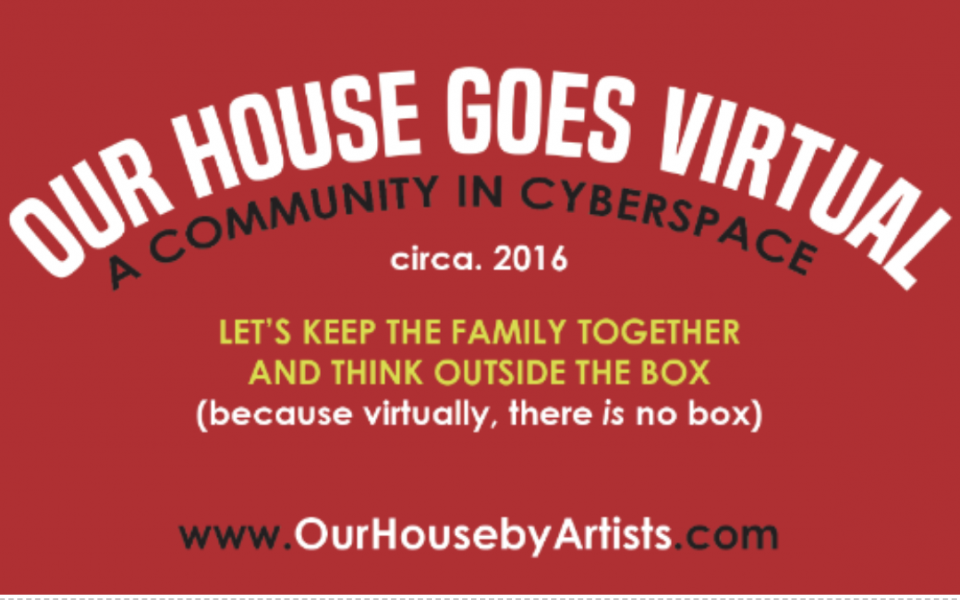 Aug 20, 2016. 
THE LONG GOODBYE: THINKING OUTSIDE THE BOX OF LIMITATIONS 
THANK YOU. My birthday was a fantastic time with family and friends on Sunday, July 31st. More than that, it took place at one of "our" Our House Artist's place, Heather Davis aka Lemon Bar Lady. But, like all of us, there is no limit to our ability to pursue our dreams and Ms. Davis proves that every day. The Library #notthatlibrary hosted friendship and family in love and joy and I was honored and humbled. It was sort of a roast (smile), but I was honored by the outpouring of respect and love shown to me. 
Some have asked, what's next? That's a good question (and the right question) because I've been thinking about it a lot. In today's technological times, we have the ability to build a new place where all of us can thrive, no one is left out. Therefore, we are taking Our House by Artists virtual. Every artist has an opportunity to continue to share their work with patrons of Our House at PRH and beyond. Think of it as thinking outside of the box ... because virtually, there is no box.  
Email us at office@thinkpeaceinternational.org if you are interested. I will forward you the form to sign up and become a part of an Our House future. In the meantime, the next two Saturdays will be the continuation of the Long Goodbye. We're packing up and you have a chance to eat and fellowship with all those who have enjoyed life at Our House. Next Saturday (August 20th) is Project Row Houses' Festival and Summer Studios Opening from 4 p.m. to 7 p.m. on the PRH Campus. Artists interested in setting up at Our House, give me a call for both. Thursday, Our House artists will be at Artists Global Vision event at the International Center, 11110 Bellaire Blvd. (see Facebook event) on Thursday, August 18th, from 6 p.m. to 9 p.m. 
August 27th is the BIG SO LONG. We'll have food and farewell gifts. You can also sign up for the virtual Our House debuting on the same day. You can sneak at peak at www.ourhousebyartists.com. Remember, I'm part of this community, whether or not I'm at the 2501 Holman address. It's a new journey, but one you're invited to participate in. As always, try to think of the impossible as an opportunity to prove otherwise. 
~ P. K. McCary 
Cooperation Circles Involved