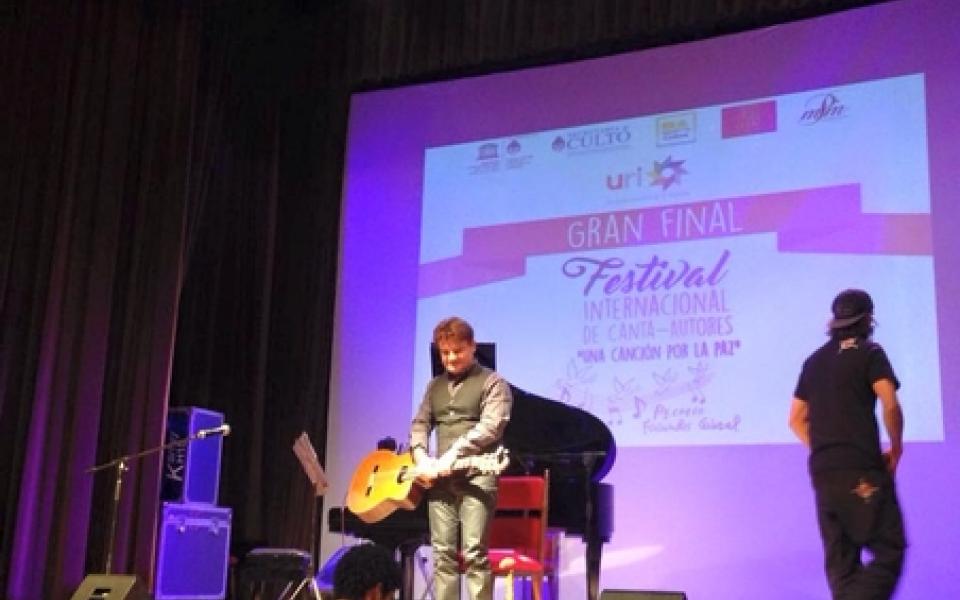 URI Latin and America and the Caribbean has now completed its first Facundo Cabral International Festival, "A Song for Peace"!
Participation in the festival exceeded initial expectations, with 46 singers and composers from six countries submitting original songs for the public to vote on. Submissions came from Argentina (10), Brazil (2), Costa Rica (1), Mexico (2), United States (3) and Venezuela (28). We are grateful for this overwhelmingly positive reaction to our first attempt at producing this festival, and for all those who participated for supporting our call for peace, compassion, and human values.
The public's votes on YouTube picked eight semifinalists, and these were then submitted to our jury of recognized musicians, Magdalena Leon and Nahuel Carfi from Argentina, and Aquiles Baez from Venezuela. This jury chose Gerardo Ochoa from México and Emanuel Bonoccorso from Argentina to move on to the final round, and presented Andreamaria from Venezuela a Diploma as a special recognition for being the first runner up.
The URI Latin America team has been working since October 2015 to have UNESCO as a partner for the festival, and finally the Director of IESALC UNESCO in Caracas, Mexico introduced us to UNESCO-CONAPLU Argentina to make this possible. In addition, the Secretary of Culture of the Argentinian Ministry of Foreign Affairs declared our International Festival an activity of interest (see the Resolution here). We also partnered with our friends at Mil Milenios thanks to Ciro Gabriel Avruj, our regional Global Council Trustee. With these partnerships, especially our new relationship with UNESCO, we are accomplishing one of the goals on our 2016 Latin America and Caribbean work plan to collaborate with UN intercultural and interreligious programs.  
On Sunday, August 28, we held the final competition of the Festival in the Auditorium of the Beethoven Foundation in Buenos Aires, Argentina, which was open to the public. The program included locally known artists and musicians; an introduction from Maria Eugenia Crespo de Mafia, the Director of CC Support, and the URI LAC team; speeches from Inés Palomeque from Mil Milenios and the Beethoven Foundation Board; and of course performances from Gerardo and Emanuel. We also presented Diplomas of CC Approval and Identification Banners to the following CCs: Yacu Yura of Córdoba, Argentina; Comunidad Tao of Brazil; and Bridge Builders of Buenos Aires, Argentina.
Thank you from our hearts to all of you who supported us throughout this process and helping us realize this dream!