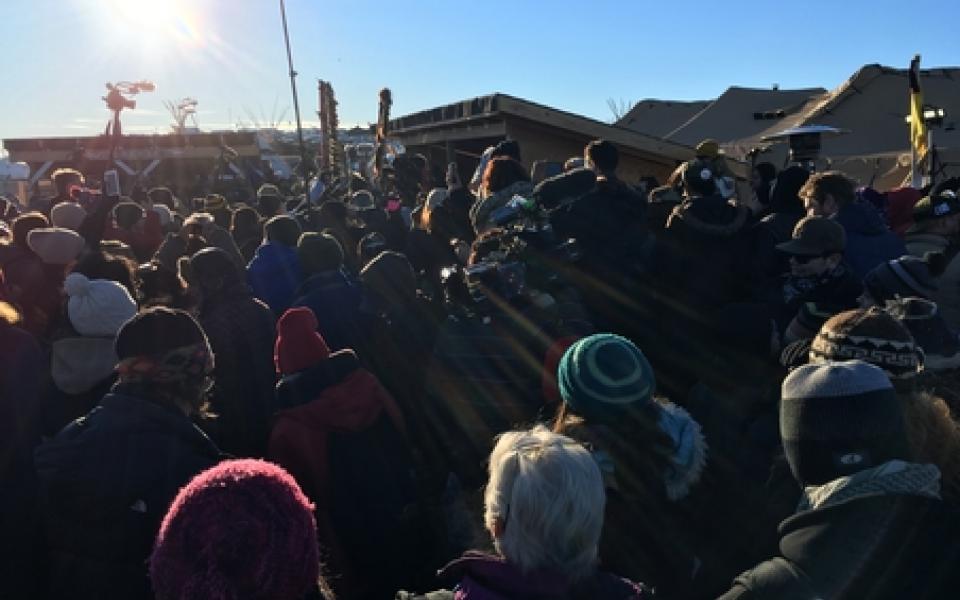 The struggle at Standing Rock Native American Reservation, in North Dakota in the United States, encompasses many of the same issues that those in the URI community struggle to overcome every day.
In our Preamble, Purpose, and Principles (PPPs), URI states that "we respect the sacred wisdom of each religion, spiritual expression and indigenous tradition." As Indigenous nations come together in collaboration across their differences for the first time in recent history, and are joined by members of hundreds of different cultures, traditions, religions, and spiritual expressions from around the world, an unprecedented display of interfaith and intercultural peacebuilding is happening before our eyes.
In the PPPs, we also "act from sound ecological practices to protect and preserve the Earth for both present and future generations." As the water protectors protest the destruction of a sacred water source by an oil pipeline, this too is of intense interest to many in the URI community.
Therefore, the United Religions Initiative issued a Statement of Support, which was presented by Audri Scott Williams and Phil Lane Jr., both URI Global Trustees and Elders, on October 1, 2016 at Oceti Sakowin Camp (Cannon Ball, Standing Rock Sioux Tribe).
Answering an invitation from Chief Arvol Looking Horse (URI member, representative of the Lakota, Dakota and Nakota nations, and 19th Generation Keeper of the Sacred White Buffalo Calf Pipe), a delegation from the United Religions Initiative traveled to Oceti Sakowin Camp at Standing Rock Reservation to join hundreds of people of faith for an Interfaith Day of Prayer on December 4, 2016. The delegation included URI Executive Director Victor Kazanjian, URI North America Regional Coordinator Sari Heidenreich, URI Multiregion Coordinator Frederica Helmiere, URI Environmental Network Coordinator Katherine Hreib, Global Council Trustee Jaya Priya Reinhalter, Global Council Trustee Fred Fielding, Michelle Lepore, and Jeremy Kazanjian-Amory.
See a few moments from the Interfaith Day of Prayer at Standing Rock
The URI delegation brought with them more than 1,000 prayers from people of 56 countries to the Tribal Council. They also presented a gift of water collected by the URI community from 167 sacred sources around the world. Victor Kazanjian offered this metaphor: "When waters of different sources mingle, they do not separate from each other. One does not stand higher or lower than the other. They come together as one being, as one essence."
Chief Arvol Looking Horse offered his thanks for the thousands who offered prayers for Standing Rock on the Interfaith Day of Prayer. See his video below:
Part of the URI delegation that traveled to Standing Rock, URI Multiregion Coordinator Frederica Helmiere offers her reflections on the experience. "This past weekend may prove to be pivotal, not just for Standing Rock but possibly for indigenous and environmental movements worldwide. But its success is all the more remarkable because the resistance was spiritual down to its sinews, channeling energies and mobilizing unseen forces that renders the whole thing a practical miracle." Read the full post here.
Also part of the delegation, URI North America Regional Coordinator Sari Heidenreich shares what she learned about movement and stillness at Standing Rock. "I find myself wondering what grassroots organizers outside of Standing Rock, particularly the 800+ URI member in 96 countries, can learn from one of the largest nonviolent spiritual movements of our time. Staying spiritually grounded and constantly aware of the balance in giving and receive service in our own communities, feels like an important place to start and one way we can each honor the struggle at Standing Rock, wherever we are." Read the full post here.
See more photos at the URI Global Facebook album and at the URI North America Facebook album.