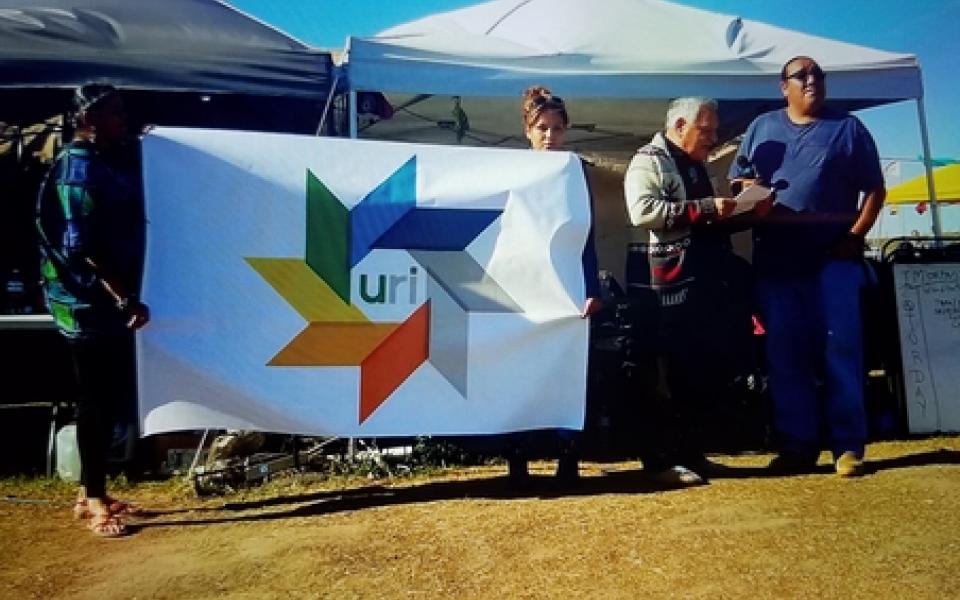 Dear URI Family,
On Tuesday, February 7th the Army Corps of Engineers granted the final easement required to finish construction of the Dakota Access Pipeline under the Missouri River. This act is in violation of Indigenous Treaty laws, endangers human and environmental rights, and defies hundreds of thousands of public comments demanding an Environmental Impact Statement, ordered under the Obama Administration, to measure the environmental and public health impact of the pipeline.
The struggle at Standing Rock has unified indigenous people from across the nation, called hundreds of thousands of allies into action, and brought greater awareness to similar Indigenous, environmental, and economic struggles across North America.
As a URI community, we unite to "act from sound ecological practices to protect and preserve the Earth for both present and future generations" by "bring[ing] the wisdom and values of our religions, spiritual expressions and indigenous traditions to bear on the economic, environmental, political and social challenges facing our Earth community" (URI Preamble, Purpose & Principles). The Environmental Resource Cooperation Circle is committed to working for peace and justice for the indigenous community and for all others who are impacted by environmental racism and economic injustice.
We deeply appreciate the Cooperation Circles who compiled resources on how we can best be allies to the Indigenous community and work towards environmental justice during this critical time. We specifically thank CA Interfaith Power & Light, UNIFY, Protecting & Restoring the Sacred, and URINA Affiliate GreenFaith.
Below you will find a list of ways you and your community can take action to defend the rights of the Standing Rock Sioux, protect drinking water for millions, and ensure the health of land, air and water for future generations.
May peace, justice and healing prevail,
Environmental Resource Cooperation Circle

How to take action:
California residents: Call & send a letter, written by California Interfaith Power & Light, to your assemblymember to Support AB 20, for California to divest from the Dakota Access Pipeline.
Did you know that "CalPERS, the state retirement fund, alone owns 1.1. million shares of Energy Transfer  Partners, the company building the oil pipeline"? Passing AB 20 and divesting our public funds sends a powerful  message that California opposes DAPL and that other states should follow suit (CLCV).
Source: California Interfaith Power & Light
Move your money out of big banks that are funding and profiting from the Dakota Access Pipeline.
Many big banks are invested and profit off of major environmentally destructive infrastructure projects, like the  Dakota Access Pipeline (DAPL). If your bank is funding DAPL, move your money to an online bank with ethical  banking options, such as a credit union that supports local businesses or a Black bank (Interfaith Power and  Light). Visit the Lakota People's Law Project site to learn more about divestment and the pipeline.
GreenFaith's Divest & Reinvest Now! campaign mobilizes faith communities to support fossil fuel divestment and  investment in a clean every future. Many faith communities have Divested from the fossil fuel industry, and many  more are working towards similar resolutions. To prepare for a discussion with your faith community, GreenFaith has a series of discussion and educational resources to help you move divestment resolutions through  your denomination.
Source: California Interfaith Power & Light and GreenFaith
Send an email directly to Mr. Gib Owen, the Assistant Secretary for the Army of Civil Works (Use subject line: NOI Comments, Dakota Access Pipeline Crossing) urging the Army Corps of Engineers to follow through with their legal obligation to conduct an Environmental Impact Statement on the Dakota Access Pipeline. Use the form from Lakota People's Law Project for a script.
   Source: Protecting & Restoring the Sacred
Call and write to your House and Senate representatives urging them to speak out publicly and call on the courts to respect the due process of the law and complete an Environmental Impact Statement, a measure that is being illegally bypassed by President Trump's Executive Order (Lakota People's Law Project). You can submit this form, and use this site to find your Senator and Congressperson's phone numbers.
Deliver a letter to your bank on behalf of your community of faith, stating compelling reasons that the bank should stop funding the Dakota Access Pipeline. Download the letter, enter the recipients' specifics (highlighted in red), print, sign and deliver to your bank.
The letter was adapted by Interfaith Power and Light from A Religious Response to Standing Rock. Reasons  include the fact that the proposed pipeline route "is contrary to the rule of law," the risk of oil spills, the "excessive  violence [used] against water protectors at Standing Rock," and the faith community's commitment to stand up for "the most vulnerable and voiceless people in our world." The letter concludes with a list of actions that we are  willing to take if the banks continue to fund DAPL.
Source: California Interfaith Power & Light
Host regular, public prayers for Standing Rock.
On November 25th, UNIFY, a CC of URI's Multiregion, hosted a unified prayer with Standing Rock called a Global  Wopida-- a ceremony of gratitude to set our collective intentions on the protection of the indigenous community,  water protectors and the entire Earth community.
Source: UNIFY
Attend rallies, vigils and coordinated actions of solidarity.
Use Facebook to follow groups who put on regular solidarity events like Idle No More and 350.org, as well as  other local organizations committed to climate justice and indigenous sovereignty. Some other groups to follow  include: Sacred Stone Camp, Standing Rock Sioux Tribe, Indigenous Environmental Network, Asian Pacific Environmental Network, Grassroots Global Justice Alliance,  Women's Earth and Climate Action Network, and Our Children's Trust.
Cooperation Circles Involved