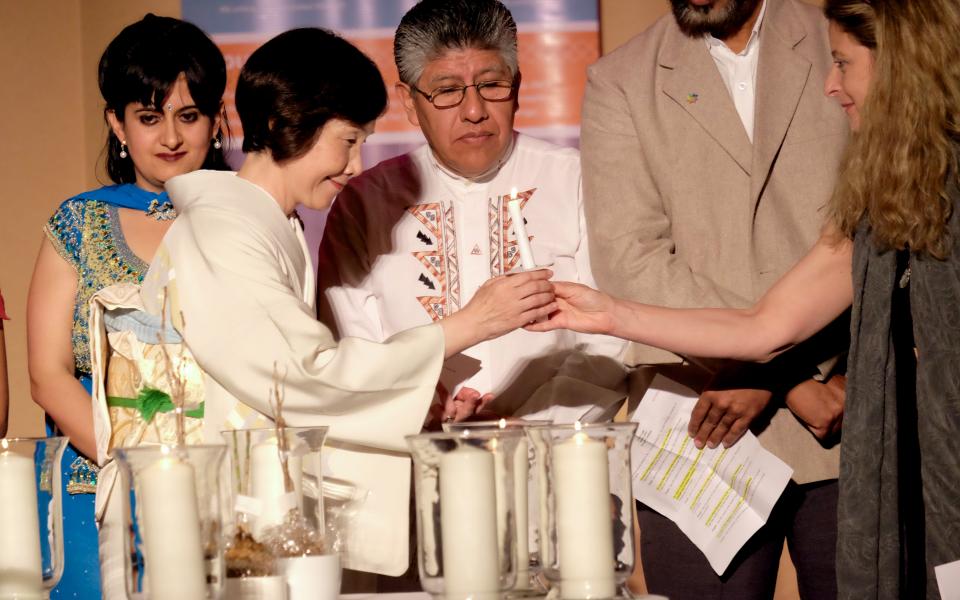 In the photo above, Circles of Light 2015 special guest Tomoko Watanabe (ANT-Hiroshima Cooperation Circle) passes a candle to former Global Council Trustee Rebecca Tobias. 

Please join us for the 2017 Circles of Light gala - "Envision – Invest In… URI. Creating cultures of peace, justice and healing."
We are honored that Ambassador Mussie Hailu will be the keynote speaker on March 25. He is the URI Global Envoy, URI Regional Director for Africa, and URI Representative to the United Nations in Nairobi and Geneva. He will be sharing his experiences and insights at the gala.
We hope you can join us at Circles of Light to hear Ambassador Hailu and enjoy the performance of the Oakland Interfaith Gospel Choir.
Circles of Light will be held March 25, 2017 at the Ritz-Carlton Hotel in San Francisco. For tickets, please click here. 
(If you are unable to attend that evening, a recording of the conversation with Ambassador Hailu will be available after the event on the URI website.)  
Cooperation Circles Involved