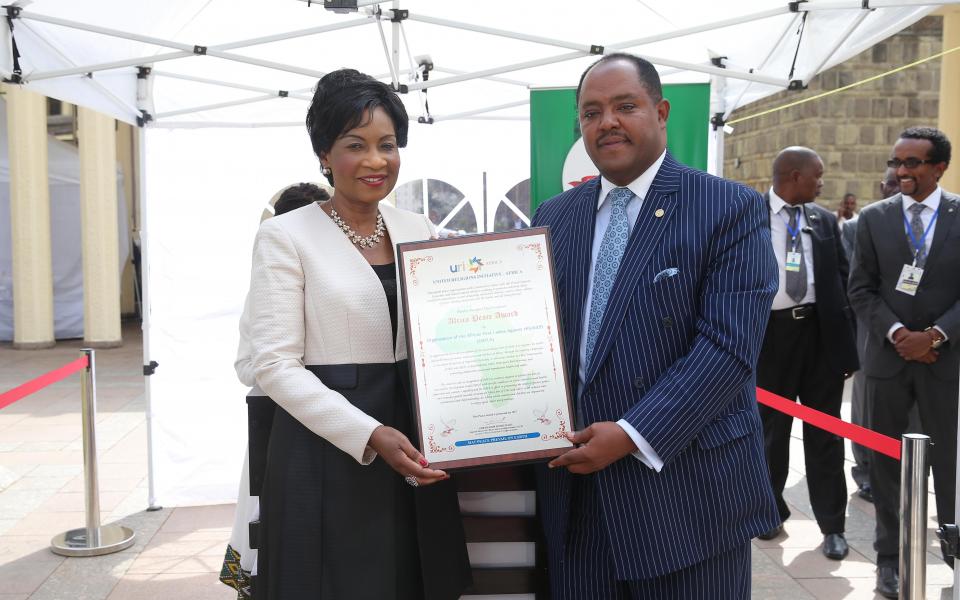 The Africa Peace Award of URI Africa has been awarded to the Organization of African First Ladies against HIV/AIDS (OAFLA), in a colorful ceremony on the occasion of the 18th Ordinary General Assembly of the OAFLA held in Addis Ababa, Ethiopia at the African Union Commission.
URI Africa presented its Africa Peace Award to OFLA in appreciation and acknowledgment of the outstanding work of OAFLA to improve the health and well-being of women, adolescents and children of Africa through the ongoing campaigns to accelerate reduction of maternal mortality, to eliminate mother-to-child transmission of HIV and AIDS, to end polio and child marriage, and promoting adolescents' sexual and reproductive health and rights.
The award is also in recognition of OAFLA's continued support to achieve the aims of the Sustainable Development Goals (SDGs) with specific emphasis on Goals related to good health, education and women's equality, and for OAFLA efforts in promoting the need of effective policiess and strategies that are geared towards creating an Africa free of HIV and AIDS, with reduced rates of maternal and child mortality; an Africa where women and children are empowered to enjoy equal rights and privileges.
The award was presented by Amb. Mussie Hailu, Regional Director of URI-Africa and URI representative to the African Union & UN to the President of OFLA, H.E. Dr. Gertrude Mutharika, who is the first lady of Malawi.  
After receiving the award, the President of OFLA said, "The story of OAFLA is a story of success amidst challenges. It is a story of progress in the face of numerous stumbling blocks that stood in our way. It is also a story of conquest as we stand sure and firm in the battle against AIDS. Our nations may differ in geographical size and in our socioeconomic profiles. But we are united in our collective and burning desire to end poverty and entrench processes for sustainable development."
The President of OFLA further called upon African First Ladies to renew their commitment and find ways of harnessing the demographic dividend in their effort against HIV and AIDS by strategically diverting more attention to young men and women, and girls and boys who comprise a majority of the African population.
URI Africa established in 2007 the Africa Peace Award to recognize the committed, effective leadership that is currently being exercised to bring sustainable peace, development, good health, environmental protection, democracy, good leadership, reconciliation, and inter-religious and inter-cultural harmony and peaceful co-existence in the continent. The Africa Peace Award celebrates, acknowledges and honors the accomplishments of individuals or organizations who have exhibited extraordinary leadership to build a culture of peace, reconciliation and harmony among different religions and cultures, and promote human dignity as enshrined in the universal declaration of human rights. The Award helps to create role models of non-violence and peace-builders throughout Africa.
May Peace Prevail on Earth