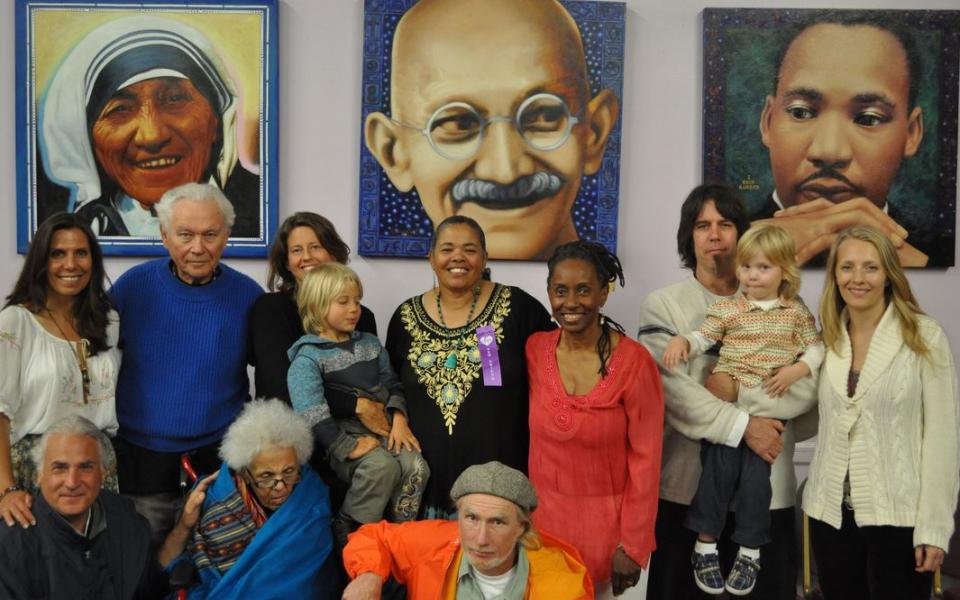 We Respect…We Value…We Believe…We Unite!
By Audri Scott Williams, URI Global Trustee
 
Recently I decided to run for political office in 2018 for the state of Alabama. I will be a progressive democratic candidate in Alabama's Congressional District 2, for the U.S. House of Representatives. Friends who know me well have asked me, "Why are you running for a political office?"
To some of my friends and to me, initially, a run for a political office did not appear to be congruent with my history of involvement in human rights and environmental justice. So I did a check in with myself and my inner voice that always guides me, only to discover that I have always been on the frontline for making a change in my community and in the world.
My parents were active in the Civil Rights Movement in the 1960's in North Carolina where my father's family has lived since the time of slavery, dating back as far as the early 1600's. And where my Native American relatives have resided as far back as our history can account.
I remember the long night, in 1963, when my father and his friends decided to provide protection for the African American students from Fayetteville Teachers College and soldiers from Ft. Bragg, who planned a nonviolent protest, a mock funeral to protest the 16 Street Baptist Church bombing, in Birmingham, Alabama. The mock funeral was a silent nonviolent march in unity with the families of the four young girls who were killed; and 22 others who were wounded by the blast from 19 sticks of dynamite planted outside the church's basement by three Ku Klux Klan (KKK) members in 1963.
Knowing the violent potential of the police and local sheriff, many of whom were KKK members; my father organized his friends to join him in protecting the mostly young students and soldiers who were marching. Many met at our home where they left their valuables and prepared to march. My father and brother marched with them. I remember that night, even though I was only nine years old. What I remember most is their return - tear gassed, beaten and bruised, they returned triumphant, spirits high, knowing their commitment to freedom and justice had fundamentally changed the course of separate but equal. It would not be long afterwards that "Jim Crow" would begin to unravel throughout the south. We united to end segregation and the We were diverse people of different races, cultures, genders, ages and spiritual traditions, the beloved Community in action.
As a child, I remember what it was like, life in the segregated south, separate and unequal. I remember the loaded shotguns that were behind the front and back door of our house to protect the family from midnight intrusions by the KKK. I remember having to go down the dark alley beside the local theater and pay a quarter to go up the long stairs to the balcony to watch a movie. I remember, like yesterday, what it felt like for my brother, another boy and me to be the first students to integrate Ramsey Street Elementary school amid angry white parents holding racially demeaning signs that no child should have to see, while shouting obscenities. And, I remember our escort of family and friends as we passed through the crowd to enter the school. This was my foundation, my beginning, my first sense of the power of community to affect change.
Many years later, 2005 to be exact, while on the Trail of Dreams World Peace Walk, I was introduced to the United Religions Initiative (URI), and it's Charter. I was struck by the Preamble because it reminded me of those childhood days when the face of history was changing. The values stated in the Charter were a powerful reminder of the work and the context for why WE do what WE do for nonviolent social change.
We, people of diverse religions, spiritual expressions and indigenous traditions throughout the world, promote enduring, daily interfaith cooperation, to end religiously motivated violence and to create cultures of peace, justice and healing for the Earth and all living beings … We respect … We value… We believe … We unite!
My story exists within the principles of URI. Why? Because it is only through the WE, that bridge-building occurs and lasting change is made. Change that may appear impossible is made possible when WE unite. United in love, compassion, justice, and preservation of our traditions and spiritual practices – not separate from, rather unified in our pursuit of creating cultures of peace, justice and healing for the Earth and all living beings.
This process enables us to engage our moral imaginations, share in appreciative inquiry to learn about one another; and listen to each other's stories to inspire us along our journey. Fueled by stories of how ordinary people engage in extraordinary actions to create a shift strong enough to affect lasting change in their communities, we are empowered.
I remember hearing a member of a Cooperation Circle from the Philippines sharing the story of how a community of rice growers, part of whom were Christian and the other part Muslims, survived the Mindanao conflict by understanding their need for each other to survive. When the Muslim soldiers came looking for the Christians, the Muslim would dress the Christians as Muslims and when the Christian soldiers came looking for the Muslims, they would dress the Muslims as Christians and this is how they survived the conflict, sustained their community and the rice industry that they all depended upon.
I am paraphrasing here because it was a long time ago that I heard this story. But, the point I want to make is that the story stays with me, lives in me. This story of grassroots communities choosing to cooperate with one another by crossing religious divides to build bridges of hope continues to inspire me.
As I observe our current political climate, it feels like I am observing the antitheses of my life's work to transform injustice into justice, war into peace, hate into love, diversity into beauty, the destruction caused by extractive industries into the preservation of Mother Earth and our environment, and religiously motivated violence into interfaith collaboration. But deep in my soul, I hear the call to have faith in a power greater than I, which is at work in me, in each of us who will but listen. For me this call is directing me to take yet another step toward being a servant leader.
As I am experiencing the political challenges of today, I do not see how we can move forward to affect a positive change in our communities, our country, and the world without embracing the values from which the URI network has emerged. These shared values are what can enhance and inform a political process of a "government of the people, by the People, for the People."
My choice to become a candidate rests in my conviction that when:
We respect … We value… We believe … We unite … We become the authors of a "new story". Dr. Martin Luther King, Jr. once said, "I refuse to accept the view that mankind is so tragically bound to the starless midnight of racism and war that the bright day break of peace and brotherhood can never become a reality…I believe that unarmed truth and unconditional love will have the final word."

Our government is faced with many challenges. Among them are: Climate Control; Nuclear Proliferation; Economic Fairness;  Voting Rights; Affordable Healthcare for All; Jobs and Living Wages;  Quality and Affordable Education; Human Rights; Ending Political Corruption; Religious Tolerance and Interfaith Collaboration.
It is my conviction that I will make a difference because I understand the power of WE. I am a people's candidate and I do believe that the people of this country are calling forth a new form of leadership and I am responding to that call.
Howard Thurman said it best, "The movement of the Spirit of God in the hearts of men and women often call them to act against the spirit of their times or causes them to anticipate a spirit which is yet in the making. In a moment of dedication they are given wisdom and courage to dare a deed that challenges and to rekindle a hope that inspires."
---
Audri Scott Williams, Global Trustee for the United Religions Initiative, former Dean of Continuing Education and Community Service at Charles County Community College, former U.S. Army Reservist, Author, and Human Rights Activist has declared her intention to be a Democratic candidate for the 2018 elections for Congress in the state of Alabama. She has been a servant of the people at a grassroots level locally, nationally, and internationally for over three decades. She has received numerous awards for her service to humanity. 
Audri Scott Williams says she is committed to making a difference in Alabama and the Nation at this critical time in the history of our country. She says, "Mrs. Amelia Platts Boynton Robinson, Matriarch of the Voting Rights Movement, passed her freedom, peace and justice torch to me before she passed. This act and issues confronting our government today, motivate me to strive even more to be a 'servant leader', to run as a Democrat candidate for the U.S. House of Representatives, District 2, in the state of Alabama in 2018. I stand with ordinary people who will do the extraordinary work necessary to end systemic racism, gender bias, classism, xenophobia, homophobia, ageism, religious persecution and will pursue and protect the best of who we are as a State and as a Nation."