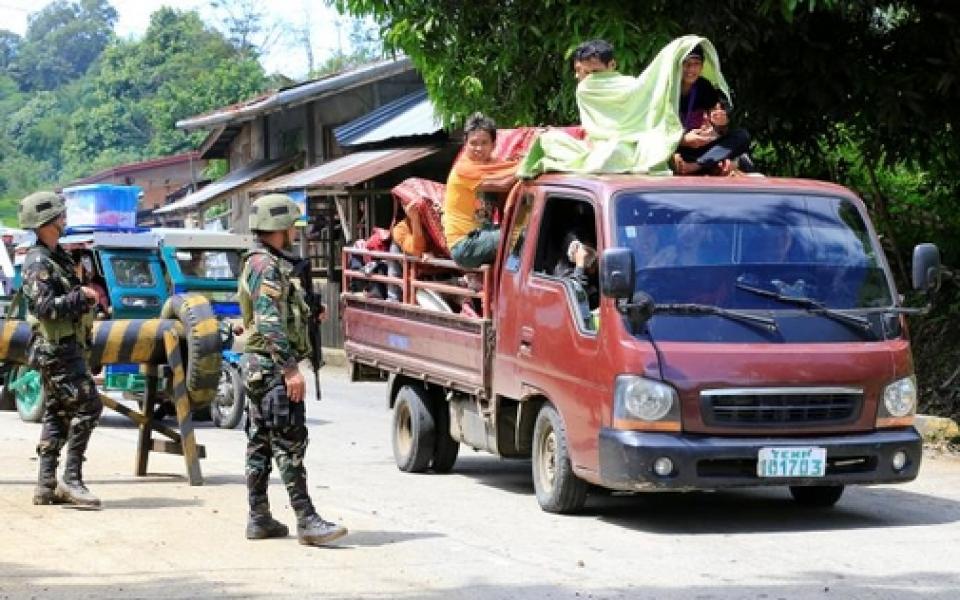 "There are more peace-builders than people-destroyers, remember that. We will overcome."
- URI Executive Director Victor Kazanjian
---
Read the URI press release here. 
The URI Global Staff Office received distressing news about our community in Mindanao, the Philippines. Potre Diampuan, URI Senior Representative to the Philippines, sent us this message: 
"Right in my hometown of Marawi City in Mindanao in the Southern Philippines, terrorists (believed to be of different groups including ISIS) have attacked our city. They burned down the buildings of one of the oldest schools, the priest's residence and the city jail. They have overtaken the public hospital, have barricaded exit and entry points of the city, killed people, and taken hostages. One of those hostages is a beloved member of one of our Cooperation Circles. Please join us as we pray for his safety."
---
Thousands of civilians fled fighting in the Philippines on Wednesday as troops tried to fend off Islamist militants who took over large parts of a city, capturing Christians, seizing and torching buildings and setting free scores of prisoners. Islamic State claimed responsibility for the rampage via its Amaq news agency, and President Rodrigo Duterte defended his decision to declare martial law on Mindanao, the Muslim-majority island where Marawi City is located, to prevent the spread of extremism in the impoverished region.
Learn more in the article "Thousands flee Philippine city after rebel rampage claimed by Islamic State".
---
URI Executive Director Victor Kazanjian urges the community not to give up hope:
"The violence in Manchester and the violence in Mindanao are just two instances of violence being committed in the name of religion around the world. The success of this violence relies on its dehumanizing power - turning us against each other by separating the human family into warring tribes. But always remember there are millions and millions more people around the world who are peace-builders than there are people-destroyers. The extremists and terrorists, the people-destroyers, are a small minority among us. Those politicians using hate to further their agenda, while powerful, are but a few when compared to the masses of people committed to peace, justice and the healing of humanity and the earth. May we continue to build strong bridges between us connecting the peace-builders and peace-seekers across the planet. We will overcome the violence of a few. Peace will prevail on Earth."
We urge our community to send messages of support, and we will do our best to get these messages to our Cooperation Circle in Marawi. 
May peace prevail in Marawi, in Mindanao, and throughout the Philippines
---
Messages of support, sympathy, and hope are coming in from around the world from the global URI community.
With prayers and blessings for all of the people who have been injured and for the souls of all who have been killed in Manchester and Mindanao. With prayers for the hostages in Mindanao, including our beloved URI family member. May we have the courage to stay the course and continue to strive for peace and freedom in the midst of the tragedies that surround us. 
With prayers for comfort, healing and peace,
Rabbi Pamela Frydman
--
Multiregion community, let us join in prayer and lament for the crisis unfolding in Mindanao, the Philippines. One of URI's CC members is being held hostage, among others.
Frederica Helmiere, Regional Coordinator, URI Multiregion
--
I am praying for the safe return of the hostages, and for the presence of peace in Mindanao. May this tragedy shed light on the need for tolerance and understanding. 
With thoughts of peace and support, 
Eliza Snodgrass
--
We are praying for our dearest Potre, Musa and the people of Marawi, Mindanao and Philippines, God bless them and protect them.
May Peace Prevail on Earth,
Enoé Texier
Regional Coordinator, URI Latin America and the Caribbean
--
Kasinje Cooperation Circle is in its strongest terms condemning the recent terrorist attacks which some inhuman and selfish people launched in Manchester City (UK) and Marawi (Phillipes). Please let's respect human life. We wish a quick recovery to those injured and RIP to those who lost their lives. We are praying to ALMIGHTY GOD to comfort the relatives of all the victims in those two tragedies.
--
We seek to reach out and join hands wherever we are, and reassert our unity, our Oneness with all humanity, all those who seek to live in harmony and peace. May those who perished rest in deep peace and all those suffering physically and emotionally, be healed through the power of our collective prayers.
In deep peace,
Karen Barensche
Regional Coordinator, Southern Africa
--
I woke to this news at 4am and have had a heavy heart since. I have such fond memories of Father Chito from my last trip to Cavites, Philippines. We had some laughs and he was an enthusiastic contributor to the vocal group I put together for "Colors of Ugnayan" concert we staged. Ugnayan was the tagalog word for conversation based around deep listening.
My thoughts go out to everyone who has been affected by the recent tragic events in particular to all our brothers and sisters in the Philippines. Have knowledge that we are all thinking of you during these uncertain times.
Peter Mousaferiadis
Cultural Infusion CEO-Founder
--
May the Almighty that created humans to be loved, show the light to those still doing what other animals don't do - killing their kind willingly.
The prayers of the oppressed will be answered, while our grief will turn to compassion.
Our heart of love and condolences go out to those that lost their loved children.
Honorable Elisha Buba Yero,
URI Global Council Trustee
--
We shall continue to build bridges, pray and hope that someday, mankind would rediscover and embrace our true nature
Emmanuel Ivorgba
Regional Coordinator, West Africa
--
When the perpetrators of evil and violence laugh, we cannot but cry. Manchester, Mindanao, Egypt fall under gloom one after another. Let us not be disheartened. Let us train today's children to be peace makers and messengers of love. They will conquer the hearts with love and dismantle the web of hatred and annihilation theories in the years to come.
Abraham Karickam
Regional Coordinator, India, South Zone