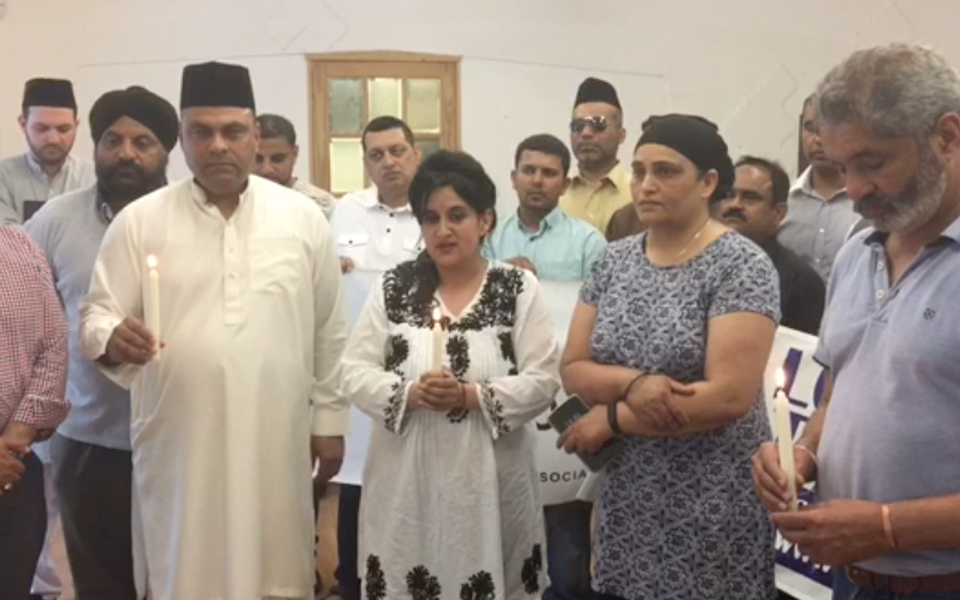 Muslim, Sikh and Hindu leaders gathered in Fartown, Huddersfield, UK, on Friday afternoon to condemn the Manchester Arena attack, in which 22 people were killed in a terrorist bombing.
The vigil was organized by Kiran Bali MBE JP, URI Global Council Trustee Chair. "We will not be defeated by this cowardice," she said. "With mixed emotions from anger to sadness, we gathered for a minute's silence in honour of the Manchester terror attack victims, and stood in solidarity with the injured. Each day, the name of another victim is released. We continue to grieve for the families, for the whole community. The Manchester arena is one of our busiest and most popular music venues and it is so saddening that this cowardly attack was carried out in this community hub. But our community spirit, our resilience and our hope are shining through."
Kiran praised the interfaith community and noted that different faith groups had been especially helpful, working together to provide assistance after the tragedy. "Four gurdwaras near the Manchester Arena offered shelter and food to anyone in need. Places of worship across the nation are holding prayers for unity. Many people have offered to give blood. All have responded with humanity and compassion, to this act of barbarity. We all stand together. We are defiant in the face of terror."
Read more about the vigil in the Huddersfield Daily Examiner.