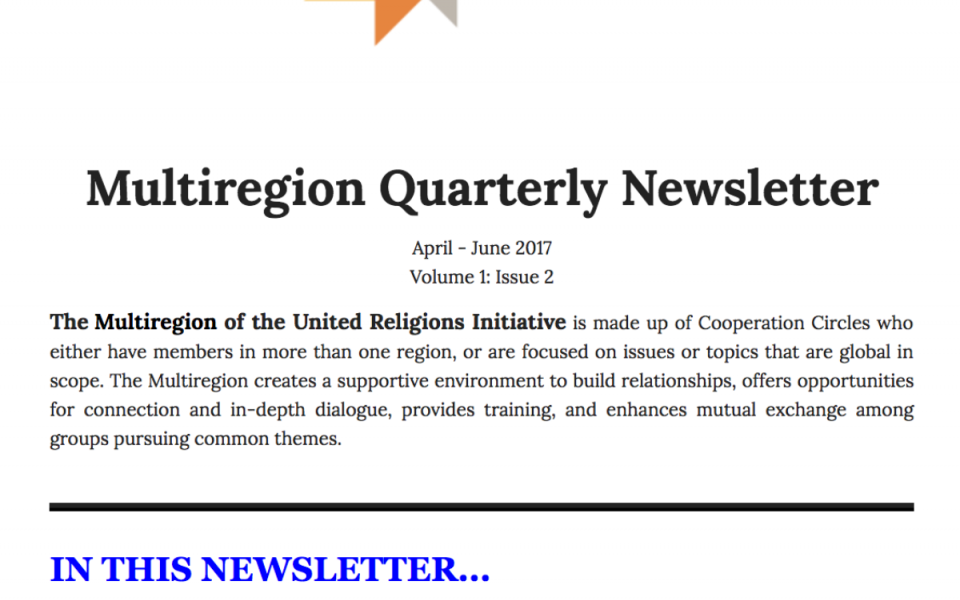 Jul 11, 2017. 
        *** VIEW THE COMPLETE NEWSLETTER HERE *** 
Message from the Regional Coordinator: 
Greetings of peace to the Multiregion community across the globe! Our resurrected newsletter continues with its second issue of 2017, highlighting inspiring news and updates from Cooperation Circles throughout URI's Multiregion.  
The second quarter has been bustling in the Multiregion. We welcomed three new Cooperation Circles, each of whom brings fresh vitality from different parts of the globe.  In April the Global Youth Movement (GYM) CC joined us from Kerala India. La Villa d'Arcilla, an interfaith eco village in Costa Rica,  joined us in May, marking URI's 101st country! And in June we welcomed The Chaplaincy Institute, a training program for interfaith leaders based in California, USA. Read the full stories of each new Cooperation Circle below.  
On May 30 the Multiregion experienced an historic gathering: "50 CCs in 50 minutes"! One representative from almost every Cooperation Circle that currently exists or once existed in the Multiregion came together on a zoom call to share 1 minute presentations of their current or past work. At its peak we had 45 people on the zoom call! The presentations were recorded and will be turned into a promotional video for our region.  
The Global Council trustees and I have been so pleased to welcome five new at-large members onto our newly formed Multiregion Leadership Council, a group that supports, advises, offers skills, and guides regional work. CC members and supporters from around the world applied, and these five individuals stood out as bringing exceptional gifts, skills and important perspectives. Read more about Francisco, Mikuak, Sowmya, Vincent and Kate below.  
An International Day of Peace committee has formed, and hopes to achieve its goal of 50% of all Multiregion Cooperation Circles celebrating IDP in some way this year. Grants of up to $250 are available to CCs for IDP events. Similarly, we have formed a committee to explore options for a face to face gathering in 2018 (!!!). More on that to come.  
We moved one step closer to facilitating direct CC to CC communication with a new listserv. Multiregion CC members can now use multiregioncontacts@uri.org to write messages directly to one another. Coming up next: a Multiregion whatsapp group! 
In short, things are bustling in the Multiregion and it continues to be a joy and an honor for me to support and enhance the work of 51 inspiring groups of interfaith peacebuilders around the world. Thank you again to Rachael Watcher for her assistance in assembling this newsletter.  Thank you as always to our dedicated and wise Global Council trustees, Elana Rozenman in Jerusalem, Audri Scott Williams in Alabama, and Suchith Abeyewickreme in Sri Lanka.  
Blessings to you all from Seattle, Washington, where the warm days are long and the cool nights are short enough that my children think 5:30am is an appropriate time to wake up.  
Frederica Helmiere 
Regional Coordinator for URI's Multiregion 
frederica@uri.org 
IN THIS NEWSLETTER...