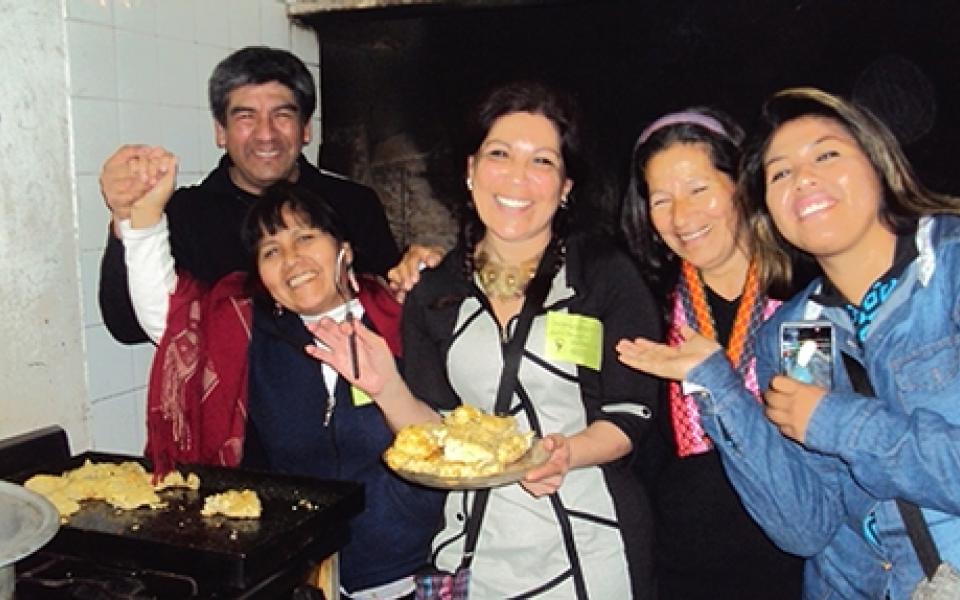 REPORT II Pre-Congress of the National Indigenous Women of AbyaYala in Buenos Aires, Argentina.                                      
25, 26 and 27 September 2015.
On Friday the 25th, the Pre-Opening of the II Congress of Indigenous Women was held at the National University of Quilmes, welcoming the authorities and the general public. Its general objectives are stated here:
Construction of networks for communication, education, politics and indigenous production vision.
Insertion of indigenous women in formal education, public policy and community production.
Preparation of the II International Congress of Indigenous Women of AbyaYala.                
The opening and part of the activity was at the National University of Quilmes, in the city of Bernal, and province of Buenos Aires. After the opening was the presentation of exhibitors: union education authorities, social movements, political organizations, and the indigenous and women's council of the municipal government of Avellaneda communities. There was exposure of the various organizations, and interaction and discussion with the participants and the panel.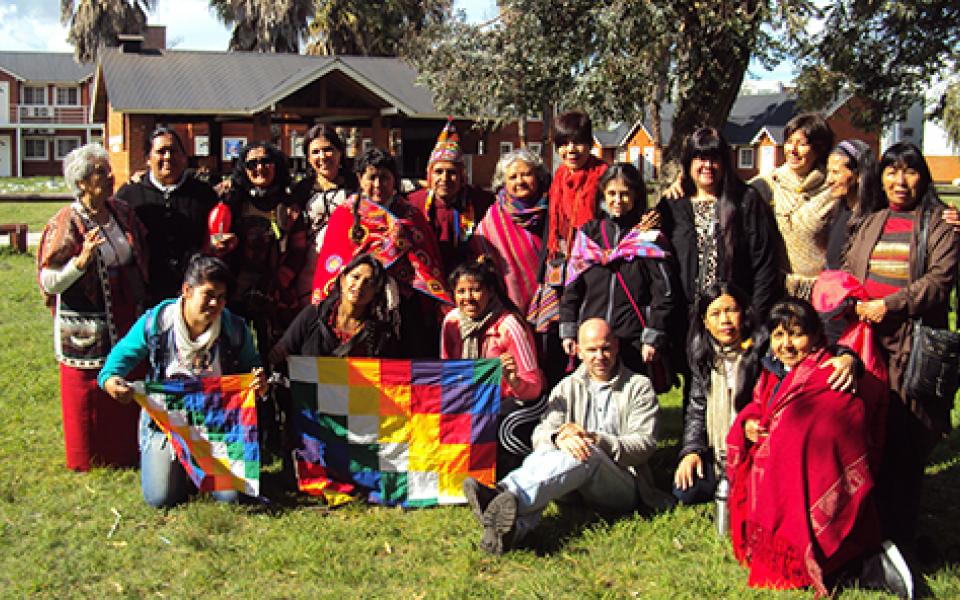 In the late afternoon, a recess was held. At 18:30, we started on the recreational premises of the Union of Textile Workers' Association, in Berazategui, province of Buenos Aires. Deliberation was closed for indigenous women. 
On Saturday the 26th, on the same recreational land, we began with the ceremony of the Andean peoples by Antawi sister and brother Nicholas, both of Bolivia. Afterwards, we moved to the deliberation room and continued with the exposure of indigenous women colloquium with representatives from the various provinces of Argentina.    
Coordination of the activity was headed by Luisa Pereira, with the following topics:
Indigenous women and the fight for Earth. Exhibiting Sr. Kom, Ofelia Morales.
Recovery of culture from women. Exhibiting Mapuche Sister Cecilia Gonzales.
Femicide and violence against women. Sister speaker of Bolivia, Reina I. Torres.
Education and indigenous culture. Exhibiting Tonocote Sister Patricia Llanos.            
At the end, we held a debate with the participation of Assembly members until 13:00.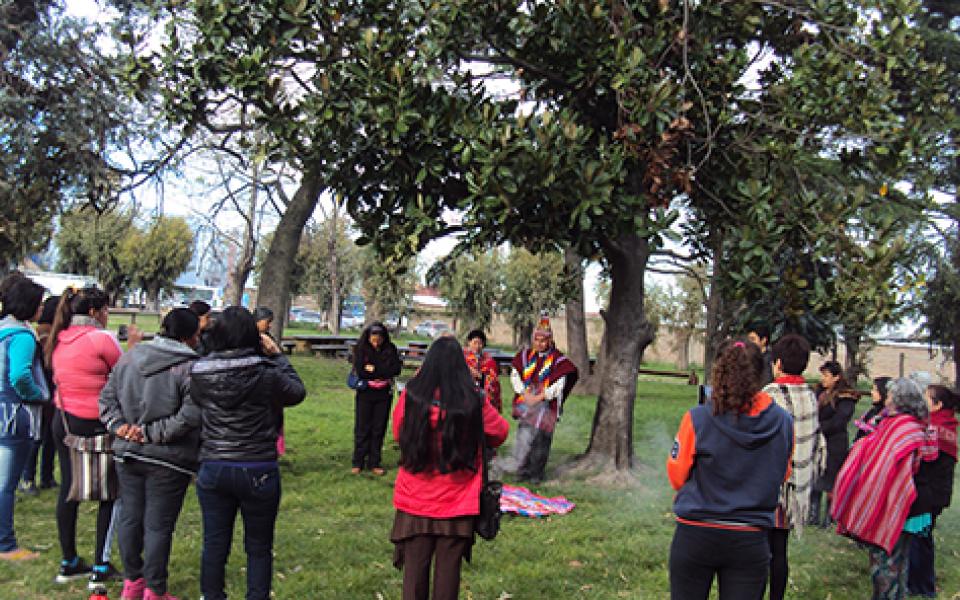 After lunch, the second panel was taken up with the following topics:
Women, Mother Earth. Exhibitor Kolla brother, Mario Barrios.
Art, Culture and Education. Exhibiting Kolla sister, Isabel Ramos.
Women, Law and Indigenous Reality. Kolla exhibitor, Gabino Sambrano.
Law on family farming and food sovereignty. Exhibiting Guarani sister, Cristina Oribe.
At the end, exhibitors led participant interaction in the symposium.   
After a long debate, it being 18:30, we decided to take a short intermission, and to carry out the 3rd panel, because many sisters had to travel on Sunday morning. Some sisters had more than a 12-hour trip back to their respective provinces. The 3rd panel started at 19:00. Since 2330 hours Saturday, a recess continued on Sunday the 27th.  
After breakfast, we continued with a plenary, where we appointed a commission for drawing conclusions from the proposals from the various panels. This commission was composed of the following Sisters:
From the Organizing Committee MOPSyC, Luisa Pereira.
The Guarani people, Cristina Oribe.
Village Tonocoté, Patricia Llanos.
The Kolla, Isabel Ramos.
Village Kom, Ofelia Morales.       
Some of the much-discussed findings in the different panels were:
That STATEMENT OF HERITAGE in each American state is stopped, the Territories, Holy Places, Cemeteries Peoples and Indigenous Nations, Natural Places called Wonders of the World, being concealed ethnocide, depriving the continuity of normal development culture, benefiting exploitation in favor of the capitalist system, where the natives of the place have to pay large sums of money to enter their places of belongings, because of the Declaration of World Heritage / or Cultural. Generate actions to prevent domestic violence and violence against women specifically.
Compliance with the Indian Calendar and recognition to national holidays.
Provide an agenda for the recovery of traditional medicine and to demand recognition in the APS.
Develop a draft Law Plurinational Symbols and Indigenous Emblems.
Produce and edit material recovery of ancestral knowledge through a law that legitimizes Intellectual Property of Indigenous Peoples.
The III Pre-congress of indigenous women in the province of San Fe, the amount of indigenous sisters evicted from the communities of Pampa del Indio Chaco, who moved to the peripheries of the province.
The implementation of the Youth Congress parallel to Women in the province of Santa Fe.
Transformation and Re Curriculum Design Educational formulation at all levels and modalities with indigenous vision.
Assign responsibility for the II International Congress of Indigenous Women of AbyaYala, to be held in 2016. At 13:00 hours, Sunday the 27th, we proceeded to read the conclusions, and the signing of the minutes of the event held. Some images from different moments of the activity, why a pre-congress and closed for indigenous sisters were not allowed to enter the press, are below.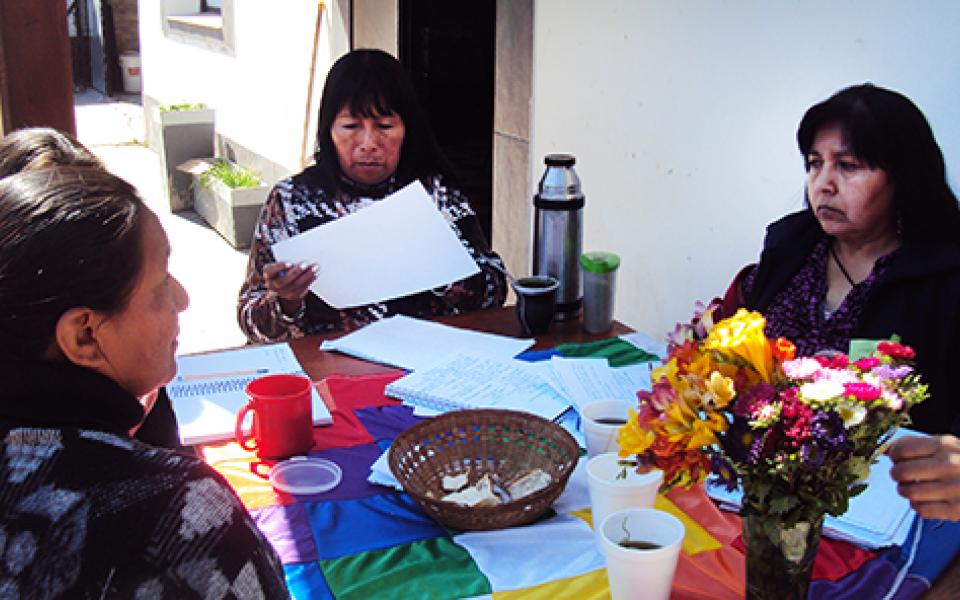 This informative summary is of three days of deliberation. There were tears of the sisters who came from the province of Chaco. One story from an aunt described an indigenous child who died from malnutrition. She recounted that she realized that, after the rushing water for irrigation sembradío, the stream dried while diverting water for large soybean plantations for Monsanto. All the people of Argentina showed the desolation of their community. Another Indian sister recounted how his sister rode the train with their baby loaded in the back, with disturbed passengers "treating Bolivian because it does not return to his country" and found death on the railroad tracks. Other sisters recounted how difficult it is to adapt in an urban setting, being evicted from their communities. Also they explained, women die from cervical cancer because hospitals do not serve them well, as they can not speak Spanish correctly and are not used to the gynecological position, and are BATTERED by their aboriginal appearance. They also recounted the disappearance of young women: Job advertisements offer them work in the capital but they are instead brought for trafficking. When mothers are directed to the police to report the disappearance, the police response is, "We're sure she just went away with a boyfriend." A mother spoke of no news of her daughter for the last eight years.
There was much sadness and helplessness, and a lot of pain for not being able to retain territory, and the predation of the mountains. Such impunity for hypocrites, and so many tears for these mothers, are the tears that will water the seeds we plant today. To be protagonists in our own land, we will transform sadness into strength to fight for our rights, while some look at us with eyes of superiority and others band together with us to save us from the evil of a few.       
We seek harmony in humanity and peace on earth. But it will be so difficult to get while there is no sincerity and there is not peace in every heart. 
Luisa Pereira, MOPSyC Cooperation Circle
Text in original Spanish below:
Al Rev. Victor H. Kazanjian, Executive Director
Executive Director  
A la Coordinadora Regional
Dra. Enoé Texie
A la Directora. soporte de los CC
Maria Eugenia Crespo
A los CG
Alejandrino Quispe
Genivalda Gravo
Gabriel Avruj
Al Comité Ejecutivo del Consejo Indígena de ALyC
Hna. Morela Maneiro, Hno. Hugo Cordero Calisaya
Hna. Yelitza Ragel Gutiérrez, Hno. Mateo Choc
                                                        INFORME
II Pre-congreso de la Mujer Indígena Nacional del AbyaYala en Bs As, Argentina.                                                                                                                                                                                                                                                                       
Días 25, 26 y 27 de Septiembre de 2015.
                El viernes 25, se realizo la Apertura del II Pre-congreso  de la Mujer Indígena en la Universidad Nacional de Quilmes, donde se dio la bien venida  a las autoridades y público en general, luego  se anunció los objetivos generales que aquí se detallan: 
- Construcción de redes para la comunicación, la educación, la política y la producción con visión indígena.
- Inserción de la mujer indígena en la educación formal, en la política pública y en la producción comunitaria.
- Preparar el II Congreso Internacional de la Mujer Indígena del AbyaYala.
               La apertura  y parte de la actividad se llevó acabo  en la Universidad Nacional de Quilmes, cito en la ciudad de Bernal, provincia de Buenos Aires. Luego de la apertura  se hizo la presentación  de los expositores: autoridades gremiales de la educación, movimientos sociales, organizaciones políticas, organizaciones y comunidades indígenas y del consejo de la mujer del gobierno municipal de Avellaneda.  Allí hubo la exposición  de las distintas  organizaciones e interacción,  debate con los participantes y el panel.
                Al finalizar la tarde se toma un cuarto intermedio para dar continuidad el día 26. Siendo las 18.30 hs. se parte con el contingente hacia el hospedaje en las cabañas  del predio recreativo del Sindicato de la Asociación Obrera Textil, cito en Berazategui, provincia de Buenos Aires, la deliberación es cerrada para las mujeres indígenas.
                 El sábado 26,  en el mismo predio recreativo, se inicia la jornada con la ceremonia de los pueblos andinos a cargo de la hermana Antawi y el hermano Nicolás, ambos de  Bolivia. Luego de la misma, nos trasladamos al salón de deliberación y  se continua con la exposición del coloquio de mujeres indígenas con las representantes de las distintas provincias de la República Argentina.
                 La coordinación de la actividad estuvo a cargo de Luisa Pereira, con las siguientes temáticas:
- Las mujeres indígenas y la lucha por la Tierra. Expositora hna kom, Ofelia Morales.
- Recuperación de la cultura desde la mujer. Expositora hna mapuche, Cecilia Gonzáles.
- Femicidio y violencia contra las mujeres. Expositora hna de Bolivia, Reina I. Torres.
- La educación y la cultura indígena. Expositora hna Tonocote, Patricia Llanos.
            Al finalizar los tiempos de las expositoras  se hace un debate con la participación de las asambleístas asignado orden de la palabra, hasta las 13 hs. 
           Luego del almuerzo, con el segundo panel se retoma con los siguientes temas:
- La mujer, La Madre Tierra. Expositor hermano kolla, Mario Barrios.
- El arte, la cultura y Educación. Expositora hermana kolla, Isabel Ramos.
- La mujer, el Derecho y la Realidad indígena. Expositor kolla, Gabino Sambrano.
- Ley de agricultura familiar y soberanía alimentaría. Expositora hermana guaraní, Cristina Oribe.
       Al término del tiempo de los/as expositores/as se da lugar a la interacción de las participantes consignando el orden de la palabra en dicho coloquio.
       Después de un largo debate, siendo las 18.30 hs. se decide hacer un corto intermedio, para llevar acabo el 3° panel, debido a que muchas hermanas tenían que viajar el domingo a la mañana, algunas hermanas tienen más de 12 hs de viaje de regreso  a sus respectivas provincias.
       El 3° panel comienza a las 19 hs. Siendo las 23.30 hs. del sábado, se hace un cuarto intermedio para continuar el domingo 27.
     Luego  del desayuno se continúa con un plenario, donde se designo a una comisión de elaboración de las conclusiones, desde las propuestas surgidas de los distintos paneles. Dicha comisión estaba conformada por las siguientes hermanas:
- De la Comisión Organizadora MOPSyC, Luisa Pereira.
- Del pueblo guaraní, Cristina Oribe.
- Del pueblo Tonocoté, Patricia Llanos.
- Del pueblo kolla, Isabel Ramos.
- Del pueblo Kom, Ofelia Morales.
      Algunas de las conclusiones muy discutidas, en los distintos paneles, fueron : 
- Que se detenga LA DECLARACIÓN DE PATRIMONIO DE LA HUMANIDAD en cada Estado Americano, a los Territorios, Lugares Sagrados, Cementerios de los Pueblos y Naciones indígenas, Lugares Naturales denominados Maravillas del Mundo, por ser encubierto el etnocidio,  privando la continuidad del normal desarrollo de la cultura,  beneficiando la explotación a favor   del sistema capitalista, donde los indígenas del lugar tiene que pagar fuertes sumas de dinero para ingresar a sus lugares de pertenencias, a causa de la Declaración de Patrimonio de la Humanidad /o Cultural.    -Generar acciones para la prevención de la violencia familiar y de la mujer específicamente.                                                                                                                                - El cumplimiento del Calendario Indígena  y su reconocimiento a los feriados nacionales.                                                                                                                                          - Se prevea una agenda para la recuperación de la medicina ancestral y exigir su reconocimiento en los APS.                                                                                                              - Elaborar un anteproyecto de Ley Plurinacional de Símbolos y Emblemas Indígenas.            - Producir y Editar material de recuperación de saberes ancestrales a través de una Ley que legitime  La Propiedad Intelectual de los Pueblos Indígenas.                                                   - La realización del III Pre-congreso de la mujer indígena, en la provincia de San Fe, por la cantidad de hermanas indígenas desalojadas de las comunidades de Pampa del Indio del Chaco, que se trasladaron a las periferias de dicha provincia.                                       - La realización del Congreso de la juventud paralelo al de la Mujer, en la provincia de Santa Fe.                                                                                                                                           - Transformación y Re formulación del Diseño Curricular Educativo en todos los niveles y modalidades con visión indígena.                                                                                                               - Asignar responsabilidades para la realización del II Congreso Internacional de la Mujer Indígena del AbyaYala, a realizarse en el año 2016.                                                        
 Siendo las 13 hs. del domingo 27, se procede a leer las conclusiones, y la firma del acta del evento realizado.
  Se adjunta algunas imágenes de distintos momentos de la actividad, motivo por ser un pre-congreso y cerrado para las hermanas indígenas no se permitió ingresar a la prensa.  
       Se realiza este resumen informativo de  tres días de deliberación, donde hubo lágrimas de las hermanas  que llegaron desde la provincia del Chaco, una de ella,  tía de un niño indígena que murió por desnutrición, ella relataba que el agua que corría para riego del sembradío, secaron el arroyo desviando el agua para las grandes plantaciones de soja trangénica de monsanto, todos los medios de Argentina mostraron la desolación de su comunidad. Otra hermana indígena relataba como a su cuñada le arrojaron del tren por molestar a los pasajeros con su bebe cargado  en la espalda,   " tratándola de boliviana porque no se vuelve a su país", así encontró la muerte en las vías del ferrocarril Roca junto a su hijito por mantener su identidad. Otras hermanas relataban lo difícil que les resulta adaptarse en un asentamiento urbano, por ser desalojadas de sus comunidades.  También explicaban,  como las mujeres mueren por cáncer de útero, porque en los hospitales no les atiende bien ya que ellas no saben hablar correctamente el español y no están acostumbradas a la posición ginecológica para su atención, y son maltradas por su aspecto aborigen. También relataban la desaparición de jóvenes mujeres, avisos de empleos dicen ofrecerles trabajo en la capital y son llevadas para la trata, cuando  las madres se dirigen a las autoridades policiales para denunciar la desaparición, la respuesta  policial es: "seguro se fue con un novio", una madre dijo que hace 8 años no tiene noticia de su hija.
     Mucha tristeza e impotencia, mucho dolor por no poder conservar su territorio, y por la depredación de los montes. Tanta impunidad para los hipócritas,  y tantas lágrimas para estas madres, son las lágrimas que  regarán la semillas que hoy  plantamos, ser protagonistas en nuestra propia tierra, transformaremos las tristezas en fortaleza para luchar por nuestros derechos, mientras algunos nos miran con ojos de superioridad, y otros nos acompañan para juntos salvarnos de la maldad de pocos.
     Buscamos la armonía en la humanidad y la Paz en la tierra, será tan difícil conseguir mientras no haya sinceridad y paz  en cada corazón.                                                                 
Atte.                               
Luisa Pereira, cc MOPSyC
---