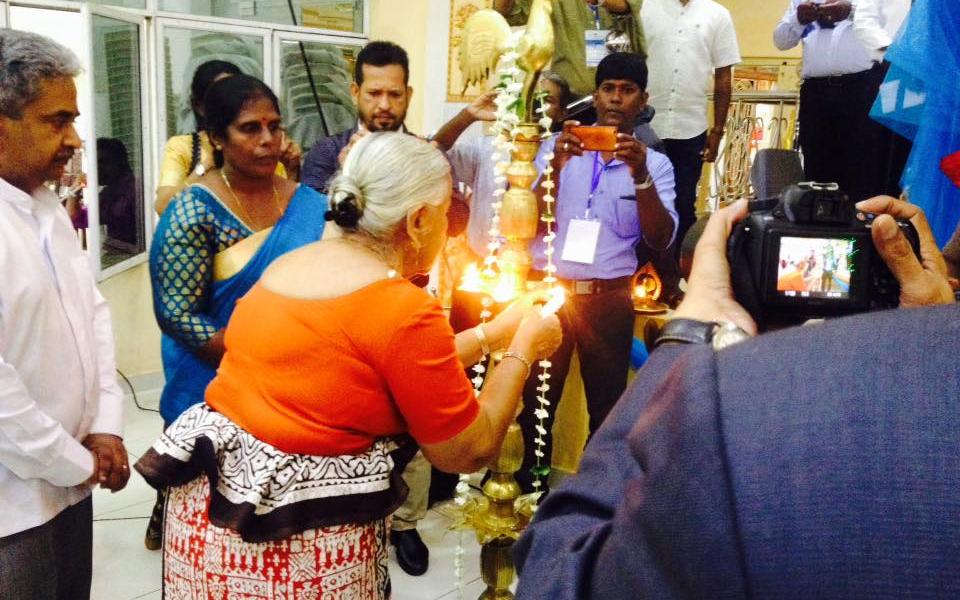 Peace, harmony, and Interfaith: URI Sri Lanka held its 4th National Assembly from 5th to 8th October, 2017, in Jaffna, in the Northern region of Sri Lanka, under the theme "Together for Peace Respect, Safety and Dignity for All." More than 200 Sri Lankan URI Cooperation Circle members and Indian delegates from Kerala (09) with Dr. Abraham Karickam and Rev. Bishop Joseph Mar Barnabas, Bangalore (25) with Dr. CNN Raju, Dr. Yogi Deva Raj and Chennai URI Mr. Muthu Kumaran attended the assembly. The presence of URI Young Cooperation Circle members (from Coexister Cooperation Circle in France) made a difference. They are on a journey of peace to 20 different countries, and meeting interfaith leaders and movements.
This was hosted by Inter-Religious Initiative for Civic Engagement Cooperation Circle Jaffna (InterReligious Initiative for Civic Engagement) under the leadership of Mr. Yougendran. The Assembly celebrated the virtues of a bottom-up approach to peacebuilding. On the 06th of October, the 4th National Assembly started with the Interfaith Tour in Jaffna with all the delegates.
All the delegates joined in a peace pilgrimage to the Nagadeepa Island, where they visited the famous Buddhist temple and the Hindu Kovil. All the participants were offered lunch at the Kovil, making it an unforgettable experience. All were seated on the floor and rice and hot curries were served on palm leaves. Participants came across another remarkable experience in the Catholic Church of the nearby village. Participants were told that the whole village is being provided with water, as there is an unending reservoir of water on the compound, thanks to the blessings of Mother Mary. And our last stop during the pilgrimage was at the Jaffna Jumma Mosque, where we had an excellent meeting with the people of the war-torn community. All the religious leaders shared Spiritual Community which believes in and teaches the Universal messages of all Prophets through love, faith, meditation, and service, opening its doors to people across all religions and communities.
Dr. Abraham Karickam the related the story of youth leader Fathima in Bosnia, who had lost her father because of the war, just five days before her birth. While that was a three-year war in Bosnia, here we faced thirty long years of struggle. How many fathers and brothers might have been killed!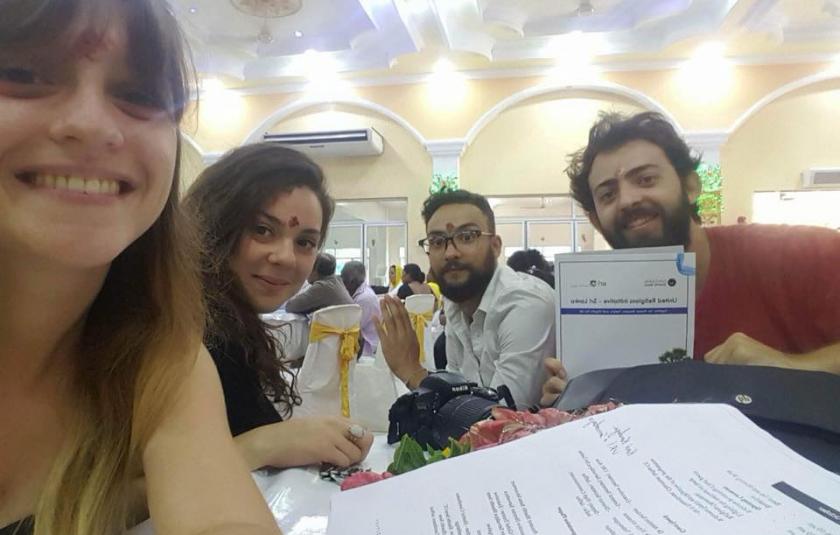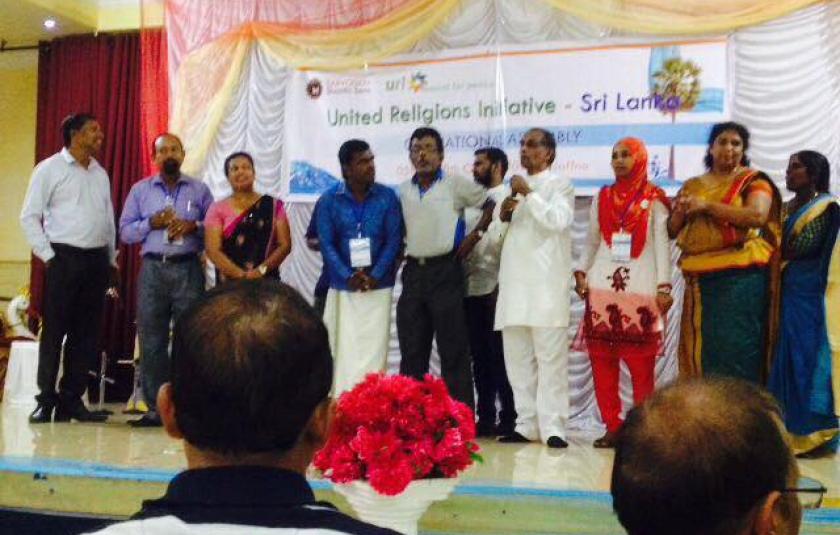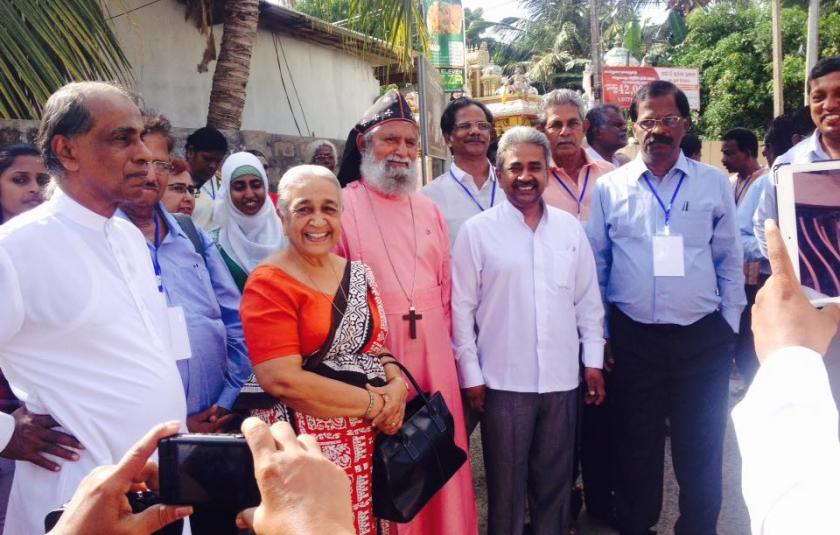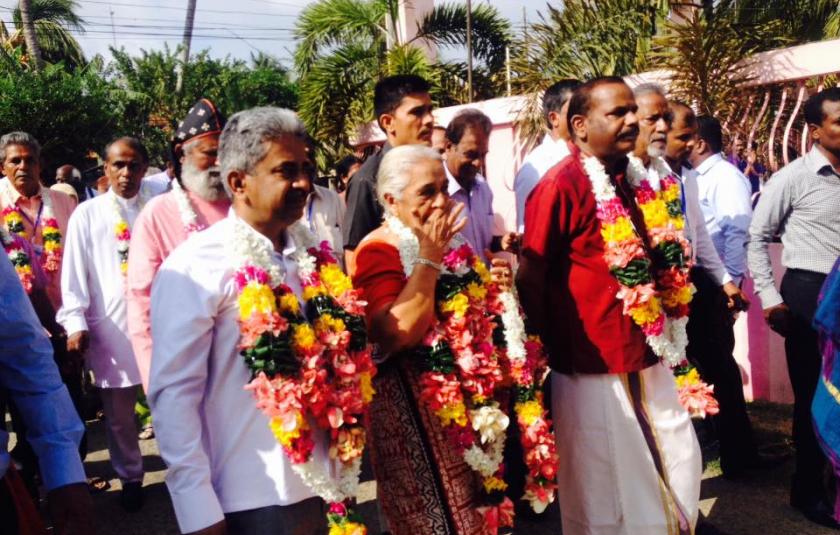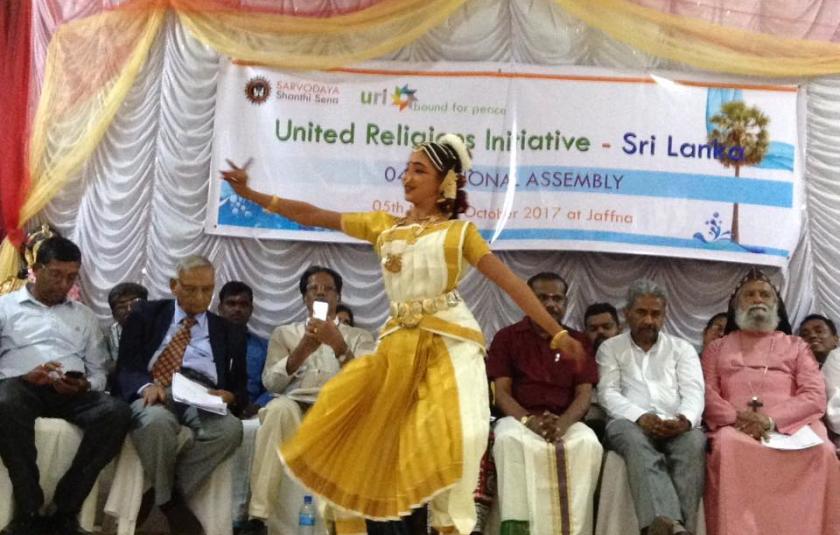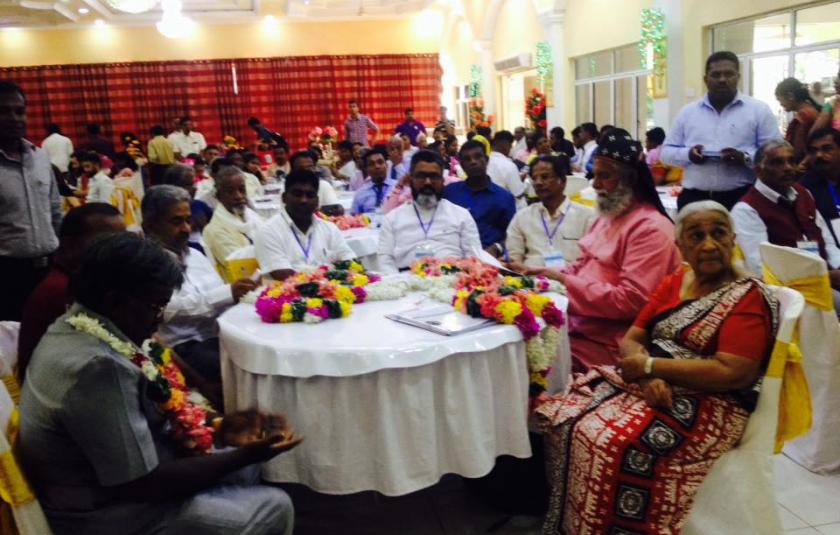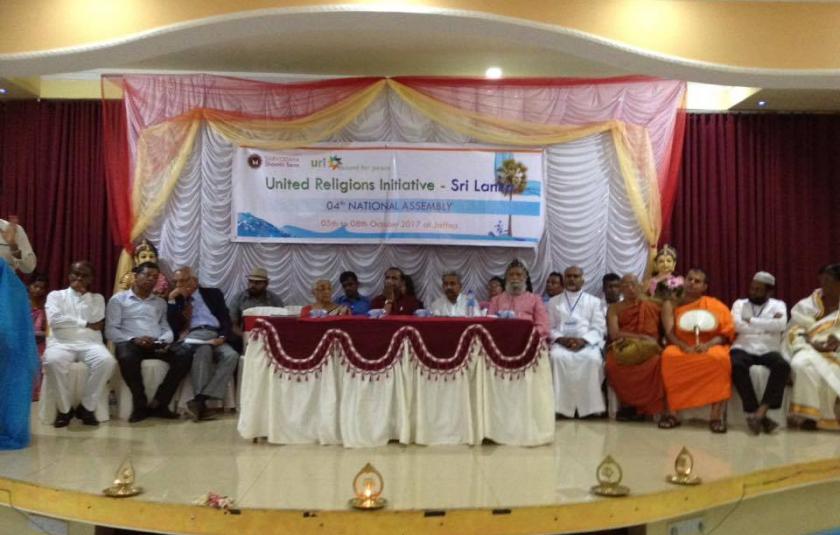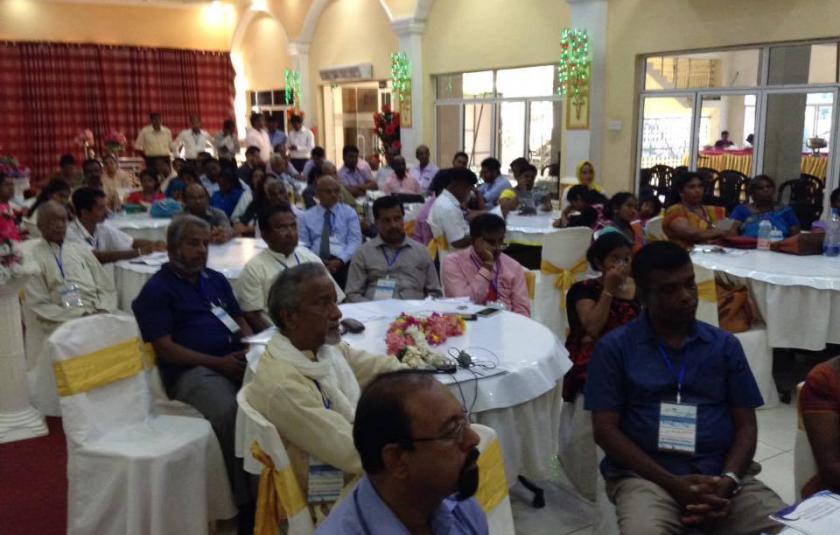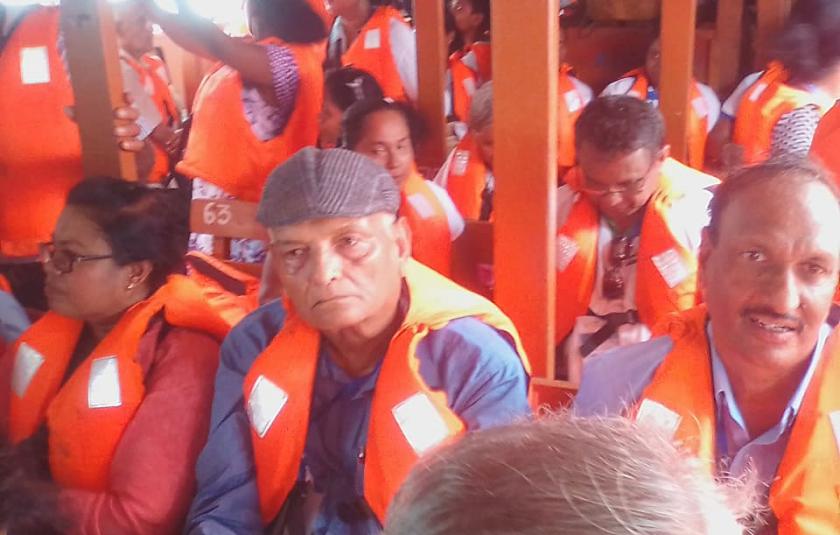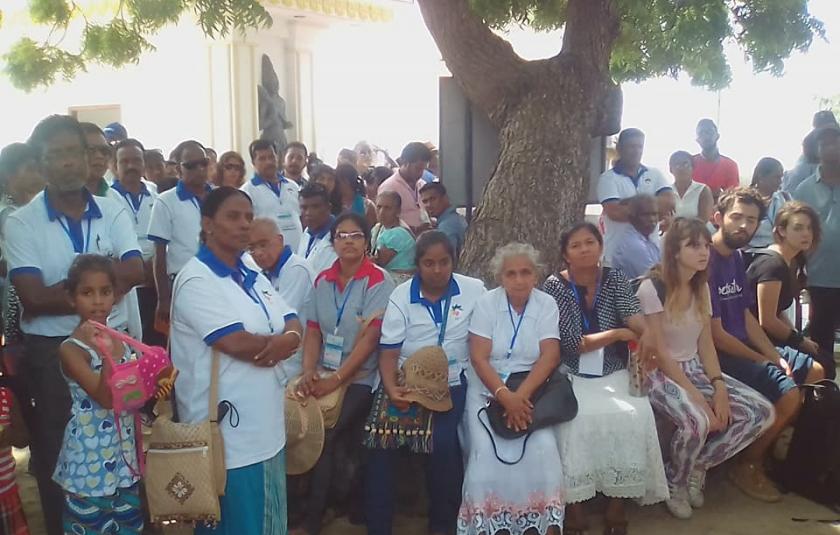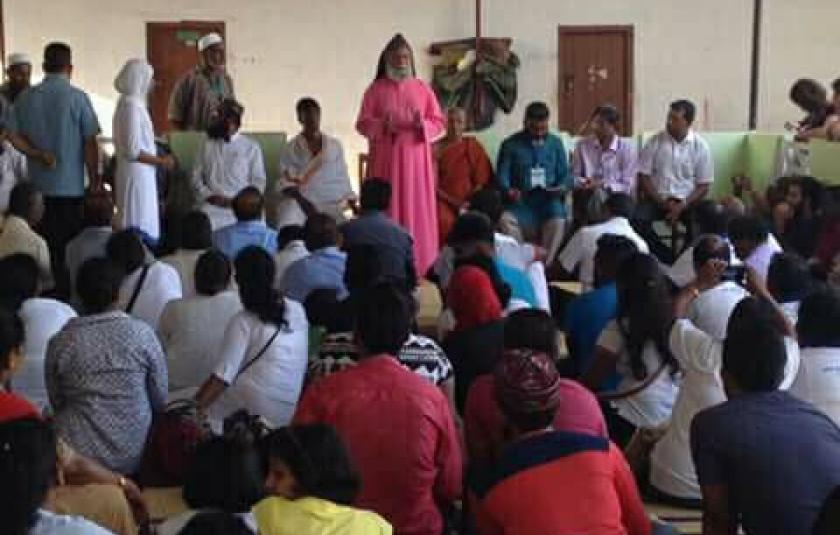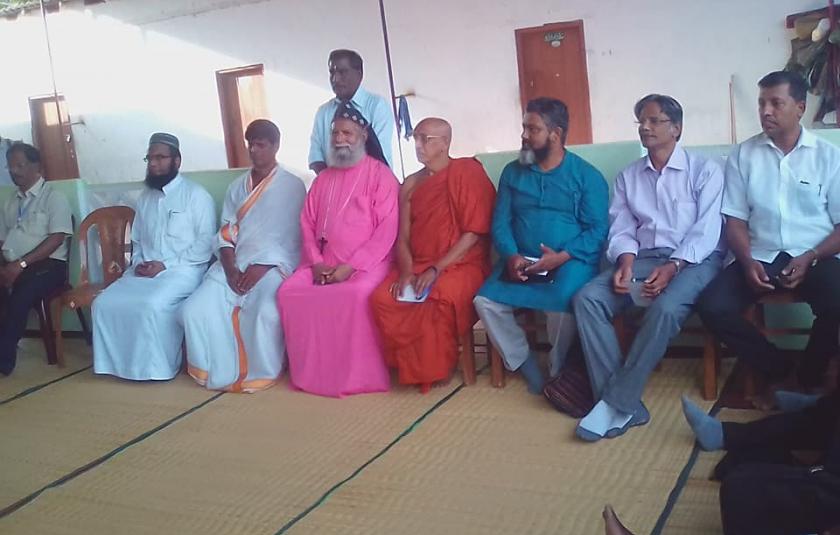 The inauguration ceremony of the assembly was held at Hamsiya Conference Hall Jaffna on 07th October in the presence of over 240 people. The Indian Deputy High Commissioner, Mr. A. Natarajan was the chief guest for the assembly and it was graced by:
Dr. Vinya Ariyarathna, General Secretary of Sarvodaya Sri Lanka.
Mrs. Nitha Ariyarathna, V.President of Sarvodaya Sri Lanka.
Mr. Ravi Kandage, URI Global Trustee / Executive Director Sarvodaya Shanthisena.
Pro. Kamal Waleboda, President Of ShanthiSena Moment.
Dr. Abraham Karickam, Executive Secretary, URI Asia.
Dr. CNN Raju, URI Bangalore
Mr. Muthukumaran. V, URI Chennai
Dr. Ganesalingam, Head Department of political Science, Jaffna University.
Mr. Suchith Abayavikrama, URI Global Trustee, Multi Region.
Dr. Yogi Deva Raj, URIKarnataka, India
All eminent figures in the field of interfaith harmony had delivered messages of interfaith learning.
Dr. Ganesalingam, Head of the Department of Political Science, Jaffna University, gave the keynote address under the theme 'Together for Peace: Respect, Safety, and Dignity for All'. There was a panel presentation from all the Cooperation Circles in Sri Lanka who are engaged in this movement to create a dynamic process of building bridges across the communities.
The Cultural Night brought more power to the message of peace. National and International delegates performed beautiful and colorful dances together and sang songs in different languages. And also, Mr. Yogi Srinivas from Bangalore held the best yoga session for delegates. Jaffna Cooperation Circle organized Beautiful South Indian Barazanattiyam, its famous Hindu cultural dance too. The cultural night not only enlivened the evening but also drove home the message of solidarity.
The Concluding Ceremony took place with the Community Project in Kalati Amman Hindu Temple in Jaffna. We conducted a tree-planting program there. Each Cooperation Circle planted two Jack trees and placed the tree name, which included the Cooperation Circle name. We would like to thank Mr. S. Yougendran, Coordinator of Inter-Religious Initiative for Civic Engagement Cooperation Circle Jaffna, and Circle members for taking time out from their busy schedules and organizing the assembly and also rendering support to make this event successful. We would like to thank our URI Sri Lanka Great leader Mr. Ravindra Kandage with URI Shanthi Sena Cooperation Circle for extending gracious support in making the assembly successful. Also, we would like to thank all the international delegates for attending the assembly and extending their cooperation towards our initiatives. And also, we would like to thank Inter religious leaders, all the Cooperation Circle coordinators and members for creating a bridge among sharing peace and interfaith harmony. Thank you all for supporting us in this journey to build peace through justice and healing.
Cooperation Circles Involved