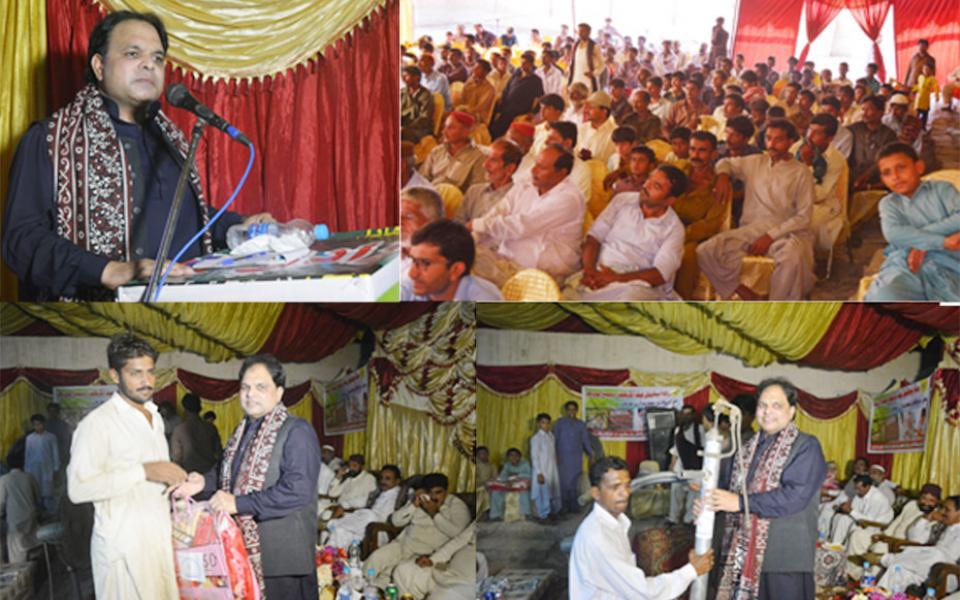 Pakistan Council for Social Welfare & Human Rights distributed the necessities of life among the religious minorities residing in interior Sindh, with the collaboration of Sangham Educational, Health Agriculture Development Association, in a ceremony held at Village Mehrab Pur District Nushahru Feroze Province Sindh – Pakistan.
Chairman of the Pakistan Council for Social Welfare & Human Rights (PCSW&HR), Mr. Muhammad Ijaz, was chief guest of this ceremony. Mr. Zia Ullah Chairman Sangham, Educational Health Agriculture Development Association, presided over the ceremony. Mr. Muhammad Ramzan Mustafie, Director PCSW&HR, Mr. Ali Gohar Khaskhali, General Secretary Sangham EHA Development Association, Mr. Nazeer Baladee, Mr. Lakhmar Khan, Mr. Liqiat Ali Lashari, and Mr. Allah Rakhio addressed the ceremony.
Influential members of the area and members from religious minorities, Hindus and Christians, participated in the ceremony in large numbers. The ceremony started with the recitation of the Holy Quran, and then the national anthem was sung.
While addressing during the ceremony, Mr. Muhammad Ijaz Noori said that, as per the vision of Quaid-e-Azam Muhammad Ali Jinnah, the state of Islamic Republic of Pakistan assures the minorities in the Pakistan dominion that they would have protection with regard to their religion, faith, life, property and culture. They would, in all respects be citizens of Pakistan without any discrimination, and no doubt, along with it they would have the obligations of citizenship. The minorities would have to be loyal to the State and owe true allegiance to the State. He urged that if we have to make Pakistan a strong and dignified state, then we have to assure and give the fundamental human, constitutional and democratic rights to weak and depressed communities. First we all are Pakistani, then we are Muslim, Christian, Hindu, etc.
Mr. Noori further said that both Muslims and minorities living here in Pakistan have paid with a lot of sacrifices during the Pakistan movement, but still minorities and weak communities are facing extortions and injustice. He also highlighted that the areas of interior Sindh have among the highest incidences of poverty in Pakistan and still 53 percent of the population in rural Sindh lives below the poverty line, which should be a great concern for any government. But in the last three decades, no government has paid its attention to solve the issues of interior rural Sindh.
Mr. Noori urged the government of Sindh to ensure greater political representation for religious minorities, especially Hindus, to ensure that communities can voice their concerns and demand protection. He said that increased political representation will provide these minorities with greater access to law-enforcement agencies and provincial and federal resources that can be used to promote communal harmony. He also emphasized to enhance the capacity of the legal system, including establishing mobile courts or other rapid mechanisms for dispute resolution.
While addressing during the ceremony, Chairman Sangham Educational Health Agriculture Development Association Mr. Ziaullah Khan and other speakers also emphasized the promotion of human rights and interfaith harmony, especially in interior Sindh, and said that all spiritual religions give the teachings to their followers to respect each other religions, religious & social tolerance, peace and justice. To eradicate the terrorism and extremism from our beloved country we have to show national solidarity. Speakers also urged the government of Sindh to solve the issues of religious minorities in interior Sindh especially and in Sindh generally must be its 1st priority. During the ceremony, necessities of life and taps were also distributed among the religious minorities and vulnerable communities.