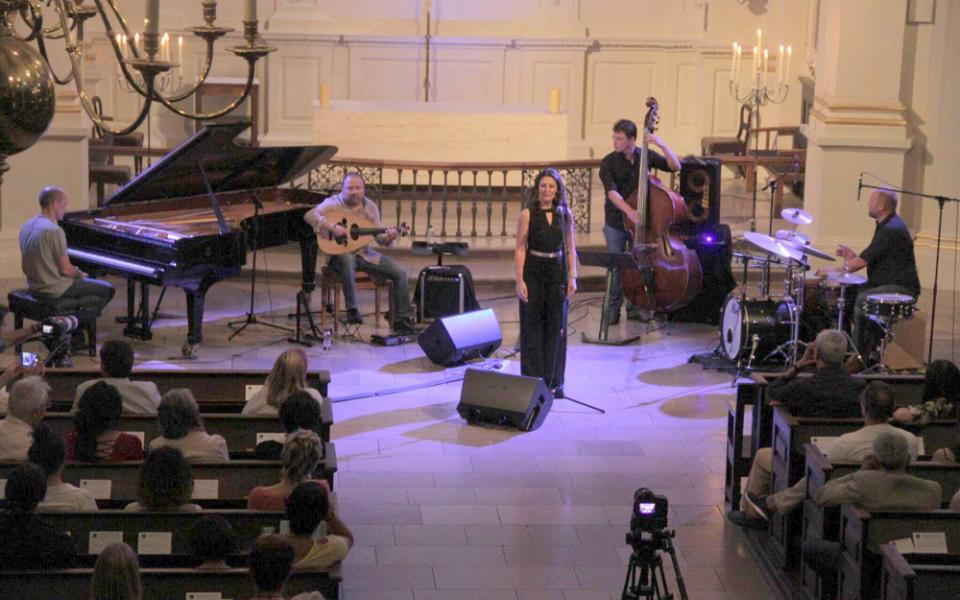 CARAVAN is a URI Multiregion Cooperation Circle that brings together artists from the Middle East and the West. These exhibitions have resulted in unprecedented gatherings of renowned Middle Eastern and Western artists who use art for intercultural and interreligious dialogue, and who have garnered attention from the international press, the media and art worlds, and thousands of visitors.
Last July, CARAVAN members held a concert in partnership with Arts Canteen. The celebrated East-West fusion jazz band HIJAZ performed, featuring the acclaimed singer Abir Nasraoui from Tunisia. "HIJAZ and Abir Nasraoui performed magnificently to a packed church as they explored differences and similarities in cultures through their unique musical expression. The concert was a special blend of musical influences from North Africa, the Middle East and the West, and between traditional and modern music."
The performance brought together cultures and styles from across the world in a beautiful, historic setting. Using the universal appeal of music to bridge cultural divides, this Cooperation Circle was able to create literal harmony.
Learn more about URI Cooperation Circles' work in the Arts here.
Cooperation Circles Involved