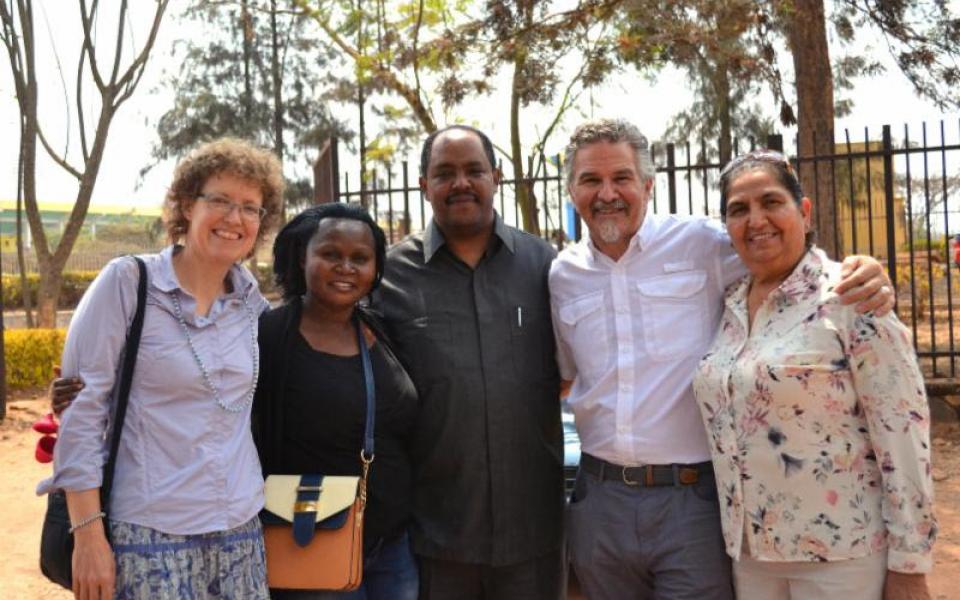 Dear sisters and brothers of URI,
When any member of the human family is dehumanized, we are all dehumanized. History has taught us that dehumanization, the diminishing of the humanity of another person or group of people, is the tool of dictators and despots, and inevitably leads to horrific acts of violence. This week, the President of the United States referred to our sisters and brothers in Haiti and in African countries using a vile and odious expression, comparing them to human excrement and the countries in which they live to toilets.
The Wisdom traditions, the religious, spiritual and Indigenous traditions of the world, teach us to see the face of the divine in one another and that each human being is a precious and equally-valued child of God. We are taught to love our neighbors as ourselves and to reach out to those suffering in any way, especially from the injustice of poverty. We are taught to embrace all people with compassion, love and hospitality as we would a member of our own family.
"We value voices that respect others"
The Charter of the United Religions Initiative (URI) begins, "We, people of diverse religions, spiritual expressions and Indigenous traditions throughout the world…" The URI community is a global community of people of all religions, cultures, and nationalities rooted in the ethics of equality and dedicated to the purpose of creating cultures of peace, justice and healing. At URI we are called by our Charter to respect the uniqueness of all traditions, to value voices that respect others, and to give and receive hospitality with all people. 
The hateful and racist words uttered by the President of the United States violate core moral and ethical values of the world's Wisdom traditions, the principles upon which URI is based, and basic standards of decency in human society. In his statement, not only did the President disparage people of Haiti and African countries in the most heinous of ways, but at the same time lifted up Norway as a symbol of a more desirable people and country. (I am certain that our sisters and brothers from Norway are horrified and disgusted to be used in this way.) 
The President's words reflect a long history of the use of racism as a political tool to divide and control diverse populations. At the heart of this strategy is the theory of white supremacy, the belief that people of Anglo European and Nordic descent are superior to all other human beings.
"No belief has caused more devastation than white supremacy"
In the whole of human history, no belief has caused more devastation, more death and destruction than the belief in white supremacy. European colonialist genocides of Africans, Asians, and Indigenous peoples throughout the world were based on white supremacy. The enslavement of Africans was justified by white supremacy. The Holocaust was rooted in theories of white supremacy adopted by the Nazis that lifted up Anglo European and Nordic peoples as desirable and diminished people of color including everyone from Jews to Gypsies to African peoples as undesirable. Apartheid in South Africa and segregation in the United States were built upon this belief in white supremacy.
I taught a course for 20 years at Wellesley College on the history of racism and its past and present impact on human beings and societies. President Trump's comments are a textbook example of racism informed by the discredited and disgusting doctrine of white supremacy being used as a political tool to dehumanize, divide and rule.
"Do unto others as you would have others do unto you"
In the URI Charter, we are introduced to the Javanese phrase, Memayu Hayuning Bawano, which translated means "to work for the safety, happiness and welfare of all life." The Charter challenges URI members "to serve as a moral voice and a source of action grounded in contemplation" in service of URI's mission.
This past week, members of my family, my URI family, my human family, were called "shitholes" by the President of the United States. As a member of URI, as an American and as a member of the human community, I condemn these remarks as hateful, racist and evil. And I will continue to work every day with sisters and brothers from across the country and around the world to oppose such hate and to promote a world in which we measure our words and actions by the Golden Rule, "Do unto others as you would have others do unto you." All of the world's Wisdom traditions in every culture, on every continent, have a version of this ethic that envisions a world in which the diversity of humanity is celebrated as the greatest gift imaginable, and in which we are called to care for one another regardless of differences in race, religion, gender or nationality. 
"Embracing the whole human family"
Yesterday in the United States, we celebrated the life and legacy of Dr. Martin Luther King Jr. In his letter written from a jail cell in Birmingham, Alabama in 1963, Dr. King wrote these words:
"Let us all hope that the dark clouds of racial prejudice will soon pass away and the deep fog of misunderstanding will be lifted from our fear-drenched communities, and in some not too distant tomorrow the radiant stars of love and brotherhood will shine over our great nation with all their scintillating beauty."
In the face of attempts to use fear and hate to divide us, let us stand together as one people, of all nationalities and beliefs, unified by the power of our love for one another and all human beings. Amidst the current stormy clouds of prejudice, may the radiant stars of love and sister/brotherhood shine across the whole world, dispelling fear and embracing the whole human family in all of its scintillating beauty. 
In peace...
The Rev. Victor H. Kazanjian, Jr.
Executive Director of the United Religions Initiative