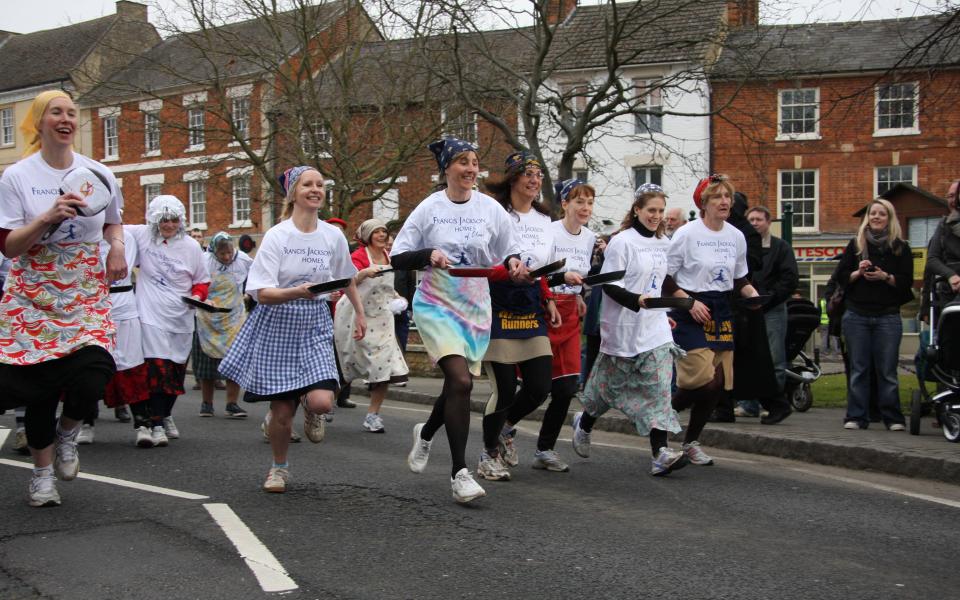 Shrove Tuesday, also known as "Pancake Tuesday" or "Pancake Day," is the day before Lent begins. Since the Christian tradition of Lent is a 40-day period of prayer, repentance, and fasting in preparation for Easter, rich foods such as sugar and eggs are often put aside as a form of self-denial. In anticipation of the period of Lent, a tradition began in many countries to use up the ingredients that would not be needed during the fasting days. This grew into a tradition of eating pancakes on Shrove Tuesday.
The pancake tradition has grown into a variety of colorful local festivities around the world. In this photo, English participants run a "pancake race" inspired by a story of a woman who was so busy making pancakes, she had to run to get to the church on time. Participants wear aprons and carry pancakes in skillets, flipping them as they run, with a church service waiting at the end of the race.
Lent is observed by Christians in the Anglican, Eastern Orthodox, Lutheran, Methodist, and Roman Catholic Churches. This year, Lent begins on Wednesday, February 14 and lasts until March 29 (from February 19 to April 7 on the Eastern Orthodox calendar).
Explore our Cooperation Circles, many of whom are celebrating Shrove Tuesday with their Christian friends.