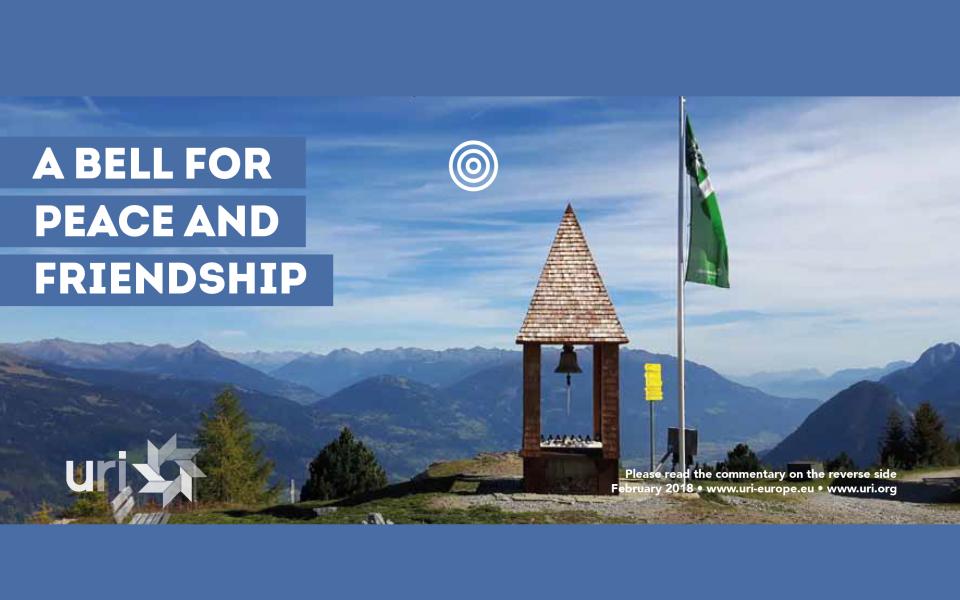 Proverb URIE February 2018
A Bell for Peace and Friendship
In 1945, 25.000 Cossack refugees came to the town of Lienz in Eastern Tyrol and were later deported to Russia where most of them died. This sad history was the origin of the plan, to do something special for peace in the world.
Bells are a wonderful invention in many religions. This gave the URI CC Lienz/Austria the idea to put one on top of a mountain at 2000 meters above sea level. And thus, since June 2016, children and adults can send their good intentions for peace and friendship with the sound to heaven.
The tower is built with stones from more than 100 countries and from holy places of different faith traditions, such as Mecca, Haifa, Lhasa, Konya, the Ganges, the Sea of Galilee, Stonehenge, Assisi and more. They will be surrounded in 2018 by stones from every village of the region. Also, people can bring their own stones and add them to the tower.
For special occasions and groups, we organize meetings (UN Day of Peace, soldiers, people who lost a loved one, families with more than one religion, ….). In the meantime, we got a lot of thankful messages in the "Book of Friendship" and visitors love lighting a candle.
It would be wonderful if there could be more of such bell towers all over the world.
Our bell shows a picture of the 5 continents surrounded by the symbols of 12 religions and the words, "I ring for peace and friendship." It was made in Innsbruck/Austria with prayers from Baha'is, Christians and an Imam. The tower is made from wood, with a strong heart of iron and cement. We love to share the plans and information on how to build it. There was a lot of help to work and finance.  
At the blessing ceremony, people from 5 religions prayed in 12 languages, "May peace and friendship prevail on Earth," as it is written on the tower. You can watch videos on the webpage. And we would be happy to welcome you here. Send emails to: uriteamlienz@gmx.at.
With greetings from the heart,
Elisabeth Ziegler-Duregger
---
Movement without a Name (MWN / BZN) CC and URI Europe wish to contribute to a better world in a substantial manner. We want to set an example and have therefore introduced the URI Europe proverbs. They are meant to inspire and spark conversation. You can subscribe to the URI Europe monthly proverbs for free. Click here to find out more.