On World Water Day, March 22, the Environmental Network gathered to share blessings and stories about sacred water and life.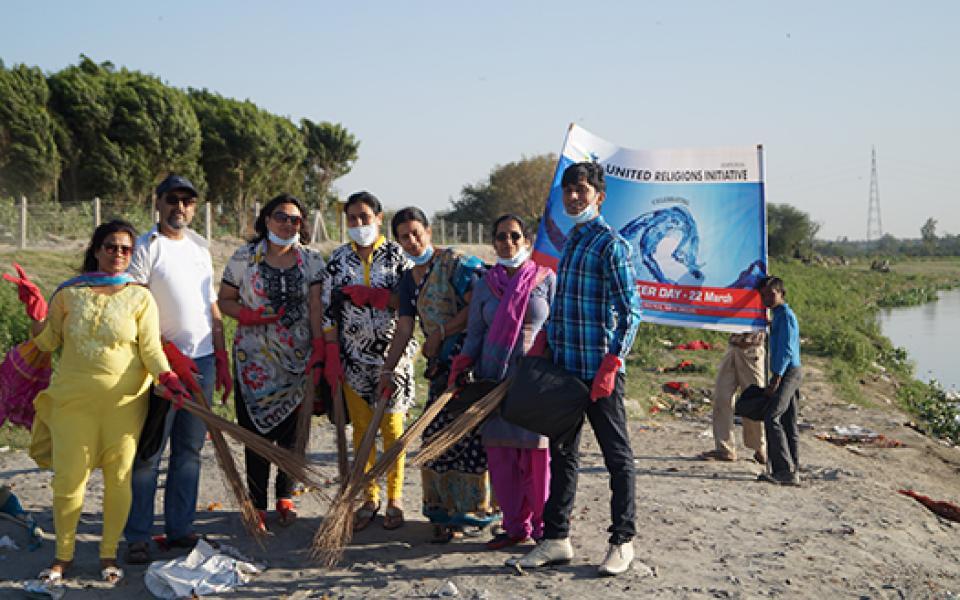 On World Water Day the Environmental Network CC gathered to share prayers, reflections and stories about the world's waters. Read some of our reflections below. 
If you would like to contribute to these blessings for the sacred waters of the earth please email Katherine at [email protected] 
Martha Gallahue from the URI United Nations CC shares: 
"May we all find the grace, ease and purity that water reminds us of with every drink we take."
Regional Coordinator of Latin America & the Caribbean, Enoé Texier shares a quotation for this occasion:
"Water is the mirror that has the ability to show us what we cannot see. It is a blueprint for our reality, which can change with a single positive thought. All it takes is faith, if you are open to it...The crystal formed after the prayer looks like a light shining from the Galaxy"  Masaru Emoto, a Japanese researcher on the effect of the human consciousness on the molecular structure of water
Faiths Without Borders shares information about their Holy Drop Campaign: 
Holy Drop! focuses on two dimensions of water: what it means in various faith traditions;and the ethics of using water for human consumption. Topics such as privatization, industrial pollution and water rights are deeply moral issues effecting not only humanity, but all life on earth. Religious and spiritual traditions have a vested interest in human welfare, have worked long against poverty, and have much to add to the conversation on sustainability.
Nashville CC shares about the impacts of sedimentation on the Suwannee River in this presentation.
UPLIFT, Unify, Protecting & Restoring the Sacred CC, Global Healing CC, Global Council Chair Kiran Bali and Chief Phil Lane Jr. contributed to The Bless The Water Film in celebration of World Water Day 2018. 
Palki Peace CC member Abhirup Khan shares about a recent project to feed the hungry in West Bengal, India: 
"We organized a charity for poor people in West Bengal. We fed about 35,000 people regardless of their caste, creed and color. I feel great that people have a meal and that they can become full from one meal. We get a blessing after feeding poor people who struggle to feed themselves and struggle for a livelihood."
Interfaith Denver member John Denker shares news about an environmental victory in the Denver, Colorado area: 
"Earth Guardians have been pursuing a Colorado Fracking company, saying that their development projects put Colorado water at risk. At the end of February the Colorado Supreme Court decided they would take up the case of Earth Guardians who are suing the fracking company. It is very important that the case has been taken up because fracking involves the water table because fracking impacts water supplies and water quality."
Global Healing CC member David Randle shares a quotation from Lau Tzu and his reflections: 
"Lau Tzu writes that "Water is fluid and soft and yielding, but water will wear away rock which is rigid and cannot yield."

"When I was living in Colorado, we used this tactic to defeat a water project that was going to dry up 100,000 acres of wilderness. I fear that the water crisis will accelerate; I learned that we have been drying up the aquifers in California and Nevada, for instance. We need to listen to Lau Tzu's teaching and see how we can stick with the process in a more peaceful way."

Dave Randle is also preparing to speak at the NASA Kennedy Space Center on June 6th with author of Blue Mind, Wallace J. Nicholas, in celebration of Wold Oceans Day. 
Rebecca Tobias shares on behalf of Unify: 
"Unify comes together to honor equinoxes and sacred waters. World Water Day is an important part of the programing we do, because it is so precious. 80% of the water we use returns to the environment untreated. When we come together and share and learn best-practices of how we can avoid the damage that we hear about.

"In the Hebrew tradition water is a threshold, we are transported from one world to another, we enter through water and exit in another. Water is Alice, and we are alive. 70% of the earth is covered in it, and science still can't agree how so much of it accrued here to make life possible on this planet."
Ed Bastian from the Interfaith Initiative of Santa Barbara County shares: 
"Santa Barbara has installed a massive desalination plant, this type of development seems to come up more  especially in coastal cities. In California, we are in a severe drought, we are desperate for rain, and at the same time we have experienced big fires. Now, as I speak to you, we have a major rain storm. People are both thankful for the rain and scared of the impending mudslides. The issues of water is complex spiritually, physically, scientifically, etc."
Raymond Enoch from the Center for Environmental Education (CEED) in Abuja, Nigeria:
"Right now CEED is focused on the energy commission in Nigeria to discuss how energy is used at the community level and at the family level, and how does this usage of energy also relate to the use of water in terms of energy to cook, energy to recharge, energy for lights in the house, etc. At the family level and the community level, water use is very delicate, and young people use a lot of energy to access resources for their family. At the family-level you can't function without access to water, and you need wood for cooking, which is also linked to the use of water. I am not just talking about water, but also drinking water, so this is also related to family health."

Cynthia Sampson from Compassion for All Living Beings CC shares a written contribution: 
"Another way to honor water on this day is to refrain from eating animal food products today. Especially where animal agriculture is industrialized ~ and this is increasing around the world ~ water is far more intensively used to grow the vast quantities of crops needed to feed animals compared to when people eat a diet of plants (fruits, vegetables, seeds, nuts, grains) directly themselves. And likewise, vast quantities of water are contaminated by the waste from animals "farmed" industrially…. That is a sure way to take part in [the URI Charter, which states that we are] "creat[ing] cultures of peace, justice, and healing for the Earth and all living beings"!"
Elizabeth Ziegler-Duregger from URI Europe's Heaven on Earth CC adds:
"Dear creator of the universe, I thank you for every drop of water, that I used until today and I ask for forgivness for all the mud I put in it. Since years, every time I cross our river in the city I tell the water "I love you, I thank you". On several ocations we wrote blessings on paper, that can be eaten, and sent them with the river to heaven and as clouds over the world. We did it also with refugees. This year during the World Interfaith Harmony Week too with our URI people."
Regional Coordinator of India's West Zone, Qutub Jahan shares a quotation from the Prophet Muhammad:
"Do not waste water even if you are at a running stream"

Water is the most sacred thing provided by God and to preserve it is equal to preserving the next generation and the universe. 
Sally Mahé from the URI Global Support Office in San Francisco reflects:
"Caring for water deeply unites us and gives us common purpose as a global community."
Francisco Morales, a member of Multiregion's Baraza from Buenos Aires, Argentina writes:
"Ancestrally Mama Kocha. Lovingly Mother water. Historically giver of life. Jayaya Mother Water."
Salette Aquino, Global Council Trustee from URI's Latin America & the Caribbean region shares:
"Today we had the end of two World Water Forums in Brasilia, capital of Brazil. One official Forum and the other an alternative Forum. I was in both of them, more in the second one, which doesn't want the water water resources to be sold! At the end of the second Forum we had a march and a beautiful interreligious celebration. 

"May God help us to protect the water in the world!"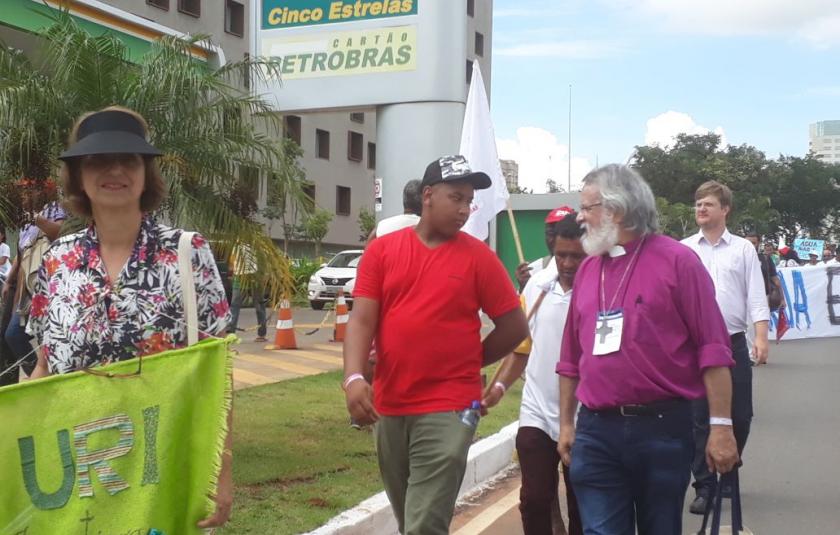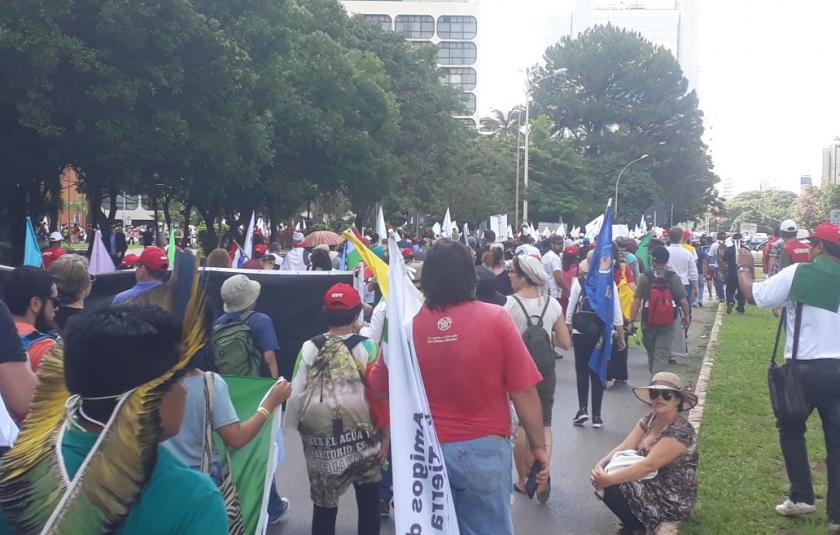 Louise Mangan from the Interspiritual Center of Vancouver Society shares about the impacts of the Kinder Morgan Transmountain Pipeline Expansion on the Salish Sea: 
"I send my heartfelt thanks and appreciation for these beautiful blessings on World Water Day.  

My home city is deeply engaged right now in protecting the sacredness of water.  Metro Vancouver and its suburbs (especially the City of Burnaby) are struggling passionately alongside Indigenous leaders to protect the Salish Sea around us from a seven-fold expansion of bitumen transport by mega-tankers. 

Kinder Morgan's  Transmountain Pipeline Expansion would facilitate the intensification of dirty Tarsands operations in Alberta, carrying bitumen and the toxic chemicals required for its liquification over the traditional unceded lands of many Indigenous First Nations without consent, through countless freshwater streams, rivers and vital salmon runs, then beneath designated conservancy parklands in Burnaby (where ancient trees will be cut down), and under residential neighbourhoods and even schools,  to a new "tank farm" near the innermost end of the Port of Vancouver at Burnaby, and down to the loading docks at waters' edge.   Kinder Morgan, our federal government, and the mainstream media refer to this expansion as "twinning" an existing pipeline, although the pipeline to be laid through the City of Burnaby is a new route chosen by Kinder Morgan.  For unknown reasons, no alternatives were considered.

Beyond the dangers over land of contaminated freshwater and soil, and the destruction of ecosystems vital to wildlife and humans, the threat of tanker spills to marine life and ecosystems is profound.  Bitumen sinks in the presence of silts and ocean waters are often turbulent, so cleanup beyond 10% of spill volume is extremely unlikely.  Although our Prime Minister insists that decisions have been made on the basis of science, the federal government's own expert panel reported that the impacts of bitumen on the seabed are unknown and more research is required.

Meanwhile, our beloved resident orcas are already deeply stressed, with only 78 living orcas remaining but undernourished.  They clearly cannot withstand increased tanker traffic in the Salish Sea.

And as Bill McKibbon has pointed out, the combustion of Tarsands fuel — wherever it takes place — will take up a full third of the global carbon budget.

More than fifty people have been arrested already this week for civil disobedience, including our friend Rex Wyler who participated in our URI Salish Sea Bioregional Gathering in October.  Many of us will be involved personally in peaceful demonstrations this weekend.   Actions will continue under Indigenous leadership for as long as it takes.

Please keep us in your prayers.  Your blessings today are cherished a gift."
Ahmad Hussain from the Inter-Cultural Youth Council of Islamabad, Pakistan adds: 
"Water is a life, nobody can live without water."
URI's United Nation's Representative, Monica Willard spent some time with three Regional Coordinators on World Water Day:
Regional Coordinators, Despina (Great Lakes, Africa), Biswadeb (India), Frederica (Multiregion) and I were holding our water to pause and pray for our Water as we sat together. The snow had kept us apart the day before.

Our water is precious. It was a major theme for the Commission on the Status of Women in 2018. I thank you for sharing the prayers of so many as they acknowledge their water.

Despina and I also took time to pray with the water I brought back from Bosnia & Herzegovina that came from around the world and with the water I added from Medugorje.

Our prayers and actions are essential. The Planet is Sacred and Wants Peace!  
 
Cooperation Circles Involved