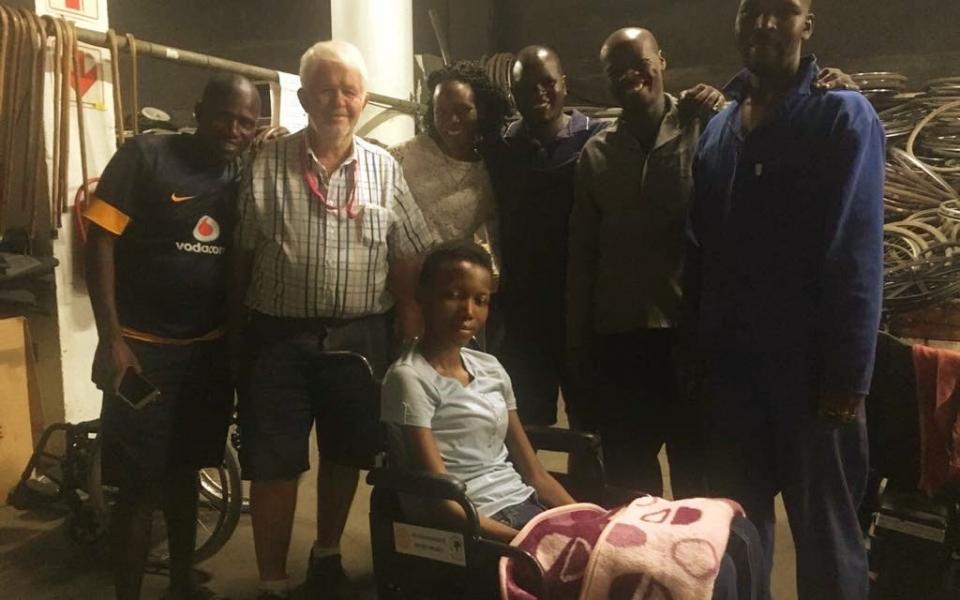 Celebrating World Interfaith Harmony Week
World Interfaith Harmony Week was proposed at the UN on September 23, 2010, by H.M. King Abdullah II of Jordan in order to create an understanding and cooperation among people from a different religious background. Below are some of our Cooperation Circles (CCs) celebrating World Interfaith Harmony Week.
---
Lilongwe Interfaith Tour
On the 6th of February 2018, Lilongwe Central CC joined hands with Karonga Thola, Yased CC and the National Initiative for Civic Education (NICE) Interfaith Women Forum to celebrate the United Nations World Interfaith Harmony week by visiting worship places from different religions. It was the first interfaith tour of its kind in Lilongwe! For more details about the event, click here.
---

Compassionate Listening Workshops
In South Africa, URI hosted Senior Certified Facilitator, Susan Partnow, from Seattle, USA, who is the co-founder of Compassionate Listening.org. In collaboration with our CCs, we hosted two Compassionate Listening Workshops, one in Cape Town and one in Joburg. The Cape Town workshops were co-hosted by GOAL and Cape Town Interfaith Initiative CC's. The Joburg workshop was hosted in partnership with United and Share for Peace and Prosperity (USPP) CC, and URI partner, the Turquoise Harmony Institute. This was an opportunity for members of our CCs as well as members our wider faith communities, to learn how to bring the powerful practices of compassionate listening into our daily lives, workplaces and communities. Read the full report here.
---
News from our Cooperation Circles
Parliament of the People CC
A special moment of love and compassion - On behalf of the Parliament of the People, Schaumberg Residents Committee, CC, Oscar wishes to thank Dave Woodhouse from Northcliff Rotary for donating this wheelchair to Bridgette, a resident of Schaumberg. Thank you USPP CC, to Jyoti, for the help in making this happen. The joy in this young girl's face brought many tears. URI CC exchange continues to weave a wonderful web of support and love for all. The Parliament of the People launched their first community news.
---
Kasinje CC
Due to political tension in Malawi, Kasinje CC organized a friendly football and netball matches between political parties leaders and religious leaders on 4th February 2018 at the Nthumbo ground and on 7th February at Sharpe Valley ground.The event attracted over seven thousand people and ended 3 all draw (football) and politicians 18 - 16 religious leaders (netball). The second matches attracted over four thousand people and ended politicians 5 - 4 religious leaders (football) and pol 16- 22 RL (netball). The guest speakers for the event were Reverend Fr. Majeza, Sheik Omar Asan and Inkosi Ganya for religious leaders and Dr. Francis Mkungula (MP), Lucy Lunguzi and Nancy Chaola for politicians whereby love and peace were encouraged to everyone.
---
Lilongwe CC
A meeting was held by the Lilongwe CC in order to launch the Girls Not Bride Campaign - www.girlsnotbrides.org - due to young girls marrying at the age of 13 to 17 and dropping out of school between stand 8. The campaign will help vulnerable girls to continue their education for a bright future, read more about the campaign here.
---
Cape Town Interfaith Initiative
The Marlene Silbert Youth Interfaith Intercultural Programme (MS-YIIP), a schools programme of the Cape Town Interfaith Initiative, recently had their 5 day camp away in Tulbagh. The camp is the experience where the learners all from different schools, religions and cultural backgrounds, live and learn together about each other's traditions and ways of understanding the world. The themes of camp look at understanding prejudice and perspectives, developing skills in interfaith and intrafaith dialogue, and inspiring a drive of leadership and responsible citizenship. This group of learners will continue to meet monthly throughout the year, as the programme continues.  
Cooperation Circles Involved