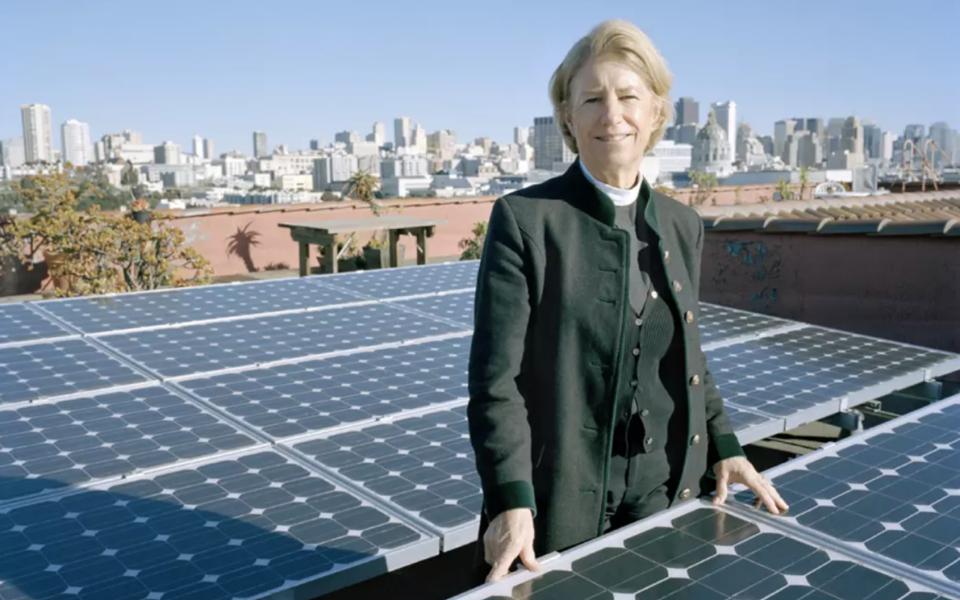 URI's Founding President, Bishop William E. Swing, spoke at Rev. Sally Bingham's retirement banquet on June 13, 2018. Sally Bingham is the Founding President for Interfaith Power and Light, a URI Cooperation Circle working to promote energy conservation, energy efficiency, and renewable energy through faith communities.
Read the text of his speech below:
Before the invocation, a few words. Years ago, a young lady named Sally Bingham sat in my office for an interview about possible ordination. Halfway through the interview, I figured that there was no way she would be ordained. Then at the end, as she was heading for the door, I asked, "If you were ordained, what kind of ministry would you pursue?" To my amazement she said, "I would focus on the environment." Up to that point, I had interviewed hundreds and hundreds of prospective candidates, and not one had ever mentioned the environment. So I figured, "Here is one in a million. Let's give her a chance and see what happens." Today I think back on that simple question and rare answer, lasting but a few seconds, and how it changed the United States and the Episcopal Church and the Interfaith Community around the world. I am thankful to be here tonight to celebrate what happened, to honor Sally and to provide a book-end to her ordination interview.
Let us pray. O Holy One who has always been worshipped by the indigenous tribes which cherished the land… tribes whose creed was the water, whose doctrine was the soil, whose dogma was the air, whose trust was in the Great Spirit, whose prayer book was the sunrise and whose hymnal was the sunset. We thank you for the ancients who lived in deep reverence of the natural world. Accept the prayers of us who have benefitted from industrial ingenuity and who have ventured far from the soil and nearly lost our souls by scarring your sacred earth.
We thank you for sending us prophets, like Sally, who have helped us return to our roots… in practical ways. May she be blessed in our midst and in your sight.
Thank you for this gathering, thank you for this food and the lands and the hands that provided this feast, and thank you for the people of wisdom who have nurtured us on our paths. All this we pray trusting in your Divine grace. Amen.
Cooperation Circles Involved