URI North America is thrilled to welcome one of our newest Cooperation Circles. We know that we are stronger together!
JAM & All Interfaith - South Florida
Location: South Florida

Contact Person: Rev. Joanne Afshar, Chair, [email protected]

Mission Statement: Fostering understanding, social harmony and peace through dialogue, multicultural interaction and educational projects.

Areas of Focus: Interfaith and Intercultural Dialogue

Website: http://jamandallinterfaith.org

During one of the darkest moments in United States history, a group of individuals decided to turn chaos and fear into understanding and the brother/sisterhood of humankind. Shortly after 9/11, a Jewish person and a Muslim reached out and clasped hands across the chasm that was developing. In the darkness, JAM & ALL Interfaith (JAM) became a beacon of light for South Floridians! Now, we are proud to welcome them into the URI family of Cooperation Circles and Affiliates.
It was approximately fifteen years ago, after 9/11 changed the face of the U.S., that M. David Kamrat of TAO–The South Florida Center for Jewish Renewal reached out to Maulana Shafayat Mohamed of the Darul Uloom Institute and Islamic Training Center and the connection of voices in harmony began. Kamruz Hosein, the president of JAM, described with pride how the concept of the group evolved.
"Post 9/11 they thought it would be a good idea to gather Muslims and Jews to get to know each other better because of the political climate existing at that time. So they formed a group called JAM -- Jews And Muslims -- but then we realized it would not be serving as good a purpose as if we incorporated others…so we incorporated Christians and then it became JAM and All Interfaith."
With a serious tone, Hosein explained the need for this work, "[We are in] a very divided society --  where you find each one of the denominations stands by themselves and congregates together. The system perpetuates animosity, so each group wants to stay by themselves. They are deprived of that joy of sharing the differences."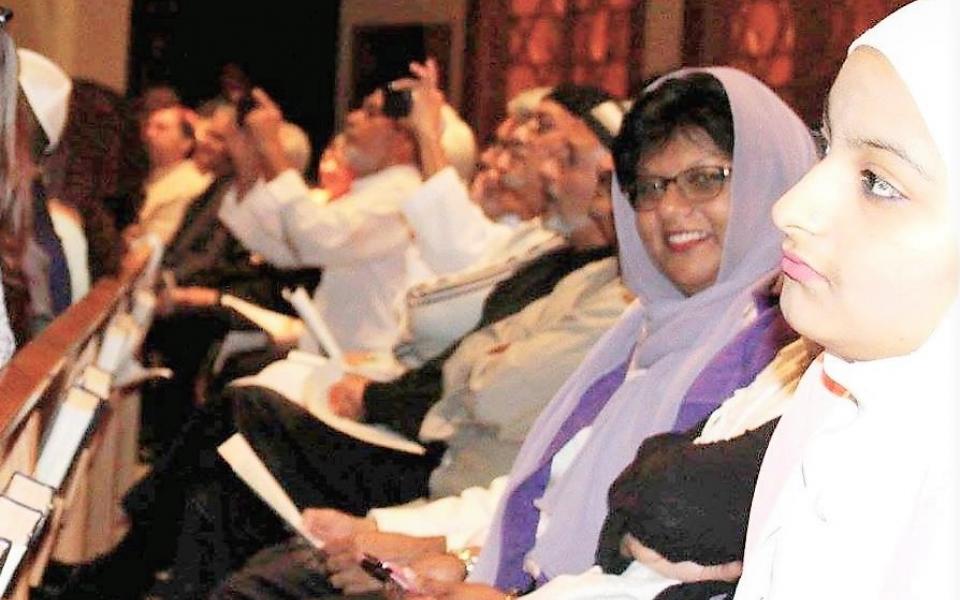 He continued, "With this forum, they are able to meet each other, and get to know each other.  Where there was once fear, there is now understanding. Fear of the unknown and the desire to stick with one's own 'clan' is replaced with understanding. Once you get bitten by that bug, you appreciate how wonderful and how beautiful it is," he added emotionally.
Why the name JAM? Aside from the obvious reason, one of the founders of the JAM women's group and board member of JAM & All, Kathy Leonard, said it best in an interview for Harvard University's Pluralism Project, "Just as a 'jam session' combines diverse instruments to create musical harmony, the members of JAM & ALL join together to work towards peace."
During an Appreciation Interview with the group, which was attended by 13 group members, one could feel the excitement and deep commitment for the group's Action Area of "Interfaith and Intercultural Dialogue" and their desire to remain apolitical. It has been suggested that it is one of the reasons that JAM has lasted so long in South Florida. JAM has been approached by politicians and activists -- from both sides. They always say "no."
"We don't try to convert anyone, and we're not political," Hosein explained in an article from the Sun Sentinel. "We have to be careful that the views we voice, the people on our panels, the people we associate with, are strictly associated with bringing people of different faiths to a common understanding."
Because they have regular activities in three different areas of South Florida (Coral Springs, East Fort Lauderdale and Davie), they try to get the word out with their Facebook page. Eloquently stating their mission and inclusiveness of all: "JAM & All Interfaith supports dialogue in the community through monthly Interfaith Cafe Meetups, town hall meetings, youth activities, and other special events. All are welcome to come join the conversation at one of our monthly meetups or community events."
One of their earliest gatherings was a women's group that started in 2002, emphasizing the belief that women have a natural desire for peaceful living. The JAM Women's Group was described best by Leonard, "We all hope and trust that the events we have sponsored and the experiences we have shared will ripple out among our acquaintances, our communities, and influence attitudes and policy in our state, our nation and the world."*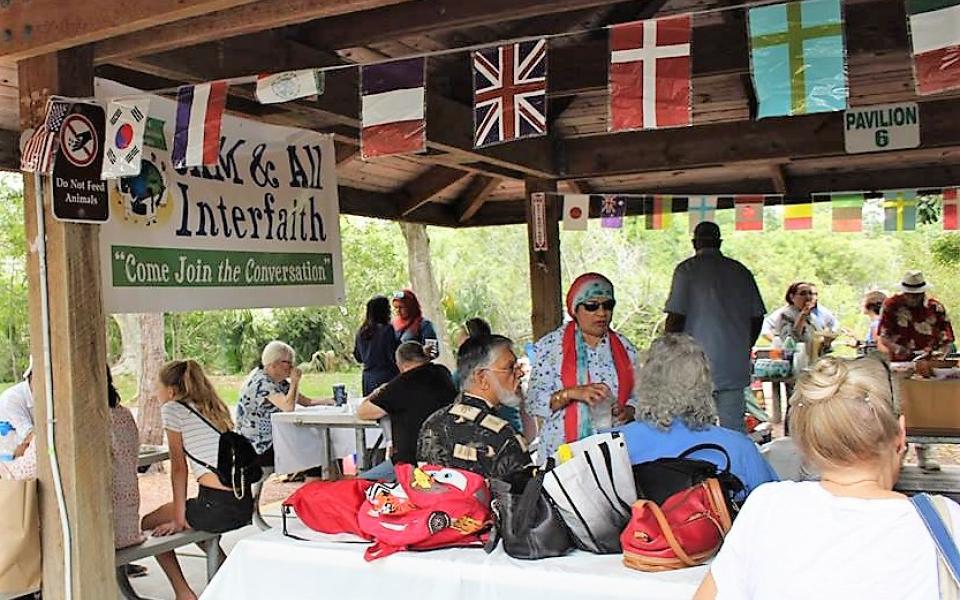 For seven years they had the women's group  Living Room Dialogues that brought 20 to 35 women together monthly in members' homes to compare spiritual differences and similarities. "We talked about worship, prayer, pilgrimage and what our faiths meant to us," Leonard said. "Often it would bring tears."
One of their most loyal members, Carole Sielder, described her experience, "One of my favorite types of meetings with JAM were the women's meetings. [There were] women from all faiths that were willing to answer questions,  [and] women who had a burning question...but were too afraid to ask. For me, as a new person, I was really shocked that everyone was so relaxed and would exchange so openly."
But Rev. Joanne Afshar, board member and current chair of JAM, explained that it wasn't always that way. "In the beginning, it was painful, people were crying, but we had to get that icky stuff out." The women have even explored controversial topics such as differing views on abortion and forgiveness
The success of those meetings led to other programs: the women wanted to share these enriching experiences with their husbands and children. To guide them, JAM & All's leaders used a handbook developed by the Union for Reform Judaism and the Islamic Society of North America.
The curriculum was named the "Peaceful Pairings program: two congregations, one Jewish, one Muslim, would meet and go through the Children of Abraham  -- some groups took several years to do it. It went on for three to four years. People found out that they had so much in common on a human level."
JAM has continued to develop innovative programs to increase community involvement. They designed a follow-up program to include Christian's as well. Running this summer, "Abraham's Stars," a five-part summer interfaith worship series that involves talks from visiting scholars and spiritual leaders followed by a Q&A period. The name of the series comes from a belief that "we are ALL stars shining in the same great sky -- brothers and sisters through God's promise to our forefather Abraham. We pray that with better understanding of our differences and similarities, we will be better equipped to shine the love of One God on the whole world," as described on JAM's website.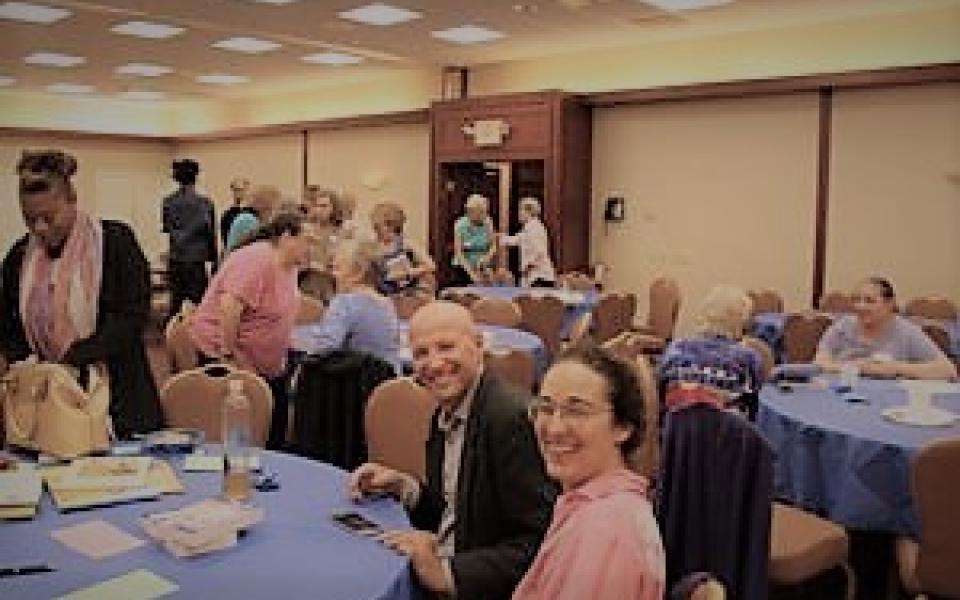 JAM's most recent endeavor is the Interfaith Cafe program. The Interfaith Cafe is open to the public to promote interfaith dialogue, awareness and understanding by uniting in conversation, people of all faiths and those with no religious affiliation.  Linda Morgan-Crain, coordinator for the program, enthusiastically described her involvement, "One of the most important things to me was to get younger people involved. My sons have attended and they've just been blown away. There had been some real fear, and the dialogue has really made a difference."
Hosein agreed that the youth need to be included, and went on to describe an experience that touched him personally. "I have [a] story that proves that people from very, very diverse regions can come together. We were hosting students from Afghanistan … in an exchange program who would come here for one year."
"In one instance, we took them to a Jewish school. One of the Afghans asked the students, 'What message do you want us to take back to the students in Afghanistan?'  A 12-year-old stood up and said, 'Tell them that we're all the same on the inside, but different on the outside.'"
Today, JAM and All Interfaith is more hopeful than ever about the future; as Rev. Afshar expressed, "In reading [URI's PPPs], it resonated with me. It was a good fit. It was a way to be a part of a larger community. Being in South Florida, I have felt an isolation, not knowing what other people were doing. URI might be a conduit for us to know more about what is happening with interfaith."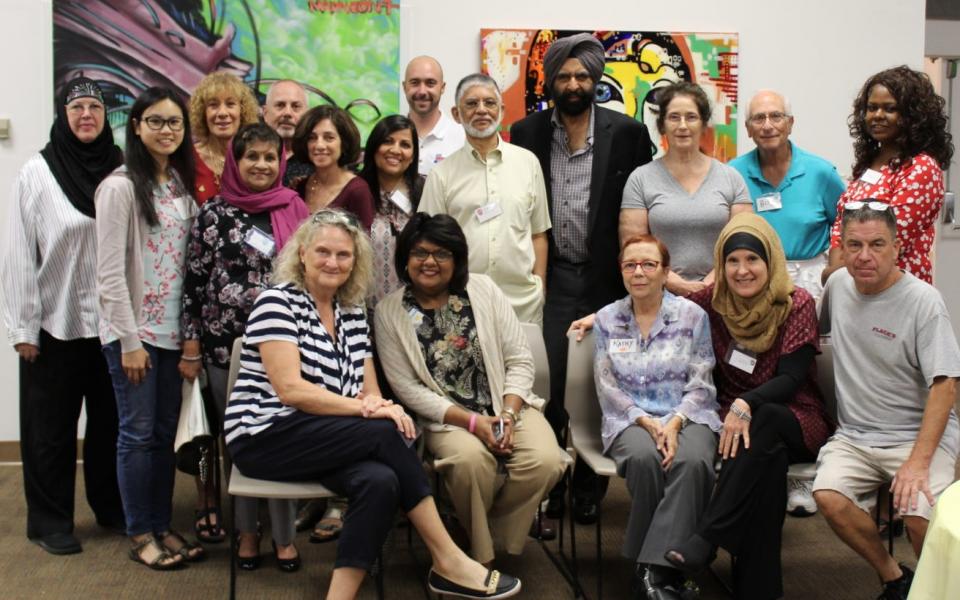 "South Florida is a very transient place and it is incredibly diverse," Rev. Afshar expounded. "There is an overlap of ethnic and religious diversity -- and not always what people expect. In this part of the world, we really need  to be in contact with people who we could consider 'other' because often our expectations are completely unlike reality."
Seider added, "I am a product of the Southern US, Caucasian and Protestant. I was taught that everything not identical to our group was 'other.' Now, I advocate for understanding and integrating all peoples and all faiths. Everything is to be gained by learning to know your neighbor and everything is to be lost by pasting the 'other' label on too many other people." 
"Never doubt that a small group of thoughtful, committed citizens can change the world; indeed, it's the only thing that ever has." -- Margaret Mead."
__
If you would like to know more about JAM & ALL's programs or how you can get involved, contact Rev. Joanne Afshar at [email protected]
This piece was written by URI North America Storytelling Intern Robyn Lebron. You can read more of her work here.
Cooperation Circles Involved