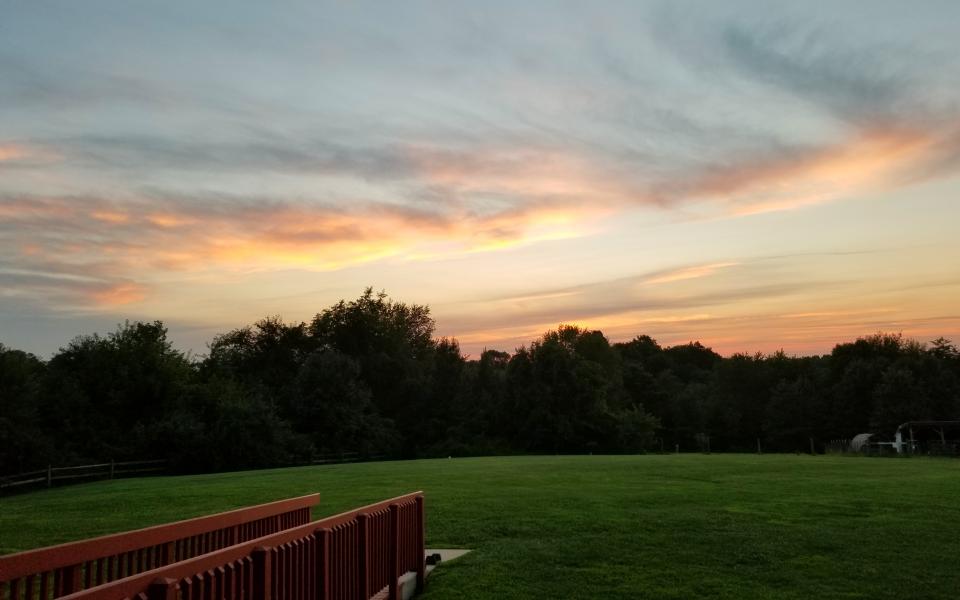 As attendees prepared for the URI Regional Assembly in July, the typical "travel-itis" hit. We've all been there… "What should I wear; how hot will it be? Will the meeting rooms be cold?" Then we just packed one of everything, just in case. And then there are things that make people feel comfortable...rituals that are a part of our daily lives. So we packed all the paraphernalia that we needed (and some we didn't) just to make sure our stay "felt more like home."
An important part of United Religions Initiative's purpose is to help us to recognize, understand and even embrace another's concept of "home." The URI North America Regional Assembly, held July 27-29 for Cooperation Circles (CC) and Affiliates from the US and Canada, was a huge success in that endeavor! We had fabulous attendance and everyone brought their hearts and their enthusiasm.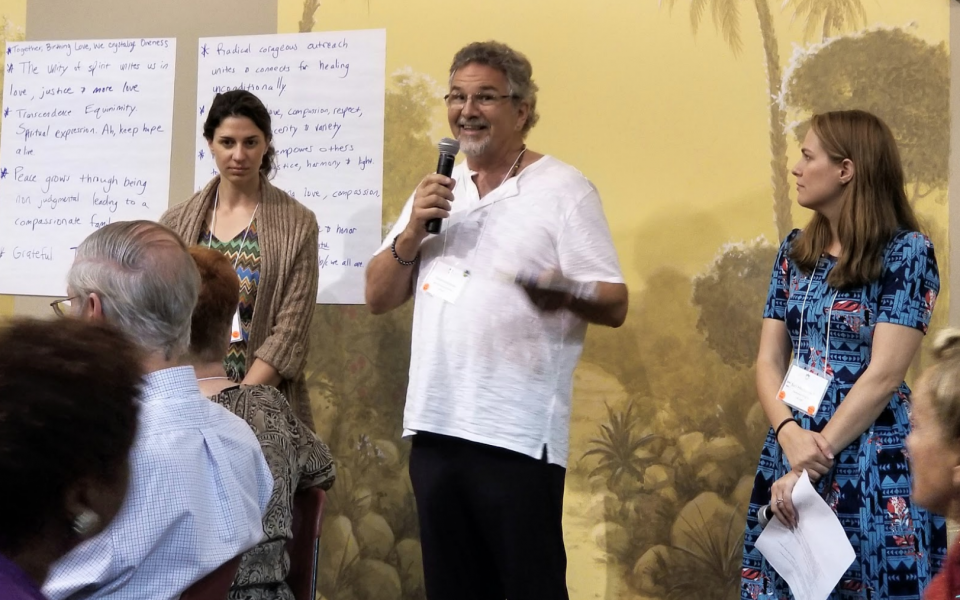 Adeola Fearon, of the Charlotte Red Bench Garden (a URI Cooperation Circle in Charlotte, NC), and member of the URI North America Leadership Council had a sense of pride as she shared her thoughts about the days to follow. "URI Leadership has created the relationships that are important for the people to know that they are URI--that they matter--they are the ones coming to the table and bringing the energy to fuel the change that we're all trying to make."
One of the attendees, Abdullah Ghazi from Saudis for Peace (a URI Multiregion Cooperation Circle based in Saudi Arabia), beamed as he shared his initial sense of the gathering on the first day, "This is my first time at any interfaith assembly. The first time you meet people face-to-face, you humanize them. This divide [between religions] is a great weight that the whole world is living through. This is very refreshing!"
Johnny Martin from Sun Devils Are Better Together (a URI Cooperation Circle in Mesa, AZ)  and a member of the URI North America Leadership Council, readily shared his hopes for the assembly, "Most people here are heavily involved in interfaith work, so this is like Interfaith 2.0. We will talk about best practices and really share what's worked well in our Cooperation Circles."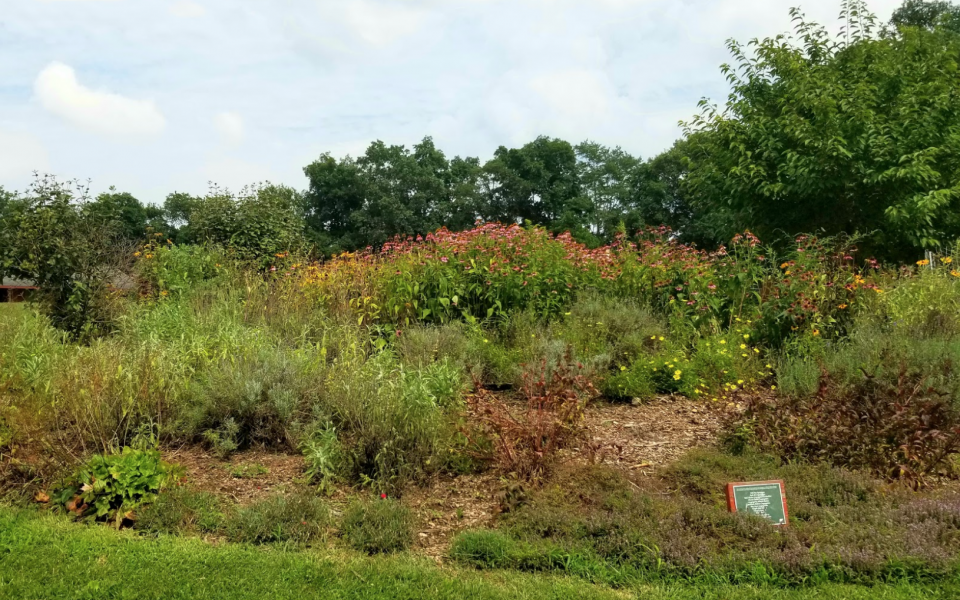 Unlike many conference-style events, this was actually more of a retreat to refuel and recharge the spirit. The Pearlstone Retreat was surrounded by nature at its best. Flowers in bloom, fresh gardens and even the faint scent of goats and sheep added to the feeling of being in a natural sanctuary. It was the perfect setting to rest and strengthen the resolve to go back and continue the work we all feel so passionate about.
That was beautifully expressed on day two by Marvin Gawryn, the executive director for Interfaith Council of Southern Nevada (a URI Cooperation Circle in Boulder City, NV). He admitted that he came with expectations, "It was, and continues to be, an outstanding experience. My hope was for a time to get to know each other and deepen relationships. And that has happened in spades!"
The meetings flowed freely from large group gatherings, in ornately-decorated rooms for music and sacred moments, to smaller circles of sharing and brainstorming in more intimate settings.
Describing the uniqueness of the sessions during the assembly, Andre vanZijl, the co-founder and co-director of All Paths Divinity School (Los Angeles, CA), and Affiliate of URI, expounded, "What I like about it is the personal scale--how intimate the sessions are. It's an experience of the human spiritual relation, and I like being in this 'village.'"
The attendees openly shared thoughts about everything from the serious needs for equality and acceptance of those that feel excluded, to how we can support social change without losing our faith perspectives.
A perfect example of that was shared by the representative from Culver City Area Interfaith Alliance (a URI Cooperation Circle in Culver City, CA). Rev. Carolyn Wilkins. She was thrilled with a breakout session that she facilitated on Inclusivity in the Interfaith Movement, "We had wonderful input from people [who attended the workshop]. We had a place to give voice to something that bothers us, and create ideas for activism around it." Then she enthusiastically added, "The assembly has exceeded my expectations for meeting people to help in the work going forward."
Another facilitator of a session on Compassionate Listening, Amalia Phillips from The Compassionate Listening Project, was happy that she could share with others. "I hope people will gain skills to go back to their communities and be peacemakers."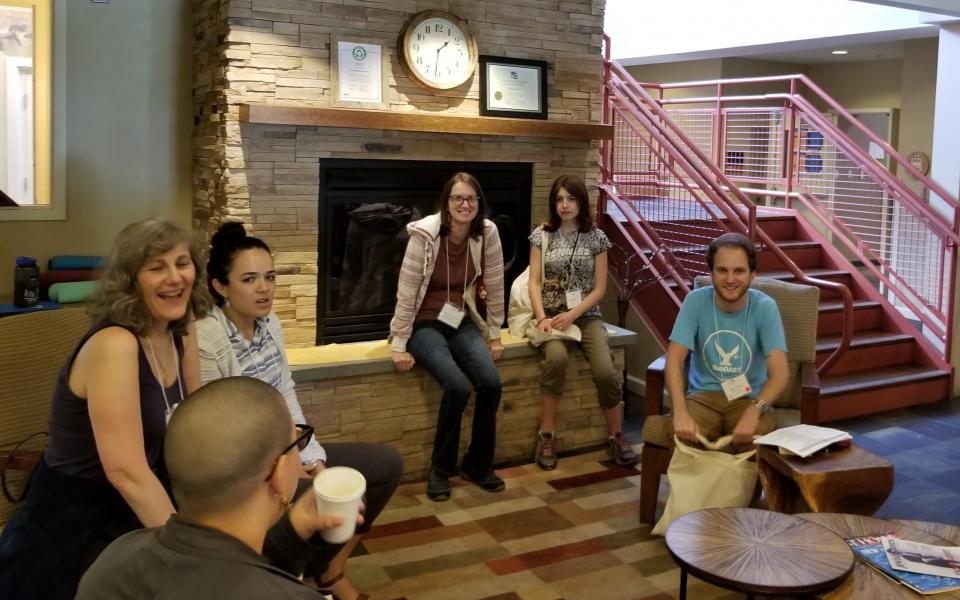 Ghazi was pensive as he expressed what he has gained from his first interfaith experience, "I needed to see other people doing something similar to what I do--to get recharged to go back and fight the battles."
Over the three days, attendees laughed, hugged, shared and even shed some tears. The energy and desires of URI Cooperation Circles and Affiliates shone like a beacon of light in a sometimes dark and frustrating world.
On the last night, by the light of a full moon, the group gathered, surrounded by nature. We shared the glow and warmth of a bonfire as we raised our voices in song, with joyful hope for a better future.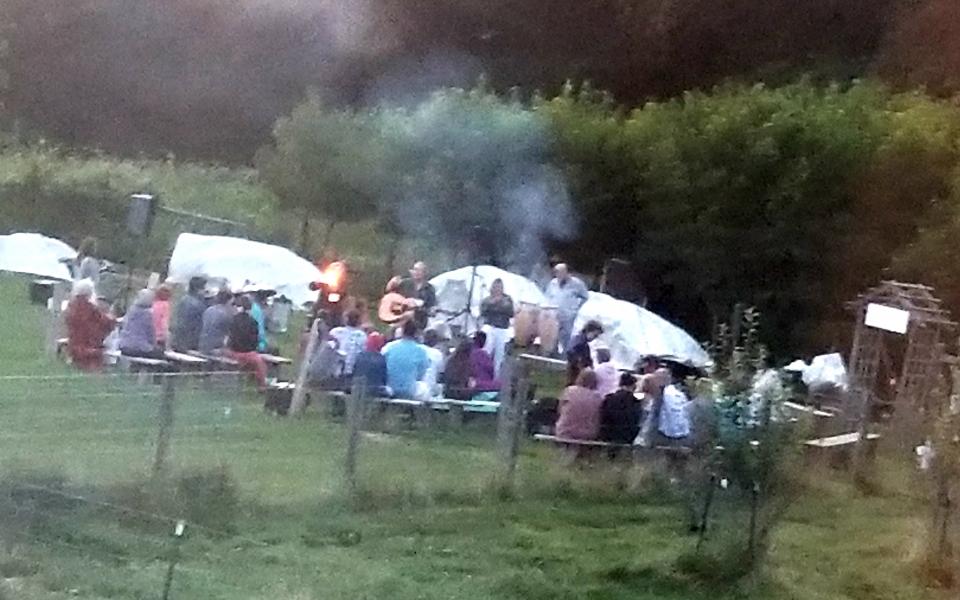 VanZijl was emotive when he shared his impression of the gathering on the last day. "I love meeting people whose view of the world and reality most matches my own understanding--which is being able to see the world, not through my eyes, but through God's eyes." Then he added with joy, "It's been a wonderful gift."
Gawryn is excited about sharing this experience with his Cooperation Circle back home to help them feel a part of it. Then he expressed his deep passion for what we do, "We are all part of something much larger, and we really must devote ourselves to the larger spiritual unity." Then he added with resolve in his voice, "Only that is going to resolve the problems that we face in our world."
The sense of connection was almost immediate even though many started out as strangers--but we left feeling a stronger connection to each other and to our URI community.
---
This piece was written by URI North America Storytelling Intern Robyn Lebron. You can read more of her work here.
Cooperation Circles Involved