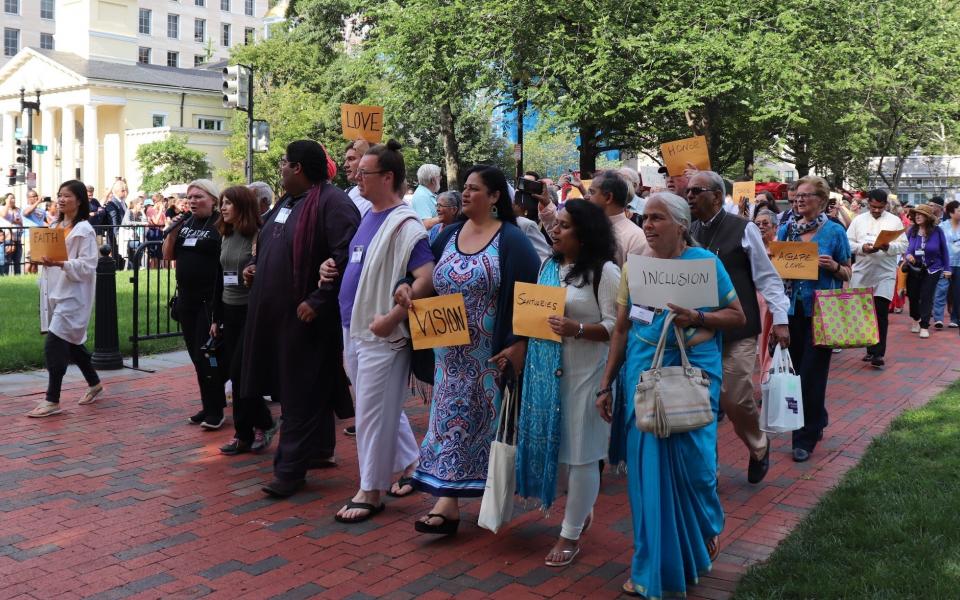 Webster's Dictionary defines Reimagining as "imaginatively reinterpreting or rethinking" something that had a previous interpretation. That definition couldn't be more perfect to describe the groundbreaking event recently held in Washington, DC. Reimagining Interfaith (RI) was a collaborative event with over 25 co-sponsors, including the United Religions Initiative (URI), the International Association for Religious Freedom (IARF) and other diverse faith, interfaith and humanitarian organizations.
The opening ceremonies were a wonder of music and color. Artists from The Sanctuaries DC entertained the attendees in a packed auditorium, and then multi-colored ribbons of gratitude were given to all the individuals and organizations that helped to sponsor the event. The anticipation of the days to come was so strong it could almost be touched.
Perhaps Patrick Horn, a representative from URI North America Cooperation Circle, Unity-and-Diversity World Council in Los Angeles, Calif., described Reimagining Interfaith best when he pensively shared, "In a fragmented and dysfunctional society, the relationships between different religious leaders and spiritual activists produces a much needed moral voice that advocates healing the broken relationships with God, the Earth, and our neighbor and working together to overcome the civic and ecological challenges with goodwill and great compassion."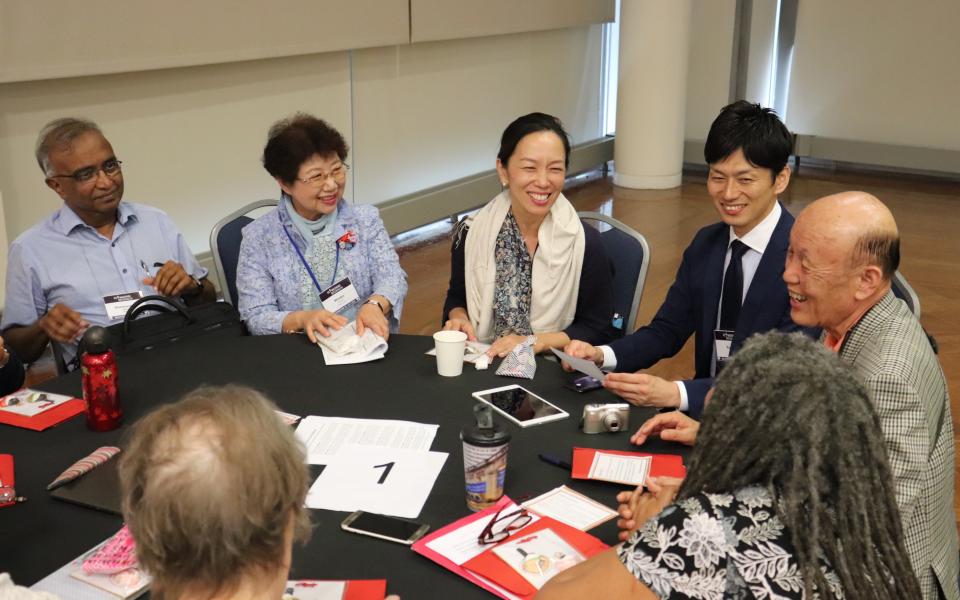 There were attendees from India, Germany, Sweden, the Netherlands and more. There was also a very large contingent from Japan along with their very patient translators. And, of course, there were a fair number of people representing the United Religions Initiative. The number of young people represented was phenomenal and they shared openly with a deep sense of responsibility for humankind's future. It was impressive!
Rev. Carolyn Wilkins, representing the Culver City Area Interfaith Alliance, a Cooperation Circle member of URI North America based in Culver City, Calif., expressed her newfound pride in the young people she met, "I was surprised by the loving connections I made with our youth. They were open, expressive and supportive, and they want to be involved."  
Her mind had been opened to the possibilities,  "I left with a new respect for our youth and a willingness to seek their participation in program development and leadership."
In total, close to 300 people were gathered with an overarching goal of joining together to learn from one another and to brainstorm new ways of galvanizing interfaith leaders and activists to take interfaith work to the next level. The desire to make a difference in our troubled times was a common thread among participants.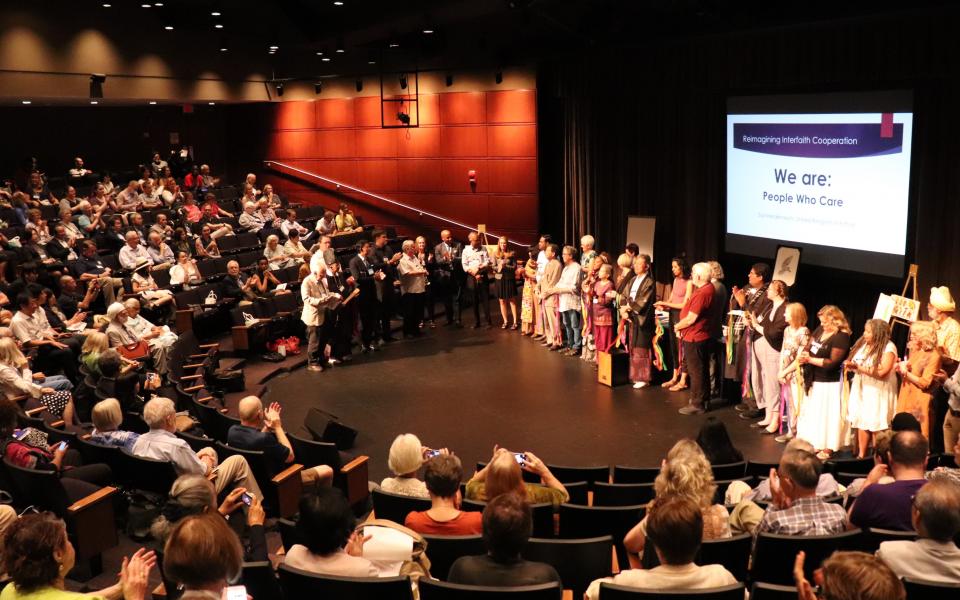 During the three-day event, months of preparation came to fruition focused on several common challenge in this difficult and divisive environment. Attendees connected as members of communities of faith and as people of goodwill to help transform our society.
One moment that stood out as a shining example of this was a conversation shared by Horn, "I had a conversation with a conservative Jewish woman who lived in Germany as hundreds of thousands of refugees poured into the country. She talked to me about what it was like to welcome them and help integrate them into society, and I was moved to tears by her stories of the challenges and the generosity shown."
Reimagining Interfaith's program was designed to focus on issues just like that -- issues that are currently causing people to feel "less than" or disrespected. The five program racks were based on introspection and sharing tools to make progress towards creating a more beneficial and equitable world for everyone.
There were sessions on topics such as  strengthening inclusivity, building community organizing skills, examining white privilege, engaging government agencies, and understanding how to operate in our changing spiritual landscape that includes  growing number of people who identify as  "Nones" and "spiritual but not religious." The depth of concern for all the needs of humanity was palpable in these rooms. People shared their passion for the causes that were important to them, and the need to create a powerful collective voice for those whose concerns are not being heard.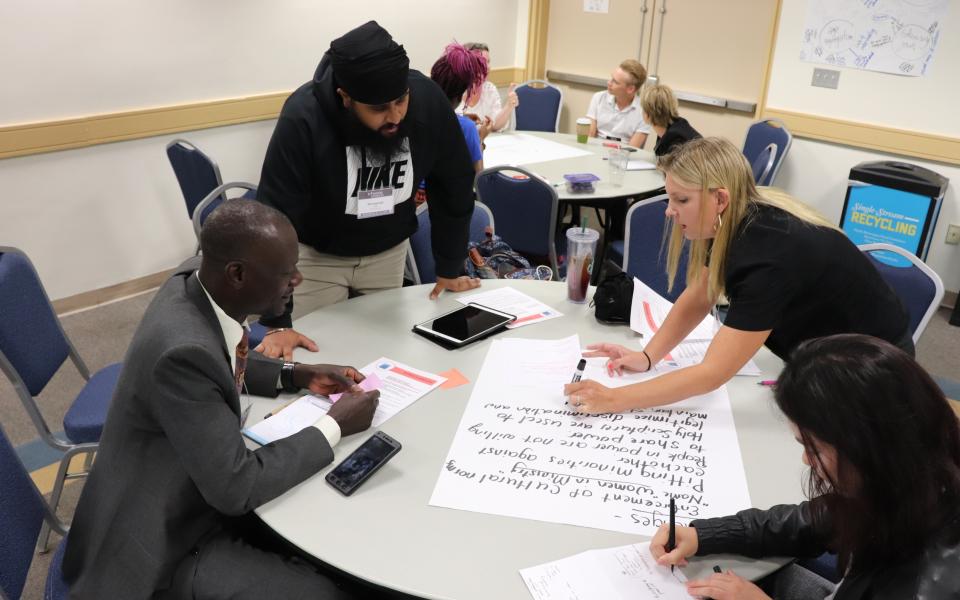 Rev. Wilkins was touched by her experience facilitating one of the Tracks, "Our Track had six focus groups around challenges to inclusion in our interfaith work: women, race and ethnicity, LGBTQ, youth, poverty/homelessness and lack of openness of some faiths. I was deeply moved by the dialogue with in each group and their impactful presentations to the [larger] group."
Another topic of discussion was the religious divisions in society and ways to heal these fissures; how to more effectively engage the secular communities, and finally, what can be done to open hearts and minds so that the more conservative and orthodox groups would feel welcome at the table.
Tahil Sharma, the Reimagining Interfaith Communications Fellow and interfaith minister in residence for the Episcopal Diocese of Los Angeles, described what he felt was a crucial lesson, "A major takeaway that I got from this conference is that every person is at a difference stage or on a different part of their journey in interfaith. Sometimes, it's important to recognize that we all do not approach interfaith with the same understanding or emphasis and that it's important that each of us are able to determine our role in the entire movement."
In the spirit of that inclusion, Rev. Wilkins described the urgency, "I feel the importance of expanding this conversation to communities across the country. It's time to tell the truth and work toward greater inclusion in the interfaith movement."
Amid this action, Horn believes it's important to stay grounded. "My concern about the growing interfaith movement is that without a contemplative core or mystical center as its foundation, first step, and goal, it's nothing more than the Democratic National Party platform in religious costume. This is one reasons some Evangelicals are disinterested in joining." But,he added, "I was very glad to see Evangelical Christians present and engaged [at this event], even though there are many reasons why they are hesitant to participate in interfaith."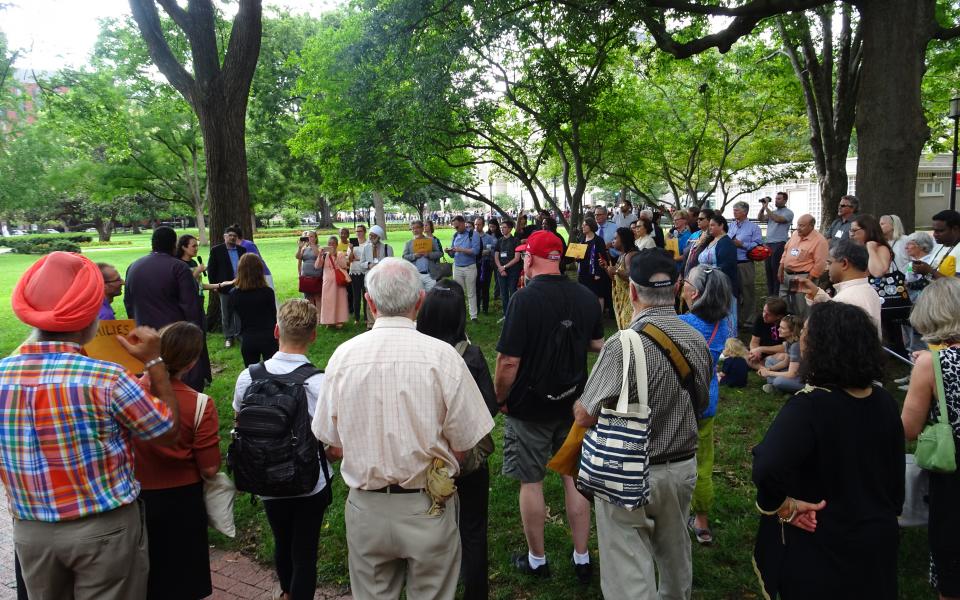 The second evening, the community organizing tactics were put to great use, as many attendees engaged in an  Interfaith Public Action at Lafayette Park in front of the White House. With moving speeches, songs and responsive chants such as  "Tell me what diversity looks like?....This is what diversity looks like!" participants showed the people on the streets of Washington, DC what a community can do when they work together.
Even though it was hot and humid, the people were excited and energized as they walked, chanting in unison, the mile plus to the Church of the Epiphany for a delicious Langar meal provided by the Sikh community. Everywhere the group went, people stopped, took photos and some even cheered.
For Sharma, one of the most memorable moments of the conference was from that afternoon, "A participant of the conference walked up to me and thanked me for my spirit and my chants following the Interfaith Public Action. But she thanked me, most importantly, for having her daughter participate in her first ever march. A young girl [approximately 4-5 years old] chanting 'This is what America looks like!' made the mother proud of the efforts to promote equity and justice for all and it humbled me to consider how we really can affect generations of change with our actions and intentions."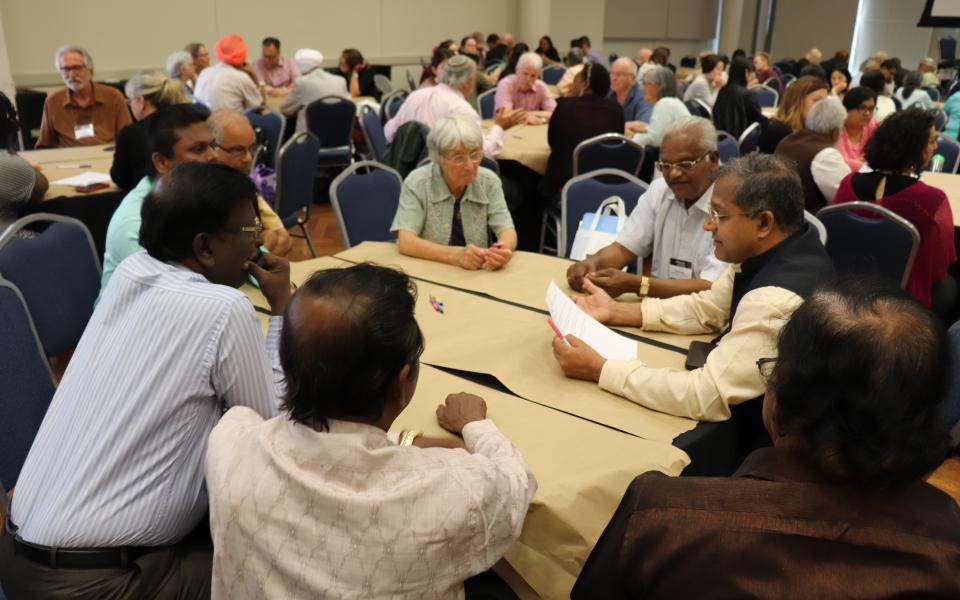 On the last day, using a facilitated dialogue process called  "World Cafe", participants enthusiastically shared their thoughts, lessons learned and  moments that were significant during the event. Writing thoughts and drawing images with flare on each "cafe table", attendees floated from table to table absorbing the color of change they had all been affected by.
When asked if he thought that this event created a change in momentum for the interfaith movement going forward, Sharma enthusiastically shared, "Absolutely! We spoke many truths to powers, addressed many concerns and tough topics, and it emphasizes our willingness to see faults and create steps for improvement. There is no 'one way' of doing interfaith work, but our many ways can help us constitute more comprehensive and contextual solutions for the issues that matter and for our entire humanity."
With resolve, Sharma added, "We are not done Reimagining Interfaith ... This is just the beginning. Be prepared to be more uncomfortable with topics that matter, but more ready to be transformed as well."
____
This piece was written by URI North America Storytelling Intern Robyn Lebron. You can read more of her work here.
Cooperation Circles Involved