The beginning of the school year promotes a time of renewed energy to create a playground for interfaith peacebuilding, one where student leaders are shaking up their communities by embracing those different than themselves.
An identity map hangs on a wall, representing both the visible and invisible qualities of a person. Another map hangs beside it, and another and another, until you see a room full of these maps, and a diverse group of middle and high schoolers reading one other's, growing in empathy and unity. After an exciting summer, where many participants attended international interfaith peacebuilding programs, September is a time for the youth of  Kids4Peace Seattle, a Cooperation Circle member of the United Religions Initiative (URI), to hone in locally.
The 25 students that participate in their core leadership program began the school year with a weekend retreat where students performed exercises such as identity mapping, and this year, an intersectionality workshop where they looked at the connectedness between varying social justice issues. Director of Kids4Peace Seattle Jordan Goldwarg said, "Oftentimes, we feel like we have to do everything as humans who want to create change ... If we could narrow that down and focus on one specific thing, that is still connected to a lot of other issues; we could enter into alliances and partnerships with organizations that are working on these other issues, and that allows us to have a strong response to the intersection of all these different issues."
This is a major focus of Kids4Peace Seattle: the youth choose 2-3 topics that they want to advocate for within their community throughout the year. This year being an election year, many of these revolve around measures on the ballot, for example -- a carbon tax; and an initiative that provides more in depth conflict de-escalation training for police officers (something these youth worked to get on this ballot). The youth are also concerned with the issues of immigration and family separation.  
Goldwarg stated, "For us, the real essence of doing interfaith work is bringing those shared religious values together in service of creating change in the community." He is eager to see the ways the students of Kids4Peace implement leadership this year both within the organization and outside of it. Kids4Peace also reaches between 350-400 Seattle-based youth per year through public outreach programs.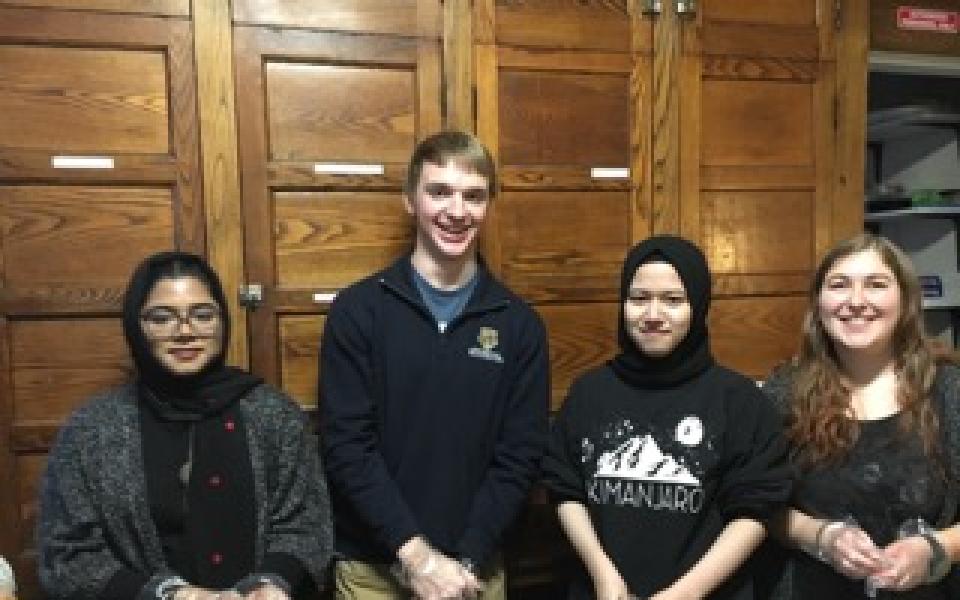 Jumping coasts, The Interfaith Chapel at the University of Rochester, also a Cooperation Circle member of (URI), is similarly committed to community engagement through interfaith work. The chapel serves as a home for a variety of different student-led religious groups on campus. One of those, is the Student Association of Interfaith Cooperation (SAIC). SAIC brings students of different religious backgrounds together to create interfaith opportunities on campus, and to serve the city of Rochester.
Known as a campus dedicated to the sciences, religion isn't a popular topic of conversation at the University of Rochester. As students return to campus and look for clubs to participate in, fall is a great opportunity for SAIC to reach out to new students through interfaith dialogues, service projects, and worship opportunities. One of their priorities is also sharing the value of interfaith work with their peers.
Anjaana Bhairo, a member of SAIC as well as an intern for Interfaith Chapel said, "The main lesson I have learnt from working for SAIC is the ability to make interfaith cooperation important for college students ... as SAIC, we are constantly trying to educate students that there is no better time than now to get involved with and learn about interfaith cooperation."
Working alongside Bhairo is Emerson Finkle, a fellow intern and SAIC member who said he has grown tremendously in his three years with SAIC.
"I've learned that showing up - to events, to worship, to dialogue - is vital and that asking questions (even those you think may be silly) is too ... And I've learned that interfaith work isn't meant to be easy. It's about intentionally entering into conversations and spaces that might be uncomfortable in order to learn, grow, and appreciate others in a new way."
Both Bhairo and Finkle are excited to represent the University of Rochester at The Parliament of World Religions, the world's largest interfaith gathering, in Toronto this November.
The Rev. Dr. C. Denise Yarbrough, Director of Religious and Spiritual Life at the Chapel, emphasized that the insight gained by doing interfaith work provides valuable skills for any career path students will take. Yarbrough says, "They are going to be the leaders of the future and my hope is they do a better job than we've done in the past … And I believe they will. Already many of these students have grown up in a much more diverse world than my generation did."
As directors, Goldwarg and Yarbrough expressed that their hope is consistently elevated by seeing the work their students are doing. Goldwarg said, "[My time as director has,] confirmed my belief in the power and strength of youth. I get so much inspiration by spending time with the kids and seeing their commitment to our work and their commitments to make their communities a better place."
This piece was written by URI North America Storytelling Intern Jessica Gorman.
Cooperation Circles Involved