This is a positive sign in Pakistan because, through URI, students are taking the initiative to promote peace and interfaith harmony. Together, Christian and Muslim students organized this program.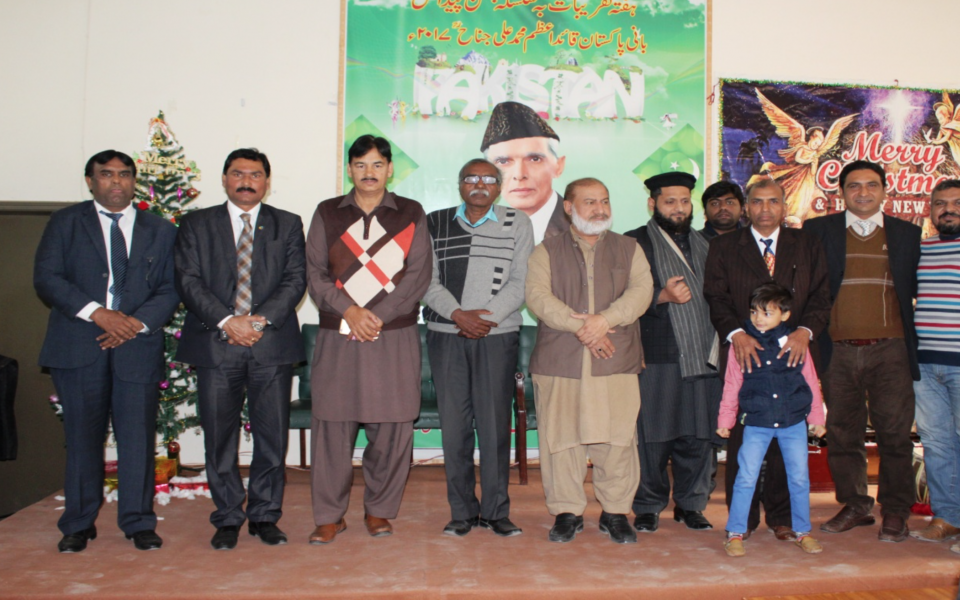 Interfaith Youth Christmas 2018 Celebration at Government Khawaja Rafique Shaheed College in Lahore, Pakistan
An Interfaith Christmas 2018 celebration was organized by the Students' Inter-faith and Cultural Foundation at Government Khawaja Rafique Shaheed College on Walton Road, in Lahore, Pakistan. This festival was arranged in cooperation with the Principal of the college, Prof. Muhammad Rafi. Prof. Peter Murad was the Master of Ceremonies on this occasion. Students highlighted how significant Christmas Day was in their lives. This was depicted in their speeches and poetry recitation to express from their love of Christ and humanity. There was also a Santa Claus; the modern representation of Saint Nicholas in European Christian folklore. The Hall was adorned with a Christmas tree and the choir sang carols. The Interfaith Christmas is a worldwide festival commemorating the birth of Jesus Christ, observed primarily on the 25th of December as a religious and cultural celebration among billions of people around the world.
The Principal Prof. Muhammad Rafi began his message with Mirza Ghalib's poetry, "Ibn-e-Maryiam Hua Kare Koi- Mere dukh Kee Dawa Kare Koee" Translation: "Let someone be the Son of Mary (Jesus), Let someone cure me of my sorrow/grief." He said, "The festival of Christmas conveys the message of love and brotherhood. It is a celebration of humanity and mankind." The Principal further said, "I have been striving to promote interfaith harmony among various faiths and discourage discrimination on the basis of religion." The Vice-Principal Dr. Khalid Mubeen appreciated the Christian students' musical talents and rendition of Christmas carols along with musical instruments. Many students sang the Christmas carols and another student Shahbaz John chanted a classic Christmas carol with fully vocal talent and melody which touched everybody. The honorable Vice-Principal announced impromptu that awards would be issued to recognize the students' talents.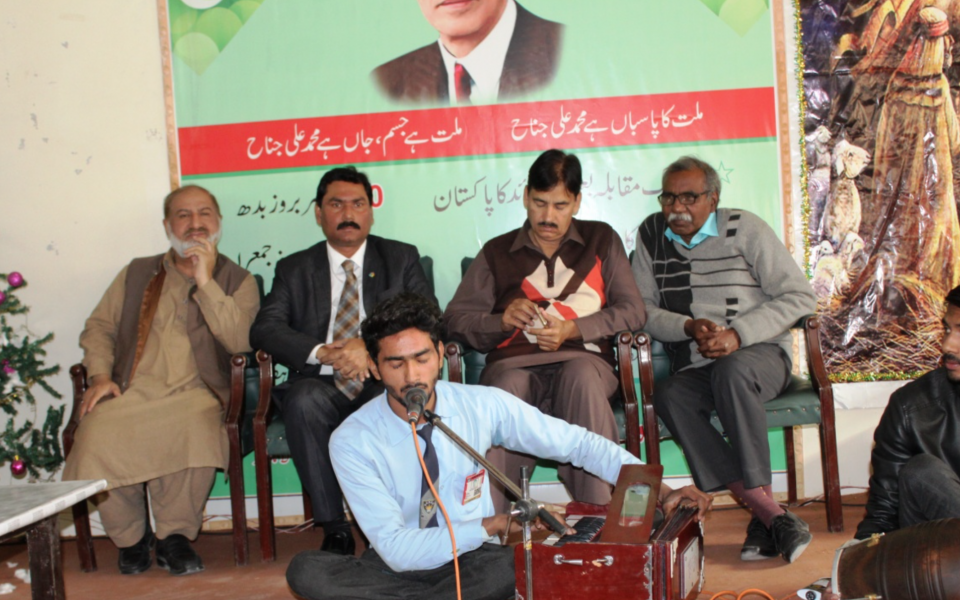 Mr. Asher Nazir (Executive Secretary URI Pakistan, Coordinator COPE Pakistan CC) was the guest of honor. He said, "Today I am very happy to see the talent of students in this Christmas program. I am impressed that this program jointly organized by Christian and Muslim students with the support of College administrators and staff. For this successful program, I want to congratulate Prof. Muhammad Rafi, Principal of Government Khawaja Rafique Shaheed College." He gave appreciation to Hafiz Irshad Iqbal (Head Department of Islamic Studies), Prof Peter Murad and Professor Ahmad Faraz and said that they prepared the students and organized this program well. Youth can play a positive and important to change the thinking of people and promote Interfaith harmony. Mr. Asher Nazir shared that URI Pakistan is working with 62 Interfaith Cooperation Circles and promoting Peace and Interfaith harmony in Pakistan.
Students' Inter-faith and Cultural Foundation (SICF) organised a Christmas cake cutting ceremony. Amongst the dignitaries present at this festival were the Principal, the Vice-Principal Prof. Jacob Paul (Govt. Islamia, College, Kasur), Prof. Imam Yahya Zahid, Prof. Ahmed Faraz, Hafiz Irshad Iqbal, Prof. Muhammad Siddique, Mr. Asher Nazir, Executive Secretary URI (United Religions Initiative) Pakistan, Mr. Patras Dewan the Chairman GHI (Global Healing Initiative) Pakistan. Other dignitaries included were Prof. Kanwar Abid, Prof. Munawar Saeed, Prof. Irfan Waris, Prof. Syed Shahnawaz, Prof. Muhammad Bilal, Prof. Haiz Muhammad Asad, Prof. Amanullah Mohsen, Prof. Muhammad Nadeem, Prof. Attiq Younas, Prof. Shahid Imram, Prof. Imran Sarwar and all the CTIs and visiting lecturers were present on the occasion. A Christmas Dinner was served to all dignitaries, honorable faculty guests, professors, the college staff and the workers. Prof. Irshad Iqbal thanked all the respectable guests, the faculty, and students who participated in the interfaith Christmas Celebration.
Asher Nazir
Executive Secretary
URI Pakistan