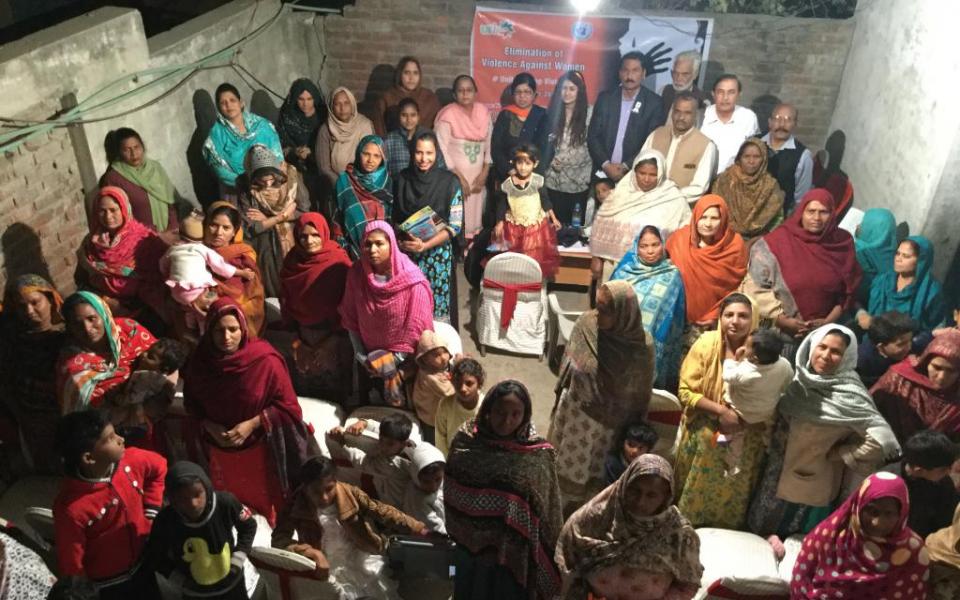 URI Women Wing Pakistan organized a program on International Day for the Elimination Violence against Women with the collaboration of Paras Welfare Foundation Cooperation Circle (CC), COPE Pakistan CC, Bhatta Brick Kiln Laborer Welfare Organization CC, WAKE CC, Women and Children Development Program CC, and Passion MCC Lahore on 25th November, 2018 at Khalaq Nagar Youhanabad Lahore.
More than 105 girls and women came from different faiths and areas. Mostly women were working in hard and tough areas and they were earning money through their skills and education.
After the interfaith prayers, Asher Nazir, Executive Secretary URI Pakistan, welcomed all the women, girls and URI CC Coordinators. He introduced URI CCs Coordinators and URI regional staff. Ch.Zubair Farooq Ahmad (Coordinator URI MCC Lahore, Baba Barkat Masih (CC Coordinator), Francis Xavier (CC Coordinator), Aslam Zahid (CC Coordinator), Ms.Asmara (Youth Trainer URI) and Mr.Faisal Illyas (Executive Secretary Peace Center).
Sr. Sabina Rifat shared the objectives and theme of International Day for the Elimination of Violence Against Women. The Coordinator of URI Women Wing Pakistan said that she was very happy to see many women present here. She appreciated Mr. Aslam Zahid Coordinator Paras Welfare Foundation CC, and that he shared his place and arranged this program at the venue of Paras Welfare Foundation CC. She also said, "I am very thankful to URI CC coordinators that today they are part of this program. Violence against women and girls is one of the most widespread, persistent and devastating human rights violations in our world today and remains largely unreported due to the impunity, silence, stigma and shame surrounding it. This day is celebrated on November 25th because on this day, in 1960, three sisters, the Mirabel sisters, were gunned down by unknown assailants in the Dominican Republic due to their opposition to the then Dominican dictator, Rafael Trujillo. Therefore, to honor these heroic women, the United Nations General Assembly in 1999 designated this day as the day for the elimination of violence against women."
Violence is an act carried out with the intention or perceived intention of physically hurting another person. "Gender Violence is defined as any act involving use of force or coercion with intent of perpetuating promoting hierarchical gender relations."
In general terms, it manifests itself in physical, sexual and psychological forms, encompassing:
Intimate partner violence  (battering, psychological abuse, marital rape;
sexual violence and harassment (rape, forced sexual acts, unwanted sexual advances, child sexual abuse, forced marriage, street harassment, stalking, cyber- harassment);
Human trafficking (slavery, sexual exploitation);
Female genital mutilation; and Child marriage.
Violence against women continues to be an obstacle to achieving equality, development, peace as well as to the fulfillment of women and girls' human rights. All in all, the promise of the Sustainable Development Goals (SDGs) to leave no one behind cannot be fulfilled without putting an end to violence against women and girls.
In our own country, there have been numerous Mirabel sisters, who have suffered abuse, victimization, torture and even death. At the domestic level, abuse of women is rife. Forced marriages are still a form of torture prevalent throughout the country. Women are not considered 'sound' enough to make marital decisions for them and so a decision is made for them. Let us also not forget that the violence is not only physical and sexual, but also psychological.
Verbally berating a woman because she is easier to target, taking away opportunities from her, domesticating her and not considering her opinion are all ways of psychological torture which inhibit the freedom and development of women and lead to a deeply fractured society. Ch. Zubair Farooq Ahmad, Coordinator URI MCC Lahore, shared his views saying, "Today, some women shared their success stories of life, such as teacher Famida Mushtaq, Zareen Arif and Ms.Nasim Younis. In these stories, some points were very important. Through hard work, you can change your life and through understanding and unity you can change everything. You should be aware of your basic rights. The government of Pakistan is working for the rights of women. If you want that others should give you honor and respect, so you must be aware of your rights and dignity."
Ms. Asmara said, "My parents were not interested in my education, but I said that this is my life and for my future education it is very important and still I am getting an education. So education is a tool for you, and every woman and girl should get an education."
Mr. Francis Xavier, CC Coordinator for Women and Children Development Program, appreciated Sr. Sabina Rifat for her great work for women. He said, "All the time and everywhere we are with URI, because we are part of it."
Baba Barkat said, "Now I am 86 years old and still I am working with URI Pakistan. My Cooperation Circle is working for the rights of needy people who are working in brick factories." He said that youth there are mostly taking drugs because mothers have to work in different places and they cannot give time to their children. "As a mother, you should give time to your children for their better future. Education and skills can change your life."
Mr. Asher Nazir, Executive Secretary URI Pakistan, said that many women are facing problems from their husbands and other family members. Some girls want to go to school and college but they cannot get an education without the permission of their family. Some women want to work because they are educated and they have skills but they cannot do this without the permission of the family. He said that you have to take initiatives and decisions. You should raise your voice for your better future because with an education you can make your home like a palace. Face the challenges and you will get success.
At the end of program, Sr. Sabina Rifat thanked all the guests and women. She said, "I am very thankful to URI CC Coordinators and their CC members which were the part of this program today." She also remembered the cooperation of URI Global.
---
Report Prepared by:
Asher Nazir
Executive Secretary
URI Pakistan
Cooperation Circles Involved