The following post is written by Maliha Sheikh, a member of Interfaith Cafe, a Cooperation Circle member of the United Religions Initiative. Malihah participated in a January 2019 trip to the United Nations led by URI North America. Click here to read reflections from her fellow participants.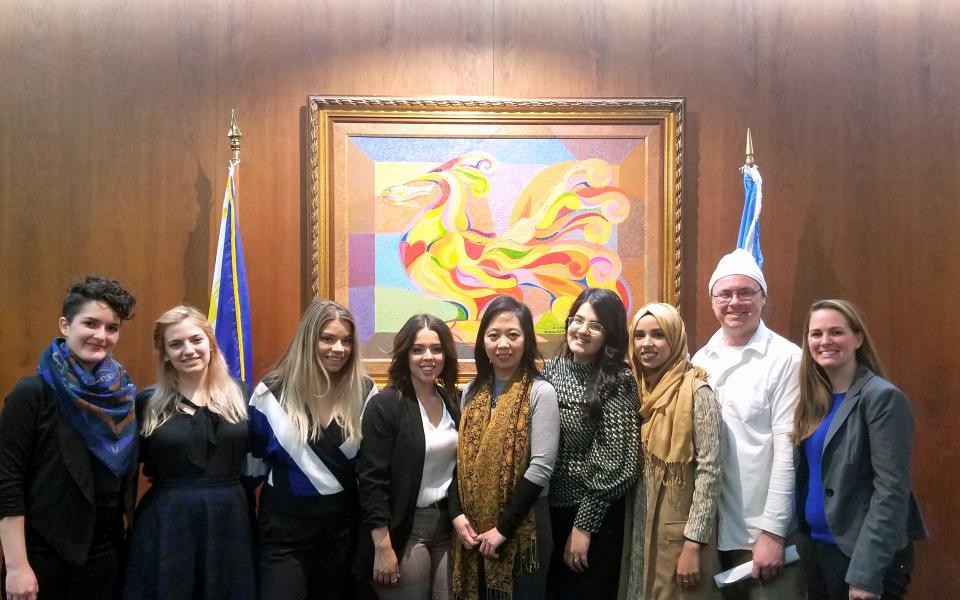 Hope without reality is mere illusion, but reality without any hope is a dark place.  Being at the United Nations, I felt like it was the place between reality and hope. I, along with six other Cooperation Circle members of United Religions Initiative were given a chance to attend a two-day cohort experience which included meetings and activities with various UN officials at the UN headquarter in New York City.
Here I was, just an average person, who was given this opportunity to have a seat amongst important leaders from around the world. The feeling was overwhelming! I walked in with humility and made the intention that I was here to learn, to be fully present, and to go back home with a few action items.
The agenda for the first day was to attend the 5th Annual Symposium on the Role of Religion and Faith-Based Organizations in International Affairs, which focused on financing for sustainable development. We also had a meeting planned with the Office of Genocide Prevention, and a guided tour of the UN headquarters by Monica Willard, the main URI representative to the United Nations, to conclude our first day. During the second day,  we met with the ambassador of the Philippines to the UN who briefed us on how climate change is affecting the Philippines.  We also had the chance to meet with two experts on nuclear weapons law.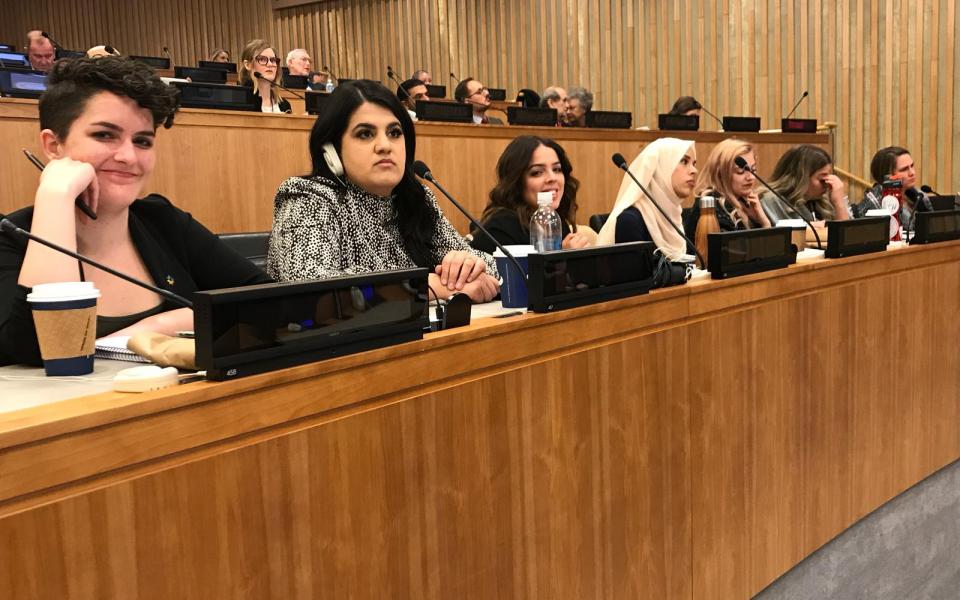 In 2015, the United Nations came up with seventeen goals that have the potential to transform our world. These goals are called the Sustainable Development Goals, or the SDGs, and they seek to resolve global issues such as hunger, poverty, and climate change by the year 2030.  The panelists at the symposium spoke about financing for sustainable development towards an economy for life. Issues such as, mobilizing resources for sustainable development, abuse of resources and power, and the unethical aspects of our financial systems echoed throughout the various presentations.
Towards the end of the symposium, I was experiencing an emotional tug of war. On one hand, it was incredible to witness leaders from different faiths engaging in dialogue for a better future for our world; however, on the other hand, it seemed less of a collective dialogue and more of a monologue delivered by different speakers. As the symposium concluded, there seemed to be no practical action items to take home for the people present.
Even during my visit to the Office of Genocide Prevention, I did not find answers to all of my questions, but regardless,  I appreciate the work that this department is committed to. I particularly found the "Plan of Action for Religious Leaders and Actors To Prevent Incitement to Violence that Could Lead to Atrocity Crimes", a resource provided by the department of Genocide Prevention to be extremely helpful for religious leaders and actors, as it provides practical recommendations for ways in which they can contribute to preventing incitement to violence.
The United Nations is the place between reality and hope. It is a place where the current reality of our world is accepted and recognized -- the reality that our world has been inflicted with multiple diseases at once: climate change, geopolitical divisions, and thousands of displaced people in search of safety and security; these are only a few of the many diseases that world is currently battling. But there is also hope here. Hope that through the implementation of the Sustainable Development Goals, there is a better future ahead of us and our future generations.  
For me,  my source of true hope is rooted in young leaders like the ones I met on this incredible journey.  I am new to the interfaith work, but I have learned so much from each one of them and the valuable work they are doing in their capacity.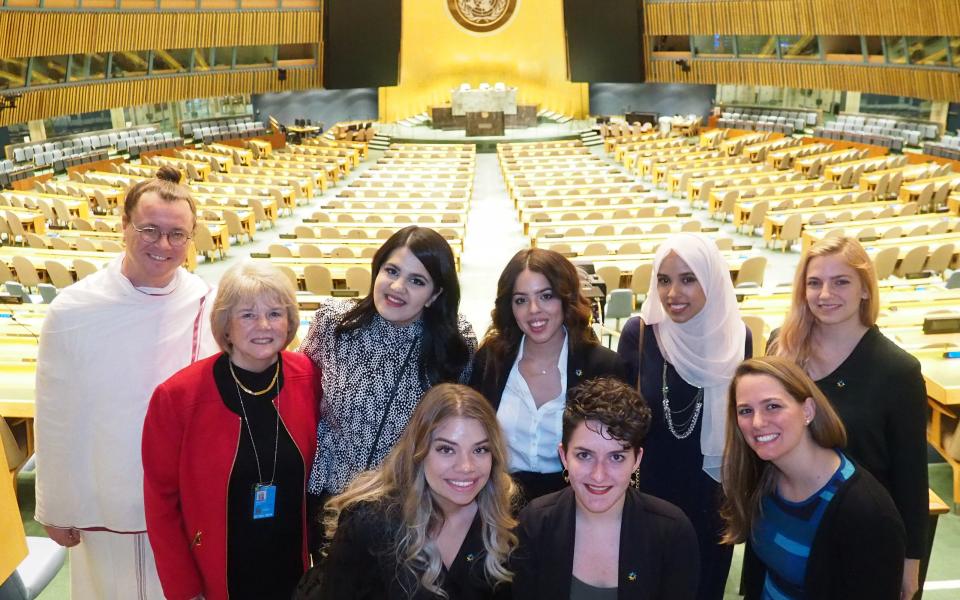 I met three incredible ladies from Camp Anytown, Las Vegas. Their work involves empowering and educating youth.
Sofia is soon going to law school. She is determined to help people, and was not afraid to ask difficult questions to some of the UN officials.
Emerald had so much empathy and compassion for the youth she works with. Every time she would talk about the challenges of the youth she works with, she has tears in her eyes.
Laila is an incredible, seventeen-year-old who was articulate and determined to advocate for her peers.
From Rothko Chapel in Houston, I met Caitlin, an intelligent young lady who serves as the Visitor Services Coordinator, and is committed to bring people from different backgrounds together.
Gabrielle is a student at the University of Rochester, and an intern at the university's interfaith chapel. She told me some of the most interesting stories from her experience at her interfaith chapel.
Patrick from California has been involved with Unity-and-Diversity World Council and also helped with planning the North American Regional Assembly. He enlightened me about his practices to attain mindfulness in the Vedantic tradition.
Last, but not the least, I met Sari, who is the North American Regional Coordinator for URI. She radiates warmth and kindness and is truly passionate about providing a platform to young leaders.  She worked tirelessly to organize this trip for all of us, and we are all truly grateful for all her efforts.
These are the young leaders that I met during this trip, and now I have the pleasure of calling them my friends.  My true hope is rooted in people like these young leaders, who might not have higher degrees from prestigious universities. They might not be serving at high positions at organizations like the United Nations yet, but they have the heart to continue to selflessly serve their communities, and they have the courage to raise their voice for people who do not have a voice. These are the people who will make a difference - they already are!
Cooperation Circles Involved