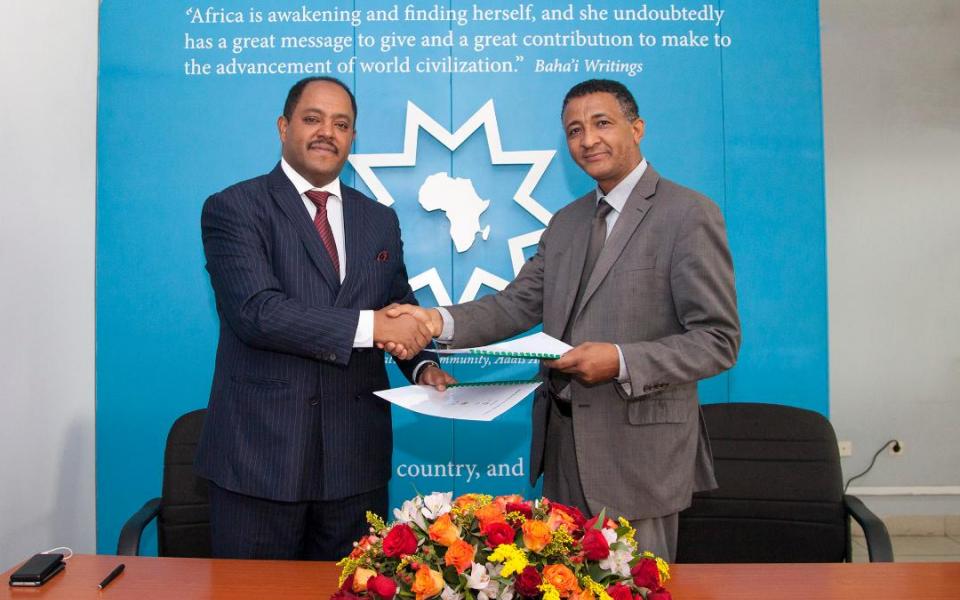 PRESS RELEASE                                                    
April 26, 2019
United Religions Initiative (URI)-Africa and the Baha'i International Community Addis Ababa Office have signed a Memorandum of Understanding to foster a working partnership on the common, shared agenda for the two organizations. This includes focus areas such as interfaith cooperation, human dignity, peace and security, the environment and climate change, the equality of men and women, and education for all.
The agreement also enables the two organizations to work together in partnership on the Agenda 2063 and Sustainable Development Goals (SDGs), to promote interfaith harmony and the teaching of the Golden Rule which says, "Treat others the way you want to be treated," mutual respect, human rights, to organize workshops, meetings, seminars, conferences, and also to observe the UN International Day of Peace and World Interfaith Harmony Weeks. It was also agreed that they will support each other on different relevant projects and provide for the development and maintenance of relations with governments, institutions of civil society, like-minded groups and individuals, the media, and ultimately the wider public–all for the purpose of promoting processes that contribute to the movement towards peace and a better future for all.
The agreement was signed on April 25, 2019 at the Baha'i International Community Addis Ababa Office in Addis Ababa, Ethiopia by Ambassador Mussie Hailu, Regional Director for URI-Africa and Representative to the African Union & UN office in Africa & Director of URI Global Partnership and Dr. Solomon Belay Faris, Representative of the Baha'i International Community Addis Ababa Office.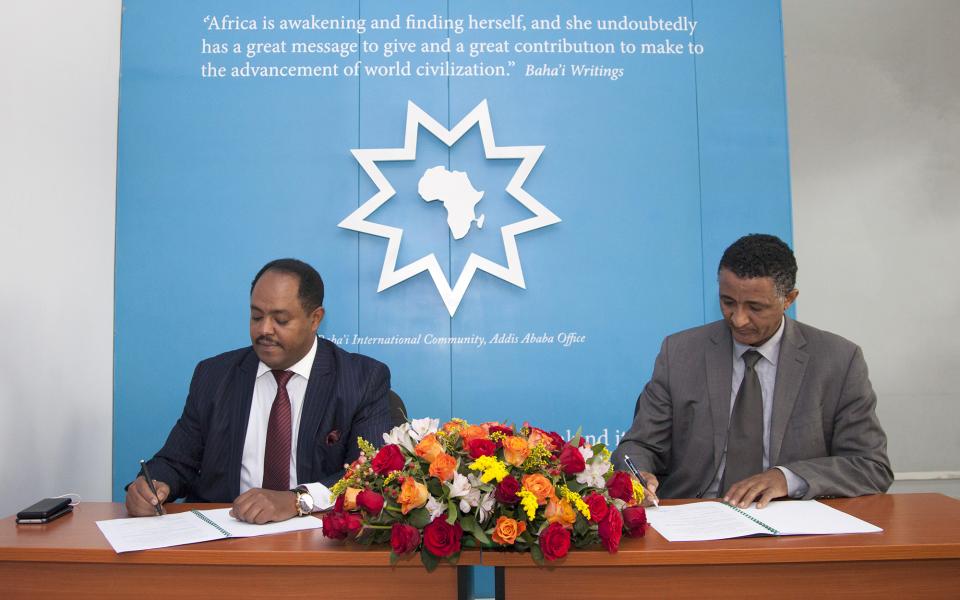 URI is an international interfaith organization with Consultative Status with United Nations Economic and Social Council and it is working to promote enduring, daily interfaith cooperation, to end religiously motivated violence and create cultures of peace, justice and healing for the Earth and all living beings. 
URI is a global grassroots interfaith network that cultivates peace and justice by engaging people to bridge religious and cultural differences and work together for the good of their communities and the world.
URI has a long-standing partnership with several organizations and UN agencies and the African Union. URI implements its mission through local and global initiatives in 109 countries that build the capacity of its almost 1,000 local member groups called Cooperation Circles. There are approximately 1,000,000 members of the Cooperation Circles and they impact the lives of an estimated 50 million people annually. These Cooperation Circles undertake community action projects on issues such as conflict resolution and reconciliation, economic development, education, environmental sustainability, human rights, women's empowerment, and youth leadership.
URI envisions a world at peace, sustained by engaged and interconnected communities committed to respect for diversity, nonviolent resolution of conflict and social, political, economic and environmental justice.
The Baha'i International Community represents the worldwide Baha'i community, whose members come from every national, ethnic, religious, cultural, and socio-economic background, embracing a cross-section of humanity. Viewing global advancement primarily through the lens of capacity building, the Baha'i International Community seeks the empowerment of increasingly larger segments of humanity to work effectively toward holistic development ultimately aiming at a peaceful and prosperous world.  
Active in various global fora, the Baha'i International Community maintains United Nations offices in New York and Geneva, as well as regional offices in Addis Ababa, Brussels, and Jakarta. The Baha'i International Community registered with the UN as an NGO in 1948 and currently has consultative status with the United Nations Economic and Social Council (ECOSOC) and the United Nations Children's Fund (UNICEF), as well as accreditation with the United Nations Environmental Program (UNEP) and the United Nations Department of Public Information (DPI). The Baha'i International Community collaborates with the UN and its specialized agencies, as well as member states, inter- and non-governmental organizations, academia, and practitioners.
May Peace Prevail on Earth.