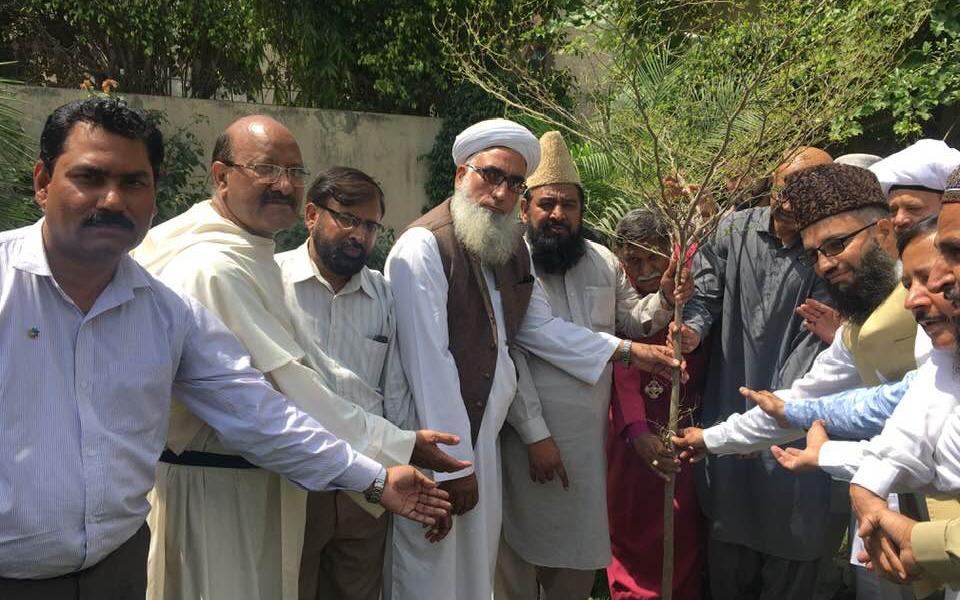 URI Pakistan organized a panel discussion on Earth Day, 2019 with the theme of Environmental Pollution and our Responsibility.
On April 23, 2019 URI Pakistan arranged this panel discussion with the collaboration of, Peace Center Lahore, COPE Pakistan Cooperation Circle (CC), Faces Pakistan and Kul Maslik Ulma Board at Peace Center. Guests of honors were Bishop Irfan Jamil Church of Pakistan, Muhammad Rizwan, Fr. James Channan OP, Maulana Muhammad Asim Makhdoom, Mufti Ashiq Hussain, Pastor Majid Abel, Pastor Amjad Nimat, Pir Akhtar Rasool, Muhmmad Pervaiz Saqi, Dr. Marcus Fida, Allama Ayub Khan, Maulana Muhmmad Hussain, Sohail Ahmad Raza, Javed William, Syed Nubhar, S. A Jaffary, Qari Asgar Hanif, Fr. Marcus Daniel OP.
After interfaith prayers, Mr. Asher Nazir, Executive Secretary of URI Pakistan and coordinator of COPE Pakistan Cooperation Circle, welcomed all guests and shared that nature is the mother of everyone. Before you were born, nature was already born; it was prepared for us. God created it for us and for everyone. Nature is the source of our life. Asher Nazir invited Fr. James Channan OP to share the objectives of this program with the participants.
Fr. James Channan OP shared that today the entire world is facing global warming. People are facing problems by nature in different countries. Pakistan is also being affected by it. For a clean and green Pakistan, we have to plant trees, because if you are not part of the solution then you are part of the pollution. So we have no time to waste. Nature is like air: if you breathe it, you cannot feel it. But when it's lacking you will very strongly feel its importance. We should care for our Earth.
The Provincial Minister of Environment Punjab shared in his views that Government of Pakistan is working on tree plantation in Pakistan and "today I am happy and congratulate Fr. James Channan OP that he organized this program with the people of different religions on Earth Day with the theme of Environmental Pollution and our Responsibility. Today our world needs of us that we contribute something for our environment and reduce pollution by planting a tree. Join hands with us, and let's make this world a better place. We think everyone has to play their role. Therefore, we encourage each of you to take initiatives in any way you can. It doesn't matter if you are a student, a working professional, a housewife, or an organization."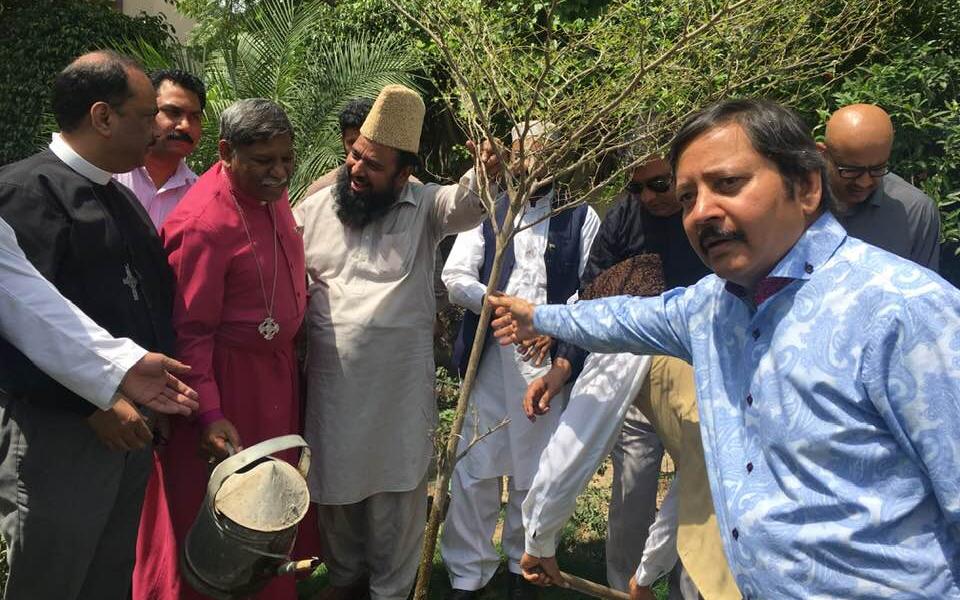 All panelists agreed that together we should work on tree plantation in Pakistan. Without nature, there are no houses, there is no food… no air, no life. Nature needs balance to live; we each have to fight for the survival of the other. Nature is the king of joy. With Bishop Arfan Jamil, Church of Pakistan, and Muhammad Rizwan, Provincial Minister Environment Punjab, all the honorable guests planted a tree and prayer together as Christian and Muslim for the peace of Pakistan.
Mr. Javed William President Faces Pakistan thanked all participants and said that for our environment we should take some practical steps and plant trees in different places and venues. Today we are people from different institutions, organizations and media. Now this is our responsibility that we work for tree plantation and make Pakistan clean and green. Bishop Ifran Jamil said that the next tree we will plant will be at Cathedral Church of Pakistan, Lahore.
Reported by:
Asher Nazir
Executive Secretary
URI Pakistan
Cooperation Circles Involved