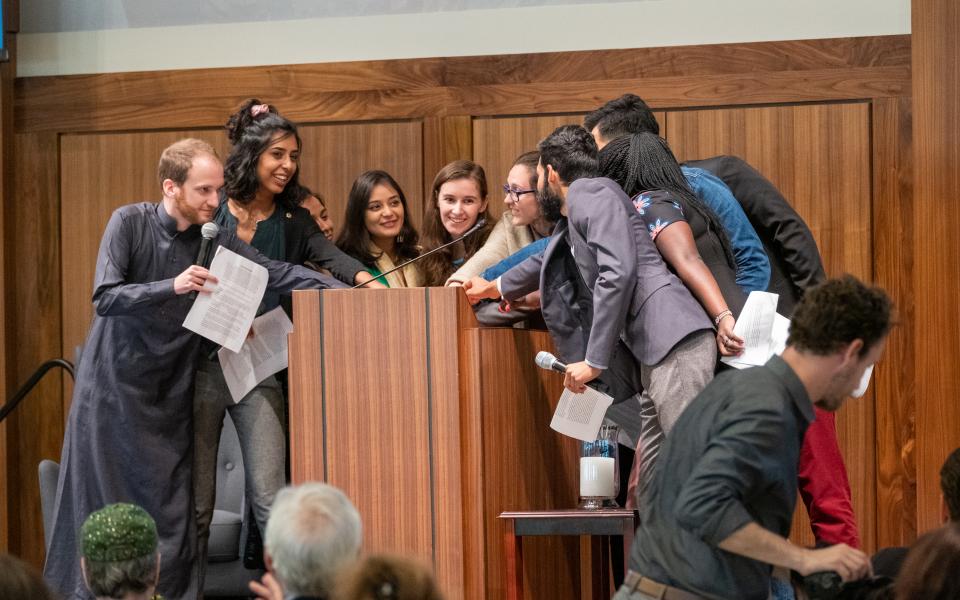 At the Accelerate Peace conference on June 27, interfaith leaders from around the world met on the Stanford University Campus (California, USA) to deliver a stirring call to action. Their audience, a room packed with peacebuilders of all ages from dozens of countries, cultures, and faith traditions, responded with energy and enthusiasm.
The "Call to Action Storytellers" wove their stories together as they reflected on their own traditions, that which calls them to action, and how they in turn call their listeners to be interfaith peacebuilders in their communities and in the world.
Learn more about the Accelerate Peace conference.
---
Storytellers included:
Subhi Dhupar, URI Regional Coordinator for North India;
Daniel Eror, Youth for Peace, Bosnia and Herzegovina, a URI Cooperation Circle;
Sari Heidenreich, URI North America Regional Coordinator;
Vincent Leong, Young Leader URI SEAPAC, Malaysia;
Johnny Martin, Youth Director, Arizona Interfaith Network, a URI Cooperation Circle;
Wambui Ngige, Human Rights Attorney, Kenya, URI Trustee;
Sarah Oliver, Youth Programs Coordinator Southern Africa for URI;
Ishaq Pathan, Deputy Director, Islamic Networks Group (ING);
Vilma Palax Tuy, Descendientes de Guatamala, a URI Cooperation Circle;
Shayda Sales, URI Program Associate; Elle Segal, Public Affairs and Civic Engagement Manager, JCRC San Francisco;
Valeria Vergani, Director of the InterSpiritual Sustainability Society, Canada, URI Trustee.