URI will amplify its voice at "Stand Up For Humanity," an event to be held in Washington, DC.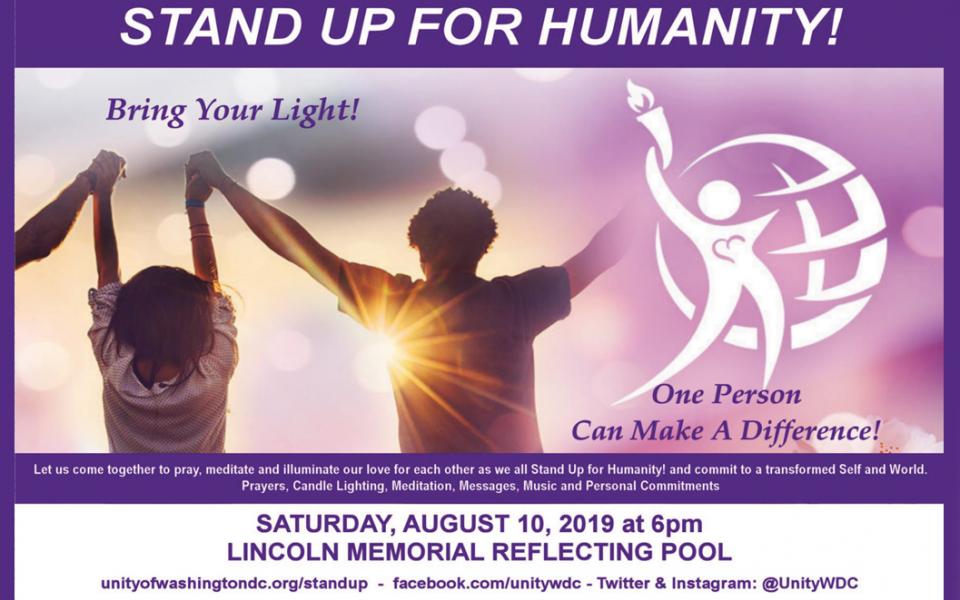 URI is going to add its voice at the grand event organized by Unity of Washington DC under the theme of "STAND UP FOR HUMANITY," to be held on August 10, 2019 at the Lincoln Memorial Reflecting Pool with the motto "One Person Can Make A Difference!". The event will gather more than 1000 people.
The vision of Unity of Washington DC is to become a premier Centre for Spiritual Education, Enlightenment and Empowerment. It seeks to enable all to experience living a positive and affirmative life. Unity of Washington, DC honours the universal oneness of one another in the spirit of Peace, Love and Harmony.  
The purpose of the Stand Up For Humanity event is to create a global effort to raise the collective consciousness by honouring and taking a stand for all people and promoting human dignity. The event is planned to encourage people to come together to pray, meditate and illuminate love and to stand together and commit to transformed self and the world. 
Stand Up For Humanity is a movement started by Unity of Washington DC to promote and support a world that works for all. It is about embracing those qualities that serve the Highest and Best of our Humanity. The movement inspires people to help each other, connect and act from our universal and common good like the teaching of the Golden Rule "Treat others the way you want to be treated"; and to raise the consciousness and vibration on the planet, and within our nation, to one of inclusion, peace, and harmony. It is also working to motivate people in demonstrating that even one small action taken by the individual can make a difference and contribute to the positive uplifting of humanity.
Humanity will only survive, and thrive, if we seek solutions together. Wherever we are, we can make a real difference. Wherever there is discrimination, we can step forward to help safeguard humanity's right to live free from fear and abuse.
The event is a good opportunity to amplify and raise our voice and to take a stand for human dignity. This event will help us to call for action for greater respect of human dignity and to say NO to those who drive wedges of hostility between communities. 
Sari Heidenrech, URI North America Regional Coordinator, will attend the event. I also encourage our Cooperation Circles, or URI member groups, who are in the DC area - and anyone who can make it - to attend the event.