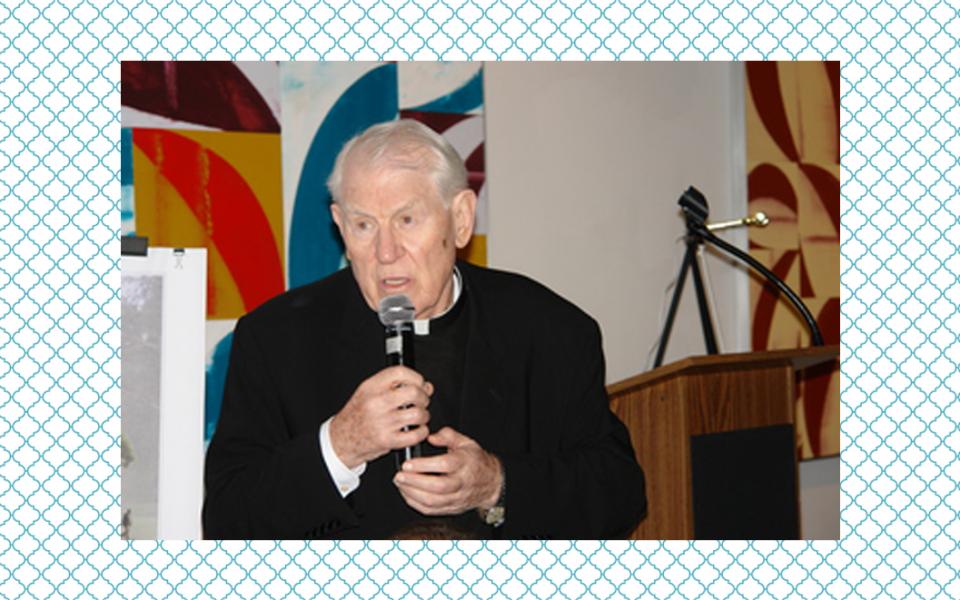 There were not many people in the room during the three years when the Charter of URI was being written. But Fr. O'Rourke was one of those people. Though he died quietly on Wednesday evening, July 29, 2020, at age 95, and though the URI family had hardly heard his name for many years, he will always be a giant in our midst. Why?
Because his thinking was inlayed in our Charter.
Gerry was a person of large stature with forceful ideas; he was also a loving man with a grand sense of humor. If you wanted to "go deep" on a crucial matter and if it was going to take quite some time to figure things out, you needed Gerry in the room. He spoke candidly of the truth that burned in his heart. Did I mention that he was Irish, very Irish? With a winsome brogue!
Though his contributions to the Charter were manifold, everyone in the room will remember him primarily for saying over and over again, "We are creating a safe space where all of the people of all of the faiths can come together." Those exact words didn't make the final cut; nevertheless, that theme permeated every sentence.
"A Safe Space!"
I remember . . . at a public URI event in the Stanford University, when a vociferous group of people, interspersed throughout the audience, stood up and vehemently shouted invectives against URI and accused us of distorting the truth of God. It appeared that things had a chance of getting seriously out of hand. Just then, Fr. Gerry came to me and assured me, with his commanding presence, that the Stanford Chapel would be "a safe place." He stood at the back door and it was.
I remember . . . a couple of years ago, when Gerry had turned 90 years old, I picked him up in Burlingame and we drove to San Francisco for the Interfaith Prayer Breakfast. We recalled what a transformation had taken place in San Francisco in the years when we served together. (Take a deep bow, Rita Semel!) An interfaith dynamic, a safe space, that gave birth to so many innovations—even URI.
I remember . . . last evening, our neighbors who belong to St. Catherine's Roman Catholic Church nearby, told Mary and me, over the fence, about the last times of Fr. Gerry in that church. He was too feeble to process in or out. He just hunkered down near the altar. But at the end of the service, he would turn to the congregation, and with a big smile on his face, he would wave. And they all waved back. Just a grace note and so very Gerry!
So now this consequential chapter of his life is over and Gerald O'Rourke is in a far "safer space." I intend to go out and buy a Guinness Stout and toast this good soul.